Antonio Conte's fractious tenure at the Tottenham Hotspur Stadium is over, to nobody's great surprise. A manager who was marking time until his departure can finally stop tallying the days on the walls of his prison cell, and Spurs can begin the hunt for a fourth permanent manager in two years. If reports are to be believed, and if the timing of Conte's dismissal is not accepted as a coincidence, Julian Nagelsmann is top of Daniel Levy's list following his rather more surprising departure from Bayern Munich.
Should Nagelsmann agree to move to north London, it would seem on paper to be something of a coup. Nagelsmann leaves Munich with his side as German champions and having won every game in the Champions League this season. His tenures at Hoffenheim and RB Leipzig made him one of the most in-demand managers in the game, and with no disrespect intended whatsoever to Spurs, his appointment would involve him accepting a slight step down. If he were to join it would also represent yet another philosophical departure from Levy, a chairman who seems to be wrestling with what he wants his team to be.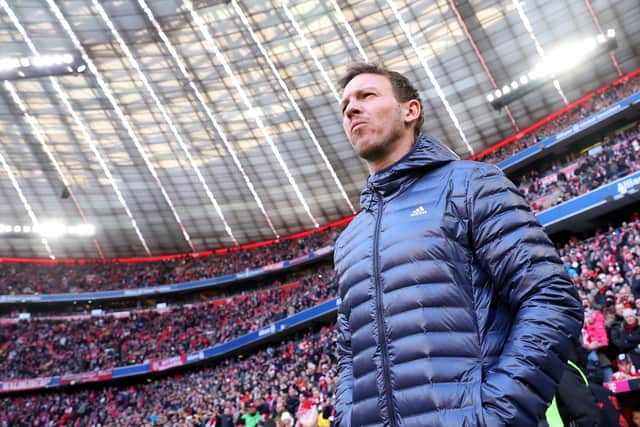 Nagelsmann is a wholly different manager from Conte both tactically and personally – just as Jose Mourinho represented a completely different proposition to Mauricio Pochettino. Where Pochettino was a gently eccentric manager who motivated his men by force of positivity – he kept a bowl of lemons in his office in the belief that they absorbed negative energy from the room – Mourinho was an aggressively demanding coach who always made life under him a 'my way or the highway' proposition. In appointing Mourinho, Levy signalled a desire to completely change his club in pursuit of trophies. In moving from Conte to Nagelsmann, they would again be asking for the side to play a completely different way.
Therein lies Levy's problem – the inability to line up manager, philosophy and squad. His transfer strategy has always essentially bypassed the strategic demands of the manager, and the result for the last few years has been managers lumbered with players they didn't want and didn't value. Mourinho rapidly made life difficult for Dele Alli and showed little interest in developing record signing Tanguy Ndombele. Similarly, Conte openly criticised the signings of Bryan Gil, Djed Spence and Arnaut Danjuma, none of whom matched his personal criteria. Mourinho and Conte share certain traits – especially in their openly hostile approach to players they deem surplus to their personal requirements – but tactically operate entirely different systems and would not be able to get the most of out of squads built for the other.
Conte is rigid in his use of a back three, with wing-backs hugging the touchline at both end of the pitch, but Nagelsmann prefers a narrower back four with slightly more conservative full-backs – so where does that leave the Spurs defence as currently conceived? Does the Spurs squad have the creative number eight that Nagelsmann likes to use as the fulcrum between attack and midfield? Can they adapt to Nagelsmann's high pressing style after the more counter-attacking methods of Mourinho and Conte? Levy would have a summer to wheel and deal to reshape his squad but he has never demonstrated much regard for his managers in the transfer market – and there has often been a gulf between the needs of the manager and the Director of Football, and between the coach's requirements and Levy's penchant for deadline-day brinksmanship.
Which suggests another immediate concern – current Director of Football Fabio Paratici is likely to face a ban from football, albeit with the likelihood of an appeal, for his alleged role in the latest scandal involving his former club Juventus. Levy has never managed to align his directors with his head coaches philosophically, and that becomes even harder when he may be forced to find a new one. If Paratici or a future appointee are at loggerheads with the next head coach, Spurs are back to square one. Levy must either learn to back his managers in the transfer market or ensure the interests of back room and front office are synchronised. It has not happened yet.
None of this is to say that Nagelsmann would not be a very fine appointment. He is an excellent manager whose sides play attractive, efficient football, and the German has demonstrated greater tactical flexibility in the past than Conte has – but while he has experimented with different formations, including briefly trialling a back three at Bayern which would likely suit Spurs' current side, he tends to snap back to 4-2-3-1 when given the choice. Aside from Harry Kane and the wide forwards, Nagelsmann's preferred formation and style is not one that Levy's current roster is obviously inclined towards.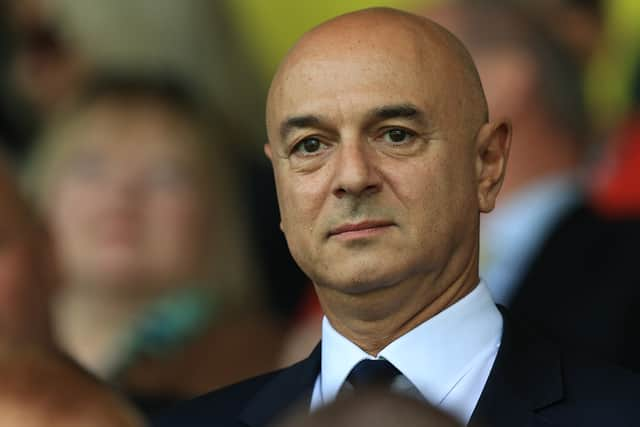 They may, of course, not have the choice. Reports from Spain suggest that Real Madrid also admire Nagelsmann and with Carlo Ancelotti widely expected to take over the Brazilian national team at the end of the season, they will already be casting out feelers for their next coach. With the best will in the world, it is unlikely that Levy could offer a more attractive package than the one that would be available at the Bernabeu.
Which could lead to another fractious scramble for a manager, similar to the ill-coordinated process that resolved with the brief tenure of Nuno Espirito Santo. Or it could mean a romantic reunion with Pochettino, a move that would essentially signal an undoing of the last five years of strategic shifts aimed towards making Spurs title contenders. Levy will be perfectly aware that those moves were unsuccessful and may be willing to roll back the years – but sacking Pochettino in the first place was partly a philosophical decision, and partly done as a cheaper alternative to rebuilding the Spurs squad wholesale when it became clear the coach's methods had grown stale with an ageing dressing room. That rebuild had to be made anyway, but was not made with the kind of joined-up thinking that allowed for cohesion or continuity between later managers.
We want your feedback on 3 Added Minutes - details here
Whoever takes the hotseat at Spurs next will need to either be given substantial leeway to build a team that matches their needs – which has not happened yet under Levy – or will need to be chosen to match the qualities the team already possesses. So Levy needs to change his tack – or Spurs will struggle to move forward once again.
Ultimately, the search for success at the Tottenham Hotspur Stadium has never coincided with the idea of instigating an enduring philosophy– a 'Tottenham Hotspur Way', if you will. Levy has tried many new approaches in search of success but has not tried to make the stars align in a way that can sustain a certain style over the course of years. Until that happens, chopping and changing managers, tactics and players is inevitable, and sustained success will be harder to come by. Nagelsmann could be the answer, and so could Pochettino – but only if the new coach is allowed to imprint himself on the team, and only if the club allow that imprint to become a long-term blueprint. It would be Levy's most radical departure yet, but perhaps the most necessary of them all.