Let me keep this one short and sweet; if you go to a football match and find yourself so overcome with rage that you feel the need to clamber down the stands to punt another human being, then you really should take a long, hard look at yourself. And probably never attend a football match again.
Sunday's north London derby was always destined to be a tense affair. These clashes between Arsenal and Tottenham usually are, almost without fail. Add into the equation the extra zest of the former's mounting title charge and the latter's waning momentum under Antonio Conte, and sparks were inevitably going to fly.
In the end, Spurs' vapidity made for something of a damp squib between the bookended confines of the referee's first and final whistle. With regards to a meaningful contest, aside from a flurry of mild willing in the second half, the home side offered little, and the Gunners' eventual 2-0 win never looked to be in any proper doubt. After full-time, however, Conte's men seemed to discover a hitherto untapped reserve of fighting spirit. Quite literally.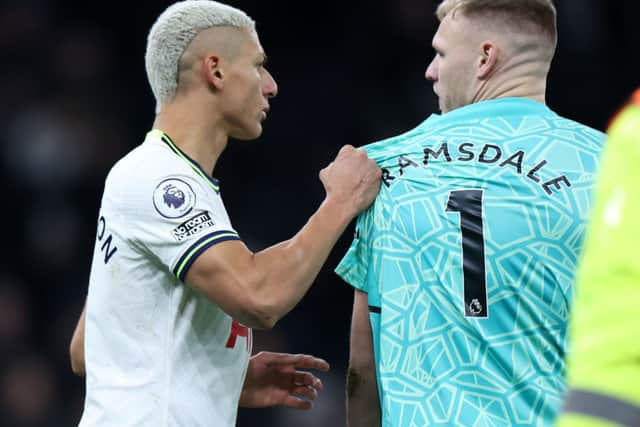 Aaron Ramsdale, the main reason for Spurs' minor post-interval rally falling flat, reacted to the concluding trill of the ref's whistle by turning to the home support, kissing the badge on the front of his shirt, and making his way towards his goal to collect his water bottle and towel. What ensued next was pure carnage. Confronted first by Richarlison, the goalkeeper proceeded to walk back to the edge of the pitch, only to be met with a melee of opposition players, stewards, and rabid fans, one of whom climbed the advertising hoardings and took aim with a pathetic kick at the England international's back. To see the culprit, face covered by a scarf, then scamper back up the terraces was to be reminded of a petulant toddler fleeing the scene of a crayon wall drawing.
In the immediate aftermath of the incident, Ramsdale did well to keep a relatively secure lid on his temper, and in the days since a 35-year-old man has been charged with assault. Presumably, he will also face the punitive powers of club authorities too, with a stadium ban almost certain.
And really, that should be it. A moment of moronic behaviour swiftly made an example of to deter others and to maintain the safety of players and fellow supporters alike. But alas, enter, Richard Keys.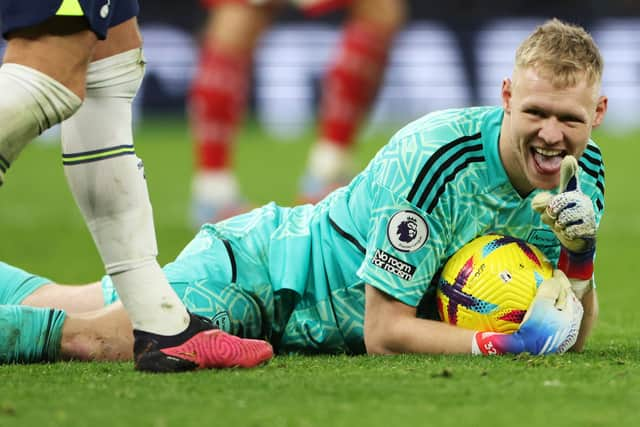 We want your feedback on 3 Added Minutes - details here.
Writing in his ever-illuminating weekly blog post - a ceaselessly baffling trip into a wonderland of unhinged detachment, like peering through the keyhole of a bungalow built entirely from dinosaur bones and brick-shaped slabs of delusion - the outspoken pundit/Hasbulla lookalike took direct aim at Ramsdale himself.
Word for word, because you really need to experience the effect of this lunacy full verbatim, he said: "I knew Ramsdale wasn't entirely innocent. You could see him laughing at Richarlison as he cleared the last ball of the game up field. Within minutes he was telling Geoff Shreeves that he'd been winding up Spurs fans at that end for the entire second-half. Why? Ramsdale thinks it's good natured and fun, but it's not. And it's certainly not in a North London derby when the home team are losing.
"He was asking for trouble and he got it. He does it all the time. He's a good keeper and should concentrate on being just that. Cut the clown Aaron. It's not necessary."
Earlier in his piece, Keys did advocate for the offending fan to be handed a lifelong ban as a response his violent outburst, but only briefly, and only, you feel, so that he could offer up a much juicier denunciation of Ramsdale's conduct in the name of a quote-unquote 'balanced argument'.
But here's the thing; Ramsdale will likely have been subjected to forty-five minutes of dog's abuse from behind that goal. He'll have been called every name under the sun, and perhaps a couple of spontaneously dreamt up new ones besides. Such is the lonely life of a goalkeeper. For him to turn round and celebrate a win of such significance with a smirk and kiss of the badge is absolutely nothing, least of all provocation for a violent act. If you can't take it, don't dish it out, and if such trivial gestures are enough to rile a 35-year-old man to the point of ferity then the issue doesn't lie with Ramsdale, but rather a petty idiot who needs to do some serious growing up.
Keys should know that, and if he doesn't then there needs to be questions asked as to why he doesn't. Victim blaming only makes excuses for those who have done wrong, and in this instance, will only encourage others to follow . 'Sure, your honour, I might have knocked half his teeth out, but in my defence, he did wave at me' is never going to hold up in court of law... nor should it. Even so much as hinting otherwise should be laughably condemnable. Simple as that.
And if you take nothing else from this article, just remember, folks: violence is never the answer, and football is only a game.