This time next week it will all be over. To quote the common parlance, the transfer window will slam shut, regardless of whose scrabbling, greedy fingers are left grasping at the ledge. Sky Sports News' big yellow clock will dramatically tick away into nothingness; the agents will cease their ceaseless chatter; and Fabrizio Romano will finally lay down his iPhone, inject himself with a highly-concentrated sedative, and return to his cryogenic slumber pod deep beneath the rolling hills of the Neopolitan countryside.
But hey, don't be sad it's over, just be glad it happened. And before we forget all about the transfer market for *check notes* a little while, you'd better believe that we're in line for a frantic few days of speculative phone calls and unhinged approaches. Take for instance Bournemouth, who are reportedly interested in signing AS Roma attacker Nicolo Zaniolo. There's ambition, and then there's delusion.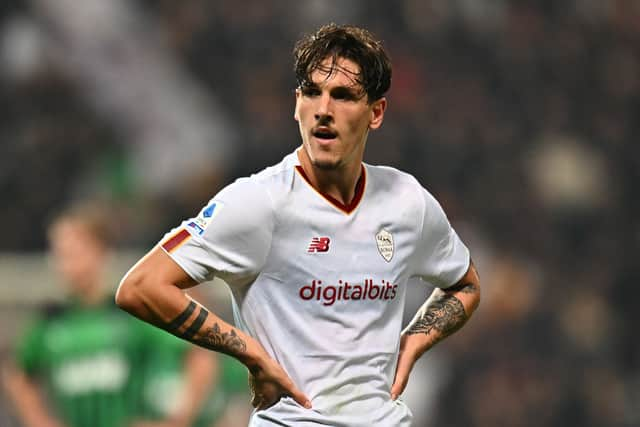 We want your feedback on 3 Added Minutes - details here.
One can only assume that the Cherries have rocked up in Italy in their signature red and black stripes, and are hoping that they can convince the 23-year-old to scribble his name across the dotted line before he realises that they are not in fact AC Milan.
Elsewhere, Tottenham are closing in on a £39 million deal for Sporting full-back Pedro Porro, according to Sky Sports News. Very fancy. 'Porro', as we all know, is the Latin word for 'further', which is quite fitting given that his arrival in England could send a number of players careering off into the far-flung corners of the continental game.
Brighton's Tariq Lamptey is being considered as a potential replacement over in Lisbon, while Spurs' answer to D.B. Cooper, Djed Spence, having secured his big money deal and disappearing into the night, could be sent out on loan.
And finally, it wouldn't be a transfer round-up without Chelsea doing something unexpectedly daft. This fine Friday morning, Todd Boehly has woken up, done a big stretch, whacked on his waffle-maker, and has headed through to the garage to throw his daily dart at a map of Europe. Today his arrow has landed in South Yorkshire, and as such, he has decided to pursue a deal for Sheffield United's Sander Berge. Well in, Toddster, now get back inside before those waffles are burnt to a crisp.