Liverpool's wizard pursuit, Tottenham's defender admiration, and Arsenal's biblical bridge burning
All the latest Premier League transfer news. Kind of.
Watch more of our videos on Shots!
and live on Freeview channel 276
Visit Shots! now
The week immediately following Transfer Deadline Day is a little like the days after Boxing Day as far as speculation is concerned; absolutely nothing is happening, and the few leftover scraps that are kicking about at the back of the fridge have already started to turn a little stale and undesirable.
Still, as long as I have breath in my body (and an editor telling me to do so) I will endeavour to whip out the figurative dust pan, sweeping up any and every crumb of gossip that I can find and presenting it to you, dear reader, like a cat bringing home a dead bird for your consideration. No really, you're welcome.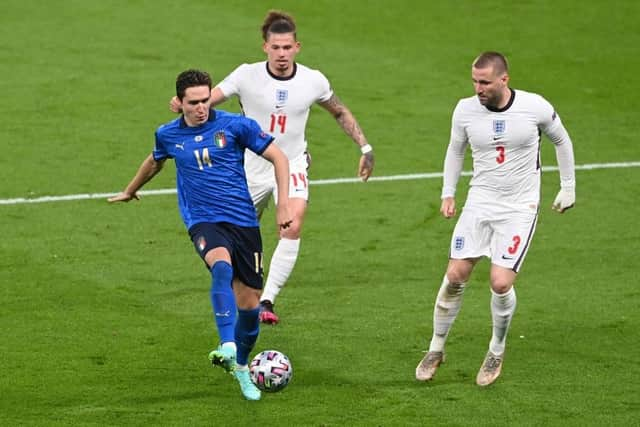 We want your feedback on 3 Added Minutes - details here.
On this fine Thursday we start at Anfield, where Jurgen Klopp's continued efforts to build a consistent starting XI out of Weetabix and lumps of Pritt Stick have finally started to take a notable toll. Liverpool look ragged and spent, and midfield reinforcements feel like a particularly urgent requirement. Naturally, then, they are being linked with a move for another winger.
Juventus' Federico Chiesa is the man they have their eye on, according to transfer guru Pete O'Rourke, who claims that the Reds could look to capitalise on the Serie A giants' perilous financial situation with an alluring bid this summer. The Italian international has previously been described as a 'wizard', but whether he's a Gandalf or a Neville Longbottom remains to be seen.
Elsewhere, Tottenham are said to be big admirers of Crystal Palace defender Marc Guehi, and understandably so. Whether they act on said admiration, or whether they instead just gaze at him longingly from across the Thames for a couple of transfer windows before signing an exorbitant dud from La Liga is another matter entirely.
And finally, Arsenal's may well have burnt their bridges with Brighton following their fairly predatory, and wholly unsuccessful, pursuit of Moises Caicedo. Luckily for them, he can part bodies of water at will.