Man City face a robotic rebellion, Man Utd ditch some spare parts and Newcastle face competition
All the latest Premier League transfer news. Kind of.
Watch more of our videos on Shots! 
and live on Freeview channel 276
Visit Shots! now
Welcome one and all to your Friday fix of all things rumour related – and as all eager transfer fans know, we cannot start a weekend of rumour-mill grinding without briefly discussing Isaac Asimov.
As we all know, in 1950 Asimov – who was a wildly-influential science fiction writer and not, as you might have guessed, a promising holding midfielder for CSKA Moscow – came up with three fictional Laws of Robotics, which in his work governed the actions and agency of the highly advanced pseudo-sentient robots that he decided would be walking the earth by the middle of the 21st century.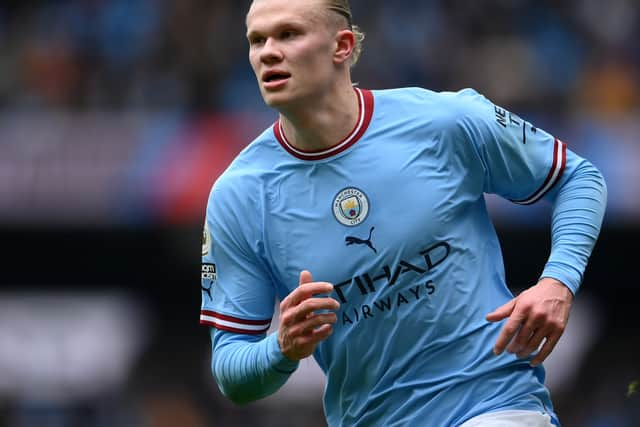 And of course, he was right about that last bit, because look at Erling Haaland. We're clearly already at the stage of co-existing with advanced beings with positronic brains and superior physical traits. If we don't institute some of those laws pretty quickly, Haaland will gather up the Roombas and start an uprising. This is clearly a serious danger to society.
But for now, the only real danger Haaland presents is to his own team. Well, and all the other teams, of course. But the problem Manchester City might have with him is that he could be accelerating his plans to join Real Madrid – according to The Independent – and Jude Bellingham might well be along for the ride as well. And the last thing Manchester City need is a side that already win the Champions League every year to grab their star striker. Ol' Big Ears is never coming to Ancoats at this rate.
The bright side for Pep Guardiola is that Asimov's Second Law of Robotics dictates that robots must obey all orders given to them by humans as long as they wouldn't bring harm to a human. So in theory all he has to do is point sternly at his striker, say "sit" in a firm and authoritative voice, and he's going nowhere. Someone under no such constraints is Mason Mount – who as we reported may be eyeing up a switch to Newcastle United – and he's now a fresh target for Manchester United, per The Guardian.
Meanwhile, an earlier experiment in android technology may be making its way out of Old Trafford. Harry Maguire, the first model of the Slab Series to be constructed with a pneumatic forehead, is probably on his way to the scrapheap after Man Utd's top scientists detected a series of flaws in his programming that affect the navigation and logic centres of his synthetic brain. But before they disassemble him they're seeking any kindly clubs that would take a struggling robot in – a club not too concerned about performance or reliability. Enter Paris Saint Germain, who fit the bill perfectly and have no less than £50m to spend on the experiment. So say The Sun, anyway.
We want your feedback on 3 Added Minutes - details here
Finally, a couple more quick hits from United's transfer list, which is now longer than anything Asimov ever wrote and is rapidly catching up to Dune's extensive word count. They've also added Pablo Dybala and Brentford goalkeeper David Raya – that's what Goal and TalkSport respectively reckon, anyhow.
That's all for this week. Enjoy your weekend, and remember – be nice to Siri or we could all be up against the wall when Skynet gets started up. You can say whatever you want about Cortana though, she can't hear you any more.