The French mathematician, physicist and philosopher Blaise Pascal one said that "all men's miseries derive from not being able to sit quiet in a room alone." He may have been one of the most brilliant minds of the 17th century, but I must politely disagree – all our miseries derive from not being able to endure a quiet day of transfer rumours.
Because that's what we have today, ladies and gentlemen. Monday must be the Sabbath for scouting, because Tuesday's cupboard is pretty bare. The rumour mill is almost still, and the great plains of gossip are strewn with gently-drifting tumbleweed. But even with so little to offer, still you come. You just can't get enough, can you? You're hooked now. There might be precious little happening in the Premier League, but you're here all the same, aren't you, desperate for anything, even the merest whispers of contract negotiations in the Greek Superleague. Deny it all you like, but you're addicted, and you know it.
So, to keep you from the worst of the withdrawal symptoms, let's see what we can find. Thank god, it isn't completely silent in the land of the transfer.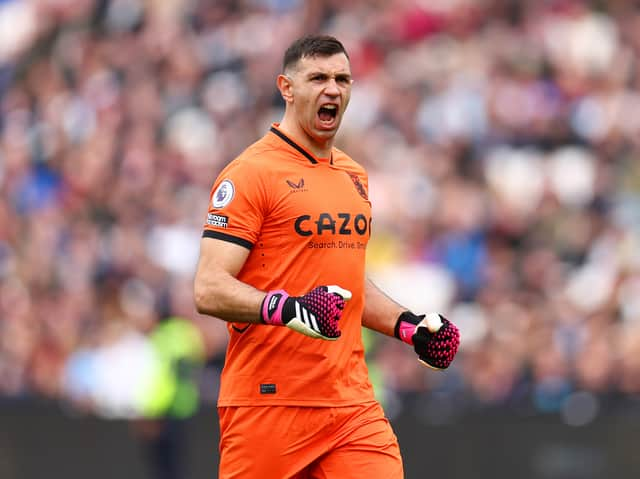 Not least due to the fact that one of the rumours we do have is about a man who, if Pascal was correct, must be very miserable indeed – because Emi Martinez is definitely incapable of sitting quietly anywhere. The World Cup's most manic champion is preparing to bounce off the walls of the Tottenham Hotspur Stadium next season, according to Goal. In replacing Hugo Lloris, it would surely see Spurs going from the most cheese room-adjacent goalie in the world to the least.
Also incapable of staying completely quiet are Manchester United, who couldn't resist adding just one more little player to the shopping list to go alongside Harry Kane, Victor Osimhen and the telephone directory's worth of other players we've reported they're after recently.
So it is that they've set their greedy sights on Denzel Dumfires, the Inter full-back who narrowly pipped Alexis Mac Allister to the 2022 Most Scottish-Sounding Person Who Isn't Remotely Scottish award. Football Insider think the 26 year-old could be on his way to Old Trafford soon.
And our final dispatches come from a nation that's clearly warming up to its status as one of the world's newest transfer capitals. Get one little taste of the rumour mill and you're hooked – as Saudi Arabia is discovering.
We want your feedback on 3 Added Minutes - details here
The Middle Eastern state is now desperately scratching around for the next post-Ronaldo high, a football junkie doing anything it can to get another fix. So they've turned up both Wilfred Zaha, who's been offered £9m tax-free to join Al-Ittihad, and Jesse Lingard, at least as far as The Mail and Football Insider have heard. It'll keep them going for a little while longer, but the Saudis know deep down that nothing less than a Messi will really scratch that itch now.