In the Philippines, carabao racing is a widely popular sport among farmers and general buffalo enthusiasts (of which there are apparently a surprising number) alike. Dedicated agriculturalists and their trustworthy steeds will often gather together to contest 500 metre sprints along local dirt tracks, with spectators packing out the roadside to witness a pageant that falls somewhere between the chariot scene from Ben Hur, and the drag race from Grease. Training and conditioning of the a carabao is, by all accounts, a serious job, and a proven winner can be sold for as much as ₱200,000, or around £3,000, in the right circles.
Now admittedly, the relevancy of all this to a Monday morning Premier League transfer round-up is pretty low, but I thought it would be nice for Newcastle United fans to learn an alternative carabao fact or two, just to take their mind off what happened on Sunday afternoon at Wembley.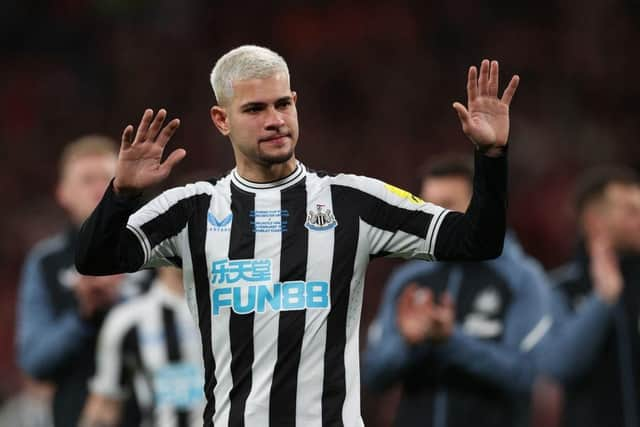 To make matters worse, the new week brings with it foreboding exit speculation involving Bruno Guimaraes. According to a report from Defensa Central, Real Madrid are considering a raid for the peroxide-haired Brazilian, and may be inspired into action should they miss out on Jude Bellingham. Presumably both of those players would cost a damn sight more than a prize-winning race carabao.
Elsewhere, Football Insider claim that Tottenham have opened talks with Harry Kane over a new contract. The England captain's current deal in north London is due to expire in 2024, and his future with Spurs remains a point of uncertainty.
In fairness to Kane, he faces an unenviable decision. The next agreement that he pens could ultimately come to define his legacy, and his playing career writ large. Will he jump ship in search of an elusive winner's medal elsewhere, whether it be in the Premier League or abroad, or will he stay at his boyhood club as Daniel Levy continues to dangle the promise of prospective silverware before him like a leprechaun leading an expedition to the end of a rainbow?
And finally, Caught Offside suggest that Brighton's Alexis Mac Allister is open to the notion of a big money transfer this summer. Manchester City are keen, as are Chelsea, presumably because at this stage, Todd Boehly's final hail mary for Graham Potter's tenure in the dugout is to transplant each member of his former Albion squad to Stamford Bridge one at a time in the hope that at a certain point, the saturation of familiar faces activates some kind of innate managerial instinct, like a Cold War sleeper agent hearing their trigger phrase and discovering a hitherto unknown knack for karate.