The longest bans in English football history - including ex-Chelsea, Man Utd, and Liverpool stars
These lads put Aleksandar Mitrovic's eight-game suspension to shame.
Watch more of our videos on Shots!
and live on Freeview channel 276
Visit Shots! now
You know what they say, if you can't do the time, don't get all upset and shove a referee for making a perfectly legitimate and rational decision with the aid of his video assistant. Some things are cliches for a reason.
The Serbian will now miss a decent chunk of Fulham's Premier League run-in, and while Marco Silva's boys are probably playing for little more than pride at this stage, his absence will still be felt. But in comparison to some of English footballs other great bans, Mitro's pales to a point of borderline insignificance.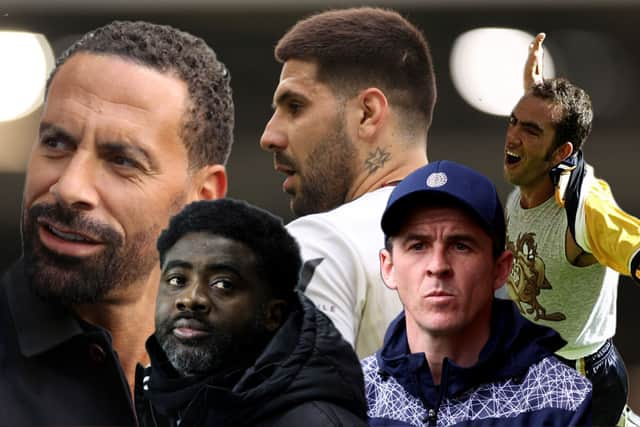 Paolo Di Canio - 11 games
There is a serious argument to be made for Paolo Di Canio being one of, if not the, most intense footballers to ever grace the Premier League. The ketchup-hating, Roman-saluting maverick was never one to shy away from confrontation, and his career has courted controversy on more than one occasion.
Perhaps his most notable misdemeanour came in 1998, however, when he shoved referee Paul Alcock to the ground during a game between Sheffield Wednesday and Arsenal. Already dismissed in that match, Di Canio lashed out at the official, who proceeded to collapse with an awkward languor that made the fall of the Byztanine Empire look swift. An 11-game ban for the Italian followed.
Luis Suarez - Four months
Luis Suarez likes to bite people. Or rather, he does bite people. Whether he gets any enjoyment from it whatsoever, only he can know for certain. Perhaps he hates it, but is nonetheless compelled to chow down on the soft, forbidden fruit of human flesh, like a rabid vampire driven to feast by an innate, instinctual bloodlust. Who can say?
Anyways, you know what happened here. Suarez lost his cool in a World Cup clash between Uruguay and Italy, sunk his incisors into Giorgio Chiellini's shoulder, and then proceeded to hit the ground holding his teeth as if he had the been the victim of some vicious, spiteful dental attack. Four months, he was banned for.
Vinnie Jones - Six months
Before he was wowing Hollywood with roles as intricate and varied as Bullet Tooth Tony in Snatch and Freddie the Dog in Madagascar 3: Europe's Most Wanted, Jones initially made a foray into the world of entertainment with a small presenting gig on the infamous straight-to-video release, Soccer's Hard Men. The VHS, as was the way of things before YouTube arrived and crippled the clip compilation industry, featured archived footage of Jones and many other footballing nut cases, as well as including advice for budding 'hard men'. The '90s truly were a simpler time.
After the release of the video, Jones was fined £20,000 and given a six-month ban, suspended for three years, for 'bringing the game into disrepute'. Wimbledon chairman Sam Hammam also branded the midfielder a 'mosquito brain'.
Kolo Toure - Six Months
Kolo Toure is an enigma. We're talking about a man who is deathly scared of dogs, but who owned a dog for seven years. His solution? Just don't stroke it. It's hard not to have visions of Kolo cowering on his kitchen counter, whisper-screaming for help as Fido smugly laps up the bowl of Crunchy Nut Cornflakes his terrified master dropped upon realising that the canine had entered the room while his back was turned.
Anyways, once you understand that we're dealing with a person who actively chose to live in a waking nightmare, it becomes somewhat clearer as to how Toure could accidentally ingest performance-enhancing substances in water tablets given to him by his wife. The poor fella was probably so fraught that he would have taken a cyanide capsule had she handed him one of those instead. Six months on the sidelines, six months stuck in the house with his four-legged tormentor.
Adrian Mutu - Seven months
Mutu actually served two lengthy bans during the course of his career. The first, and the one we're talking about here, came after the striker was found to have used cocaine in 2004. Authorities handed him a seven-month ban, and Chelsea, his employers at the time, took the decision to terminate his contract with the club.
Six years later, while at Fiorentina, he would serve a nine-month ban after running afoul of anti-doping restrictions. The Romanian was found to have traces of sibutramine in his system, and was consequently sidelined for nearly a year. Mutu maintained that he failed his drug test because of slimming tablets given to him by his mother. The moral of the story? Stop accepting medication from your female relatives.
Rio Ferdinand - Eight months
Perhaps one of the most famous bans of the Premier League era, Ferdinand missed a drug test, and then missed eight months of action - including England's Euro 2004 campaign. It wasn't all doom and gloom though; at least the defender's banishment gave us the glorious chant: 'His name is Rio and he watches from the stands', to the tune of Duran Duran's 1982 hit that shared his name.
Eric Cantona - Nine months
Everybody was kung-fu fighting. And by everybody, we of course, mean Eric Cantona. The mercurial Frenchman was banned for nine months after jumping into the crowd to roundhouse a Crystal Palace fan way back in January 1995. Said fan, presumably with his cap folded up in his hand and his best puppy dog eyes directed squarely at the judge, claimed that he simply told the Manchester United striker: "Off! Off! Off! It's an early bath for you, Mr Cantona!"
Cantona took a somewhat more expletive-laiden view of the incident, suggesting that the supporter actually instructed him to: "F*** off back to France, you French b*****".
In the years since, Eric has expressed his regret over the episode. Speaking recently, he said: "I would have loved to have kicked him even harder."
Mark Bosnich - Nine months
Another player banned for using cocaine, Bosnich protested his innocence on the grounds that he believed his drink had been spiked. The Australian goalkeeper was sidelined for nine months and released by Chelsea in 2002.
Bosnich spent the next period of his life battling an addiction to the drug, and would only return to professional football in 2008, signing for Central Coast Mariners in his home country. He retired the following year, and now works in punditry.
Joey Barton - 18 months
Like many a name on this list, Joey Barton has never been one to shy away from trouble. Throughout his career, the combative midfielder was a constant source of ungovernable disorder and general ruckuses. From various brawls and altercations to stubbing a cigar out in the eye of a youth player during a Christmas party at Manchester City, Barton always teetered on the very brink of pure anarchy. When he was eventually handed an 18-month ban (later reduced) in 2017 for a series of gambling offences, it was a bit like nabbing Al Capone on charges of tax evasion.
Between 2006 and 2016, Barton breached the FA's rules on betting some 1,260 times. After receiving his ban, he would retire from football and move in to management.
Enoch West - 30 years
The baddest lad of them all. You might not have heard of Enoch West, but his sentence vastly, vastly outlasts the rest of the names on this list combined. So, what exactly did he do? Burn down a stadium? Murder a referee? Miss a penalty without posting a heartfelt notes app apology? Although, to be fair, he was born in 1886, so he probably would have had to resort to carrier pigeon or something.
Nope, Enoch West was banned for match fixing. In 1915, the Manchester United forward was suspended for life by the FA, alongside three of his teammates and four Liverpool players. West protested his innocence, but his ban was not lifted until 1945. By that point, however, he was 59, and the once prolific marksman he was never involved in football again.