When Liverpool signed Cody Gakpo in January, there were two dominant schools of thought about the deal. The first, and perhaps the most prominent, was that they didn't really need him. The Reds' transfer activity in recent seasons has been marked by a tendency to prioritise one marquee purchase per window, and in a team that is creaking at the back, and positively wheezing in midfield, why go and sign a versatile attacking talent?
The second school of thought was that Gakpo had shown so much promise that Liverpool would have been mad not to try and lure him to Anfield. The Netherlands international has been carving up the Eredivisie with PSV Eindhoven for a sustained period, and if the Reds hadn't swooped, it would only be a matter of time before one of their rivals did. Indeed, up until the eleventh hour, it looked for all the world as if the player was headed to Manchester United.
Both stances, in their own ways, are entirely valid, although the second has been undermined somewhat by Gakpo's sluggish start to life in England. After six games, he is yet to score or assist a single goal. Now, maybe that is not a catastrophe. Six games, after all, is hardly an eternity. But in a world that demands instant gratification, and with the delusional expectations of Football Twitter breathing down his neck, it's not overly surprising to see that Gakpo's Merseyside drought has sparked all kinds of hysterical rhetoric.
And ultimately, that got us thinking - how does Gakpo measure up compared to other notable signings who have had to adjust to life in the Premier League? We've taken a look at every attacking player signed by each of the traditional 'big six' since the beginning of the 2018/19 campaign to see how long it took them to get off the mark in front of goal, and to see whether Gakpo - and Liverpool - have anything to worry about...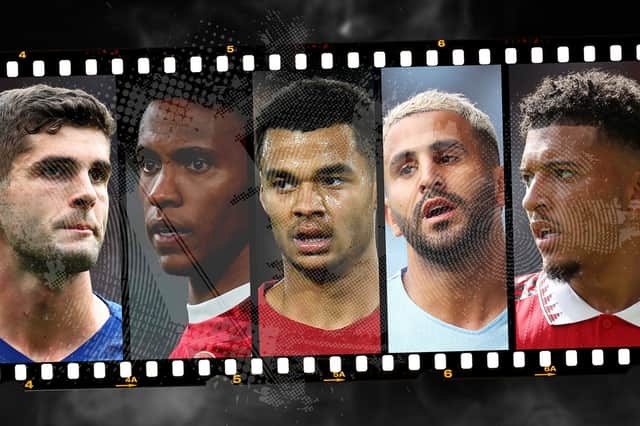 Liverpool
Let's start with Gakpo's employers, who, generally speaking, have enjoyed a decent amount of instant success from their recent attacking additions. This season, for example, Darwin Nunez - a man who is seemingly possessed by the bickering spirits of Luis Suarez and a baby deer - scored on his debut in the Community Shield against Manchester City.
Likewise, Diogo Jota contributed in his second outing for the Reds, notching the third goal in a 3-1 win over Arsenal in September 2020, while Luis Diaz waited just three games to register his first strike, hitting in the back of the net in another 3-1 win, this time over Norwich City.
Manchester City
Like Liverpool, City are a club who pride themselves on only bringing in the best of the best. For a fleeting, lulling second, however, it looked as if they might have fired a blank when Erling Haaland looked decidedly wasteful in the Community Shield at the start of the season. Of course, we now know that the Norwegian destroyer was just having us on, and after scoring a brace in his second outing, he has barely stopped since.
Similarly impactful was World Cup winner Julian Alvarez, who did strike on his debut at Wembley. Casting our mind back even further, we get to Ferran Torres (oh, how we barely knew thee!), who took four matches to find the back of the net, but the unwanted accolade of 'Most Lethargic Etihad Bagsman' has to go to Riyad Mahrez. The Algerian had to persevere for seven games before breaking his duck.
Manchester United
If Gakpo wants to make himself feel a tad better, he need only look as far as Old Trafford, and in particular, at Jadon Sancho. The winger arrived in England to rabid fanfare in 2021, but didn't score in any of his first 14 appearances for United. That being said, Liverpool's newest signing will be hoping for drastically better fortunes than the former Borussia Dortmund man has endured of late.
Elsewhere, the Red Devils have actually had some fairly immediate success from their attacking recruits. Antony, Cristiano Ronaldo, and *checks notes* Dan James all notched on their respective debuts. Or second debut, in CR7's case. Meanwhile, Edinson Cavani and Wout Weghorst both scored in their third outings, and Odion Ighalo did it in four.
Chelsea
There is, of course, one man who endured a near-legendary drought at the start of his Chelsea career, but alas, Fernando Torres and his 14-game barren spell fall some way outside of our five-year deadline. More recently, the Blues have had some fast, if unsustained scorers.
Romelu Lukaku? Debut. Pierre-Emerick Aubameyang, Gonzalo Higuain, and Kai Havertz? Third match. Timo Werner, Raheem Sterling, and Hakim Ziyech? Fourth match. Christian Pulisic? Tenth... but the less said about that, the better.
Tottenham
Relatively unspectacular from Tottenham, it has to be said. While new boy Arnaut Danjuma bagged on his debut against Preston North End recently, repeating Steven Bergwijn's feat from the 2019/20 campaign, the likes of Dejan Kulusevski and Gareth 'The Prodigal Son' Bale had to wait four matches to see their name on the scoreboard.
Carlos Vinicius took slightly longer, registering a strike in his fifth outing, but by far the most intriguing drought has to be Richarlison's. The Brazilian scored a Champions League brace in his sixth game for the club, but is still yet to hit the back of the net in the Premier League after 13 games.
Arsenal
We've left Arsenal until last for one reason and one reason alone... Willian Borges da Silva. While the likes of Gabriel Jesus and Gabriel Martinelli both scored in their second appearances, and Nicolas Pepe waited a fairly lengthy seven matches for his first contribution at his new club, everything pales rapidly into insignificance compared to the miserable exploits of Willian.
It took the wiry Brazilian some 38 matches to hit the back of the net for the Gunners. 38 matches. Equivalent to an entire Premier League campaign. When he did finally, finally score, it was in a 3-1 win that condemned West Brom to relegation. So patient, so cruel.
And so congratulations, kind of, to the veteran winger, who, by quite some distance, takes home the prize for the most incredibly painful goal drought in recent top six history. Cody Gakpo, you know what you have to do...