The Rebound: Everton inspired by Spam and fear, Man City anger spirits, Southampton's self-proclaimed messiah
Sean Dyche rides again, Pep Guardiola deals with a curse, and Nathan Jones is sick of pretending...
Watch more of our videos on Shots!
and live on Freeview channel 276
Visit Shots! now
In retrospect, it was always going to happen. Sean Dyche, a man who gargles wood chippings and bathes exclusively in a vat of piping Bovril, went into his first match as Everton manager with the aim of executing a simple gameplan: 'Stop it going in our net and try and put one in their net'. It is a marvel to see a mind so erudite articulate its genius with such blunt force trauma.
After a little over a week in charge at Goodison Park, the Mach 3 Mike Bassett has already unleashed his own bleep test ambushes and declared war on the humble snood. Rumours that he has also replaced all of the Andrex at Finch Farm with rolls of sandpaper are as yet unfounded. Anyways, it is in this context that the Toffees played host to Arsenal on Saturday, and while conventional wisdom dictated that they had about as much chance as a Cornetto in the Atacama, Dyche and his great, pendulous wrecking balls of pragmatic grit have never cared too much for rationality, or indeed, hierarchy.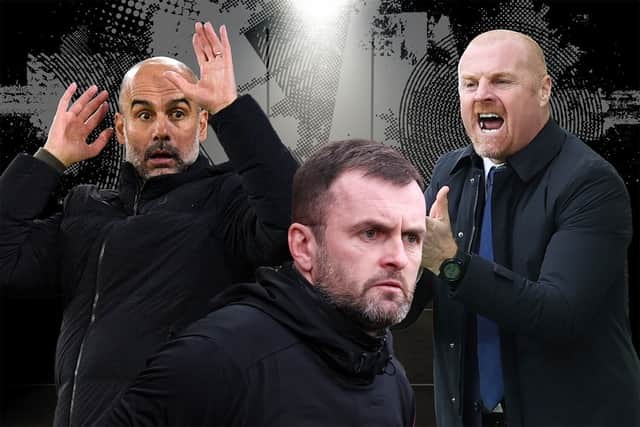 Of course, Everton would beat the Gunners 1-0, courtesy of a wonderfully Dycheian James Tarkowski header, and anybody who ever doubted the immediacy with which the man with the barbed wire larynx could whip this sorry bunch into state evidently failed to account for the combined restorative powers of pure, unbridled fear and a canteen menu that now consists solely of Spam fritters and raw eggs.
In the aftermath of their stumble, Arsenal faced a tetchy wait and a moral quandary. To keep Manchester City at arm's length, Mikel Arteta's side needed a favour from bitterest of rivals Tottenham. Alliances rarely come this uneasy. Then again, neither the Gunners nor Spurs ever really had much to worry about.
Those of a superstitious disposition might posit that Pep Guardiola's house was constructed on the site of an ancient burial ground containing the vengeful bones of a Tottenham-supporting ghoul. Those of a more cynical stance might suggest that benching Kevin De Bruyne just for the crack was always going to have its consequences.
City's cause isn't helped by the fact that Pep appears to be trying to implement a new avant-garde tactical approach in which everybody picks their position at random and in absolute confidentiality from their colleagues, like a big game of Secret Santa, and anybody who actively tries to pass the ball to Erling Haaland does so at their own peril. Still, at least matters off the pitch are as calm and ethically airtight as ever... Oh god.
The champions can at least take solace in the fact that once Pep has adopted a new identity and gone on the lam with the rest of the board, they might well have a shot at appointing one of the self-proclaimed very best coaches in Europe. Southampton's Nathan Jones is sick of compromising, and he's sick of pretending that he isn't the second coming of Brian Clough after he *checks notes* failed to get Luton Town promoted, completely bombed at Stoke City, and then failed to get Luton Town promoted again.
The Welshman, just 13 matches into his tenure, is said to be under pressure at Southampton after a stunningly forthright press conference in which he managed to blame absolutely everybody but himself for the Saints' dreadful run of form. The board, the players, and perhaps even the fans are fair game to some extent, but you have to draw the line when he's calling out the tea lady for buying plain Hobnobs when he specifically asked for the ones that are coated in chocolate on one side. At this rate, his could be the shortest employment saga involving a Jones since I did a single shift at the Manjaros on Curry Mile in Manchester, walked out, and decided never to go back.