The Rebound: Man Utd's Pillsbury Escobar, Newcastle's blameless understudy, and a word on Graham Potter
Casemiro channels his inner Supernanny, Loris Karius does okay, and Graham Potter deserves much, much better.
Watch more of our videos on Shots! 
and live on Freeview channel 276
Visit Shots! now
All hail Casemiro, Manchester United's very own messianic Supernanny. This time six months ago, the Red Devils' band of unruly rugrats could barely get through an afternoon without sparking some kind of self-perpetuating tantrum sequence, but all that has changed now. Ever since the Brazilian disciplinarian came hurtling along the M62 in the back of a black cab with a prop three-ring binder and a shoulder-padded power suit, United have been a team transformed. "You guys are in a crisis", I like to imagine he proclaimed, much to the bemusement of his driver, "And I'm on my way!".
There is a very strong argument to be made for Casemiro being the signing of the season. Not just at Old Trafford, but across the Premier League writ large. The manner in which he has wrangled and cinched this side into something not just functional, but thriving, is genuinely remarkable. Of course, it would be reductive to suggest that his arrival has been the sole cause of United's advent, but there is no doubting the totality of his impact.
Combative and wily without ever compromising on the rich, velveteen quality that has marked him out as one of the most notable mainstays of this generation, the midfielder has elevated those around him in the same way that a big cat might elevate its cub with a firmly clasped jaw to the nape of the neck. Taken in completion, it's enough to make you question just what the hell Real Madrid were thinking when they acquiesced to his departure.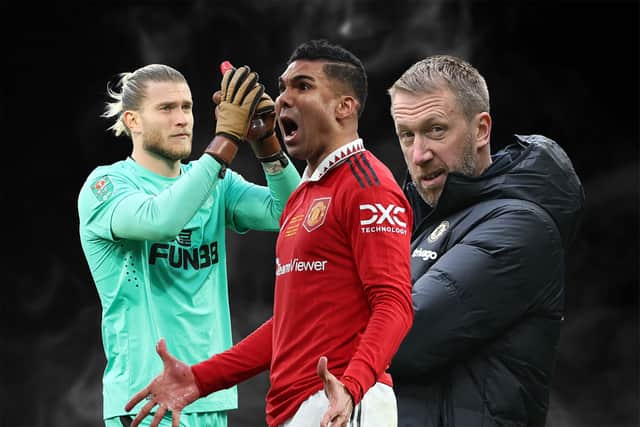 On Sunday afternoon, Casemiro once again proved his pivotal worth to Erik ten Hag's project at Old Trafford. The veteran opened the scoring for United at Wembley as they sauntered to a 2-0 win over Newcastle in the Carabao Cup final, and throughout, he exhibited the unslakeable winning mentality that you suspect is slowly starting to rub off on those around him. Even after the final whistle, the South American could be seen berating Bruno Fernandes for squandering a gilded opportunity to extend United's lead even further in the second half - his cherubic smirk belying a serious bite, like if the Pillsbury Doughboy became a ruthless enforcer for an international drug cartel.
Some might see that kind of puritanical preservation of standards as excessive; the job is done, the trophy is engraved, just ease up and appreciate the moment. Maybe crack open a can of Thailand's second most popular energy drink while you're at it. But Casemiro understands something that Supernanny has been preaching for years and years on end: success has no final destination. Good times are earned through routine and consistency, and everything is a process of evolution. United may have broken their trophy duck, but their work here is nowhere near done yet.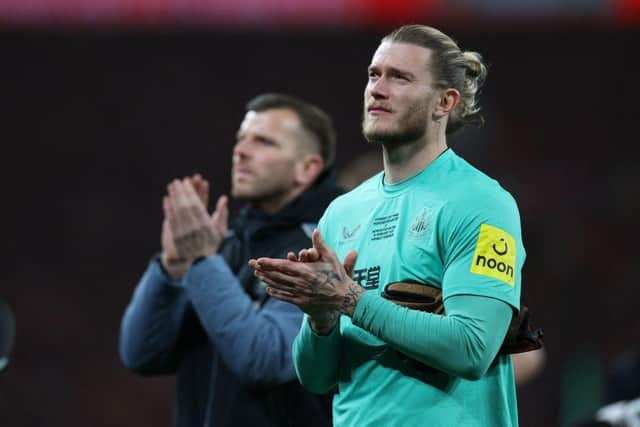 The other great story playing out in the capital on Sunday was, of course, the improbable shot at redemption afforded to Loris Karius. The German turned up at Wembley with the expectant weight of the Toon Army on his shoulders, sporting what appeared to be a pair of Alan Partridge's iconic leather driving gloves. And y'know what? He did okay.
For the sake of our collective sanity, we don't need to go through the catastrophic events of his recent career again. At this stage, the narrative beats are as familiar to the masses as the plot of The Tortoise and The Hare. Or Shrek 2. But what we should flag, in the interest of balanced discourse, is that Manchester United's second goal was not his fault.
Karius did not 'go down too early', as a rabble of clueless pundits would have you believe, nor did he naively misread the flight of Marcus Rashford's skewed shot. Instead, he was rendered helpless by a devilish deflection at close quarters, and had he somehow managed to prevent the ball from passing him, we would have witnessed one of the finest saves of the campaign.
The reason that his reaction to the effort appears so juddering and stilted in retrospective footage is because the majority of his weight is resting on his wrong leg in anticipation for the original trajectory of the ball. And anybody who has played in goal at any level will tell you that trying to redistribute that weight in the splitting of a second is often as difficult, and as futile, as telekinetically turning the tide or salvaging a receded gum. To suggest otherwise is either lazy or ignorant, and given everything *gestures broadly* that Karius has been through in the past few years, the absolute least he deserves is the benefit of the doubt in this instance.
And finally, just a word on Graham Potter. Late last week, the Chelsea manager spoke frankly about the negative influence that a torrid stint at Stamford Bridge has had on his mental health. Aside from the pressures of a job that refuses to pan out as he would have liked, the 47-year-old and his family have been subjected to vile abuse and literal death threats. Football, it's important to remember, is just a game.
Potter is not above criticism. Nobody is. The man himself has even fronted up and admitted as much. Hell, if I had a quid for every wry dig I've scribbled down about Chelsea's predicament since the turn of the year, I probably could have usurped them with a rival bid of my own for Enzo Fernandez. But to bring actual malice and vitriol into the equation is inexcusable to the point of pathetic.
Maybe Potter will turn things around at Chelsea. Maybe he won't. If he doesn't some other sucker will be brought in on an incomprehensible contract to take a swing at the ever-swerving curveball, and the cycle will begin anew. You see, that's the thing with football. It never, ever ends. It will be here after you, it will certainly be here after me, and as with all things that predate us and that will outlast us, all we can hope for is to leave it in a better state than we found it. A good place to start in that particular regard would be growing up, gaining a sense of perspective and not sending death threats to people when your preferred gang of handsome multi-millionaires don't kick the ol' pigskin quite as well as you'd like them to.