I think there's been a miscommunication. When Antonio Conte came in at Tottenham, it was widely accepted that he would, at long last, deliver a trophy. Clearly, however, the Italian misheard Daniel Levy in his job interview, and has instead delivered atrophy.
Spurs are such an infuriating prospect that their commitment to inconsistency evokes a kind of frustration that almost transcends the usual boundaries of neutrality. How can one team be so good and yet so bad? One week they are the calm and composed Jekyll, dispatching of Manchester City to jimmy open the title race, the next they are on the end of a good hiding from Leicester.
The Foxes put four past Conte's sorry excuses on Saturday afternoon, and having only just endured a hospital stay to address the removal of his gall bladder, it wouldn't be a surprise to hear that the 53-year-old had been readmitted for an acute course of spleen venting and to find a cure for the steam hissing out of his ears. Up until this point, he has generally found a way of eking out silverware wherever his esteemed career has taken him, but you increasingly get the feeling that Spurs might be a conundrum too far, even for Antonio. He's tried dexterity, he's tried the blunt, caustic force of anger, and now he must lie awake at night asking himself how's meant to undo a Gordian knot with a butter knife. At a certain point, the kindest option for both parties might be to admit defeat.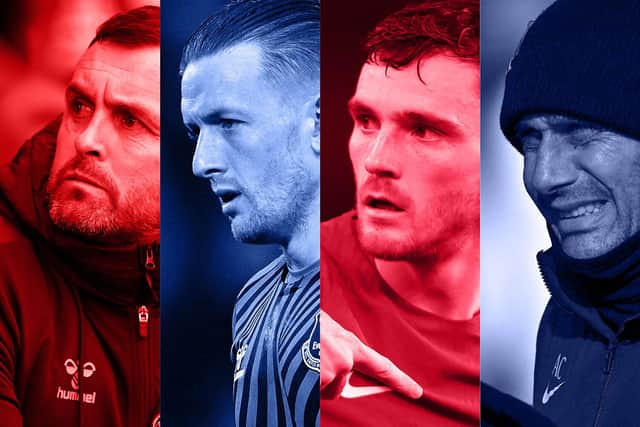 Meanwhile, on Monday night, an irresistible force met an immovable object as the Premier League's dueling crown princes of wind-up merchantry. Jordan Pickford and Andy Robertson quite literally collided in the Merseyside derby - much to the amusement of both, and the chagrin of everybody else. Bonus points in particular to Conor Coady, who came bowling in with all of the consideration and diplomatic nous of a bored bouncer in a provincial small town nightclub.
On a serious note though, it's hard to know what Sean Dyche will have made of the handbags that followed Pickford's prang. Perhaps he will have been enamoured with somebody in an Everton shirt finally showing something vaguely resembling gumption at long last. Perhaps he will have been irked by the pettiness of it all. Perhaps he will have been left wondering why his goalkeeper couldn't have shown a similar level of aptitude for intervention when following the flight of the ball in the build-up to Mo Salah's opener.
Only Dyche will know for sure, but one thing is absolutely certain - Everton need to show more fight than they did at Anfield if they are to have any meaningful hope of avoiding relegation this season.
And finally, allow us to bid a fond farewell to Nathan Jones, who, in just 94 days, managed to establish himself as one of the most inimitable comedic talents the Premier League has seen in many, many a year. From risking it all to escape a humdrum life of teaching PE and rejecting the advances of Welsh women in the valleys, to raizing ping pong tables and becoming one of the best managers in the world at Luton Town, Jones has never been one to cowtow to orthodoxy. Until he did at Southampton. Then didn't at Southampton. Then got sacked after losing to 10-man Wolves. In the end, his will be a tenure that exists in the dank, shadowy recesses of Premier League folklore - less of an embossed footnote, and more of a crudely scribbled piece of schoolyard graffiti.
Where the winds of erraticism take this bizarre, bizarre man next is anybody's guess, but common sense would suggest that he'll struggle to catch an updraught any time soon. Nevertheless, we say to you, Nathan Jones, godspeed you marvelous crackpot, and thank you for the memories.