The veteran stopper has endured a turbulent last few years with United, failing to manage consistent form. De Gea almost lost his starting spot to Dean Henderson 18 months or so ago - and he did in the Premier League - but he went on to enjoy a resurgence. He won his starting role back last season, but he didn't exactly shine behind a poor United back-line, and errors have begun to resurface this season in what is a contract year for the 31-year-old. And that form looks to have cost him ahead of the World Cup this winter.
While Luis Enrique has not confirmed his final squad ahead of the World Cup, Diario AS have reported that Unai Simon, Robert Sanchez and David Raya are the three goalkeepers set to get the call-up. Meanwhile, Chelsea's in-form stopper Kepa Arrizabalaga and Getafe's David Soria are also being considered, even if they are highly likely to miss out.
It's a huge blow for De Gea, who will have been desperate to make it to Qatar.
But ultimately, consistency has cost him, and he has indeed lacked consistently over the last few years. Perhaps he hasn't been helped by what has largely been a sloppy United back-line, but over recent times, we have not seen the De Gea we used to know, the De Gea known for his superb acrobatic saves, those confident stops with his legs.
Of course, he is still capable of big performances, and he showed that in United's win over West Ham recently, producing a Man of the Match display to make the difference. But Luis Enrique wants someone who can stay calm even when things are not going their way, and it's for that reason why Kepa is also likely to miss out. On the biggest stage, you need to be able to arrest the negative momentum that can quickly build on the back of an error.
And all this comes after the 2018 World Cup and Euro 2020, which were disastrous for De Gea all-round. Since then, Athletic Club star Unai Simon has been Spain's go-to goalkeeper, and there was never any real doubt that Simon would be La Roja's starting keeper in Qatar. But it is surprising that De Gea is set to miss out altogether, and especially given it comes as a result of two Premier League goalkeepers being selected in his place.
Brighton's Sanchez has been very consistent over the last year and a half, and beyond, and as a result, he has become a regular call-up under Luis Enrique. Sanchez managed 11 clean sheets last season, and he already has four this term. He is capable of making big-time saves, and he is commanding and confident, something Luis Enrique likes in a goalkeeper.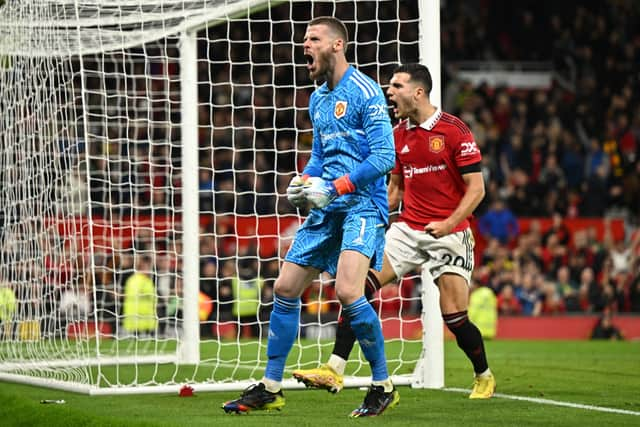 "I look to have three starting goalkeepers and I think that right now I have them," Enrique said back in June. "Honestly. I wouldn't have an issue with any of the three of them starting. Unai has accumulated some interesting experience," he added. "A goalkeeper should start the play and generate the first superiority, they must dominate the aerial play.
"I need a goalkeeper that transmits peace and calmness to me, that doesn't mean they won't make mistakes, errors are part of football. What they generate I like a lot."
David Raya plays with a different style, but he too has been consistent as part of Brentford's successful attempt to solidify their standing in the Premier League. Raya managed nine clean sheets last season, and he has four more this term.
In contrast, De Gea has eight clean sheets last year and five so far this year. Now, United's defence certainly plays a big part in that - there is only so much a goalkeeper can do when left exposed by a Harry Maguire howler. But with no disrespect to either team, Luis Enrique cannot ignore that Sanchez and Raya have managed more clean sheets playing for Brighton and Brentford respectively than De Gea has managed for Manchester United.
Though, the most crucial aspect is tendency to make mistakes and move on from them, as Luis Enrique says, and by that measure, De Gea falls outside the top three as things stand. You only have to look back to United's shock defeat to Brentford earlier this season to see how the 31-year-old can crumble when things are not going his way. Simon is ultra reliable, making 83 saves in La LIga last season and managing 12 clean sheets for an Athletic Club side that was under par.
Meanwhile Sanchez and Raya are both steady options, and two goalkeepers who will compete with Simon, but will ultimately play a team role.
Those are the reasons De Gea has not done enough to get on the plane to Qatar, and why it should be no surprise if the reports are indeed accurate.