Well, well, Welbeck. Who'da thunk it? To say that Danny's inclusion in Gareth Southgate's provisional 55-man squad for this winter's World Cup is something of a surprise might just be one of the understatements of the year. Hell, I might even have put Matt Hancock in there ahead of him, were he not otherwise engaged this winter. Eat as many kangaroo anuses as you want, mate, people aren't going to forget what you've done...
By comparison, Welbeck's shock consideration for Qatar is far from unpalatable - but it is jarring, nonetheless. The Brighton striker is a player whose prior dalliances with the national team are so intrinsically linked with the dross of the 2010s that it's a wonder none of his 42 previous caps featured a collaborative verse from Pitbull. Now aged 31, it's been four years since Welbeck made an 11 minute cameo in a group stage dead rubber against Belgium at the Russian World Cup. After that, nothing.
Or at least, nothing until Tuesday afternoon, when The Athletic reported that Welbeck was back! In pog form! Now, make no mistake, we're nowhere near the level of sensationalism stirred up by, say, Sven-Goran Eriksson's decision to let Theo Walcott do his work experience at the 2006 World Cup, but this is still something of a minor startlement.
True, the forward has featured 11 times for Brighton in the Premier League this season, and granted, his work rate and tactical flexibility are admirable, but the unfortunate reality is that he simply does not score goals. Like, literally. Welbeck is yet to find the back of the net this term. Last year he scored six in 27. He's about as prolific as Harper Lee.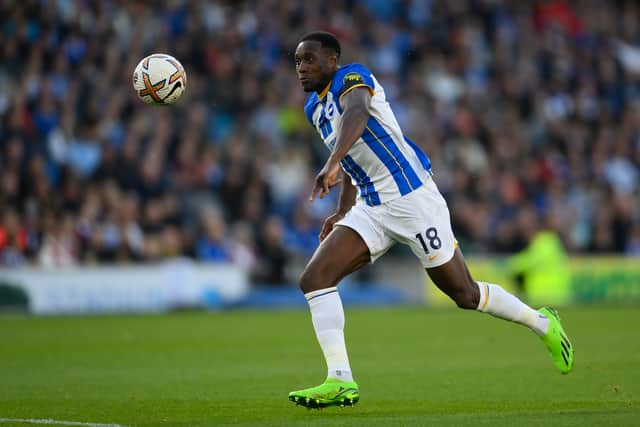 In years to come, it's quite easy to imagine that Alexander Armstrong will tell some father and son duo from Bury St. Edmunds that 100 people were asked to named as many members of Gareth Southgate's provisional 55-man squad for the 2022 Qatar World Cup as they could in 100 seconds. Welbeck will almost certainly be a Pointless answer. In truth, he's probably a bit of a pointless selection too. As likeable as he is, it is hard to see the striker stowing away on England's preferred mode of transport to the Middle East. Then again, they said a similar thing about Paddington Bear, and look at him now. He literally leads monarchs into the afterlife, like the Grim Reaper in a duffel coat.
More than anybody else, Southgate must know that Welbeck doesn't have a realistic chance of going this winter, and on some level the England manager will be aware of the potential PR backlash that such a rickety selection could have amid a climate of waning public confidence. Meritocracy is all fine and dandy, but only when there's actual merit to be rewarded.
Why then, it begs the question, has Southgate included a centre-forward without a goal in 914 minutes on his Domesday roll call? Well, the honest answer might also be the most prosaic. FIFA has asked all 32 qualified nations to submit provisional 'release lists' featuring a maximum of 55 players before a whittling process that will bring that number down to a more reasonable 26.
And in that sense, I actually feel quite sorry for Gareth Southgate. Hand on heart, could you name 55 people? Not even footballers, just people. Honestly, I think I could maybe do like 19, at a push.
Facetiousness aside, 55 is an absurd number. Even broken down into its component parts, it almost certainly means that the England manager has been corralled into naming about 10 strikers. You would imagine that Harry Kane, Tammy Abraham, Ivan Toney, Marcus Rashford, and Callum Wilson are all in that contingent. Dominic Calvert-Lewin, Danny Ings, Ollie Watkins, and Patrick Bamford will also fancy their chances of a tentative nod. But beyond that nonet, who else is there? Well... Danny Welbeck. If Southgate had been forced to call up any more we might have been getting dangerously close to Mike Bassett's Benson and Hedges debacle.
Perhaps then, it is best not to think of Welbeck's inclusion as any kind of great indicator on Southgate's inner machinations, but rather as a reflection of whose number he already has saved in his phonebook.