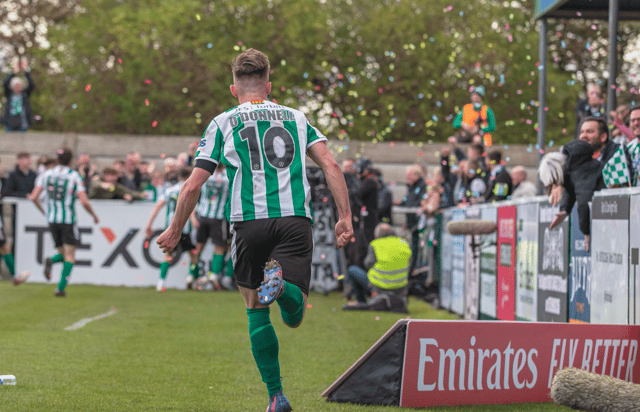 The Spartans battling the Dragons has more than a hint of a Hollywood blockbuster in the making.
Yet there was still surprise when an FA Cup fourth qualifying round tie was broadcast live to a potential audience of millions in the United States. Save for a few Stateside diehards, it's probably safe to suggest a normal meeting of two non-league clubs would make little impact on the other side of the Atlantic.
But this was no normal FA Cup tie. On one hand, Wrexham, backed by Hollywood duo Ryan Reynolds and Rob McElhenney, came with a fearsome roar and an aim to fire themselves into what many annoyingly and somewhat disrespectfully call 'the proper rounds' of the competition. Their hosts, by contrast, are owned by a local businessmen and many people in this small part of Northumberland count themselves as shareholders in a club that has already been somewhat unique. Their aims for this season are not an unlikely push into non-league's elite, but of simply surviving in the second tier for yet another year.
But this is the FA Cup, and the FA Cup draws something special out of Blyth Spartans. A quick wonder into their atmospheric Croft Park home gives an immediate hit of the historical significance the competition holds for the men, women and children that adore their green and white heroes.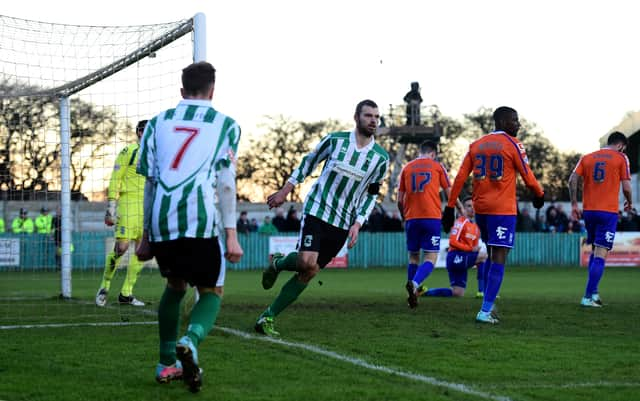 Stories of ventures into the first round and beyond, with many giants slain along the way, are passed from generation to generation. As recently as 2015, Spartans saw off the likes of Darlington, Altrincham and, more famously, Hartlepool United to set up a third round tie with Championship giants Birmingham City. The Northumberland outfit took a two-goal lead into half-time thanks to a stunning brace from club icon Robbie Dale - but a second-half comeback meant they had to settle for a brave defeat against Gary Rowett's side.
Six years earlier, Sam Allardyce's Blackburn Rovers were pushed all of the way in a third round tie in front of the Setanta Sports cameras after Spartans had seen off a pre-Eddie Howe Bournemouth and Shrewsbury Town in the earlier rounds.
Yet their most famous FA Cup run only added to the curious nature of their latest eye-catching tie. In 1977, Spartans embarked on a remarkable run that saw the likes of Enfield, Chesterfield and Stoke City fall at their feet and set up a last-16 meeting with Wrexham.
With club legends like Alan Shoulder, Dave Clarke and Terry Johnson in their side, another upset was on the cards when the latter of that trio fired them in front at a frozen Racecourse Ground. A controversial late equaliser, when a thrice-taken corner-kick was headed home by Dixie McNeill to force the tie into a replay.
With concerns over the viability of Croft Park for the replay, the second meeting was switched to Newcastle United's St James Park and over 42,000 supporters made their way to the home of the Magpies as Spartans' dreams of a quarter-final with Arsenal came crashing down with a spirited display in a 2-1 defeat. Fast forward 44 years, and many of the men that gave blood, sweat and tears for the Spartans cause that night were presented to a crowd of over 2,700 as the two sides renewed their rivalry at Croft Park.
The attendance levels did not quite match the number of that night at St James Park - but the decibel levels certainly did as the Northumberland town came out in support of their side as they looked to pull off yet another mighty upset.
Green and white was simply everywhere as men, women and children gave lusty roars as Spartans - managed by former Premier League forward Graham Fenton - put in a lively display during an opening 45 minutes that raced by in the blink of an eye.
Every tackle, save, pass, cross and shot brought a roar as dreams of a first round tie suddenly went from unlikely outcome to genuine possibility. The game was goalless at half-time but Spartans seemed the more likely of the two sides to land a first blow on their foe. Wrexham, for all of their riches and big-name players, seemed somewhat shell-shocked as an anticipated easy day out had become a severe test of character and skill.
A breakthrough arrived as the game made its way into the final stages, when Wrexham landed something of a double blow on Spartans as a controversially awarded free-kick from Tom O'Connor struck the wall before deflecting into the net.
Despite that cruel setback, anger was the energy as the Croft Park faithful doubled their support for their side. It was a blow, but it was one that inspired, rather than subdued. Their reward arrived in the final minute as former Newcastle United youngster Michael Richardson saw his free-kick evade everyone in a crowded area before nestling inside the far post to set off jubilant scenes in three corners of this famous old ground.
Tickertape was thrown, the ESPN America pundits and camera crew disappeared under a mound of Spartans players and thoughts quickly turned to a dramatic late winner. Hope, belief and enthusiasm rushed around those in green and white as the shackles of three challenging seasons felt like a distant memory and the possibility of the unlikely happening came to the fore.
Both sides had chances, but this mighty battle would end level and the prospect of another clash just days later. Once again, Spartans were brave and they were backed by a loyal and passionate band of support with over 300 supporters making their way to Wales.
It would have been more, had a coach carrying another 50 not broken down midway through the journey, leaving those on board stranded and reduced to watch events via social media and texts relayed from the Racecourse Ground. Those texts provided messages of disappointment, hope and excitement in equal measures as Spartans pushed the Dragons to the edge once again, but they bowed out with a 3-2 defeat, despite mounting a hearty second-half comeback that threatened to force the clash into extra-time and a penalty shoot-out.
There was no Hollywood ending, but a tale for the ages and a reminder of why the FA Cup will never lose its magic and allure was provided for those in attendance at Blyth Spartans' famous old home.