Speculation over Harry Kane's future at Tottenham Hotspur is sure to be one of the major debating points over the summer months as his side struggle to make significant progress at home or in Europe.
Sunday's 6-1 hammering at the hands of Newcastle United left the north London outfit six points shy of the Champions League spots and their search for silverware in cup competitions is already over. Kane will head into the final year of his contract this summer and there are several big name clubs ready to offer him a route out of Spurs. So 3AddedMinutes has fired up Football Manager 2023 to see just how the England captain may fare if he opts to accept an offer from elsewhere.
Bayern Munich
This move would see Alan Shearer get his way as Harry Kane's charge for his Premier League goalscoring record came to a temporary halt with the England skipper joining the reigning German champions. It paid dividends for both the striker and for the Bundesliga club, as he fired 27 goals and provides six assists in 52 appearances in all competitions.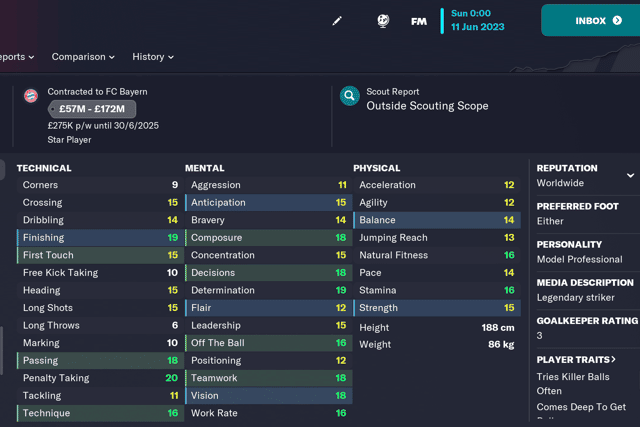 It won't be a shock to anyone to find that helped Bayern claim another league title and they also secured the DFP-Pokal (German Cup) with a 2-1 win over Union Berlin in the final. Nor will it be a shock to discover Kane helped Bayern reach the final of the Champions League - but he suffered disappointment for the second time at this stage of the competition as his side suffered a 1-0 defeat against Real Madrid.
Real Madrid
Another move abroad - and another reason for Shearer to smile - as Kane joined the La Liga giants, following in the footsteps of former Premier League stars like David Beckham, Cristiano Ronaldo and…errr…Julian Faubert.
Forcing Karim Benzema into an unusual position on the left-hand side of a front three, Kane enjoyed a productive season with 22 goals and 12 assists in 47 games in all competitions. That helped Real secure the league title with a four-point lead over Barcelona. A domestic double was also completed when the England man grabbed the only goal of a Copa del Rey Final triumph against Real Sociedad. Kane also scored twice in a UEFA Super Cup win over Eintracht Frankfurt and in a 2-0 win over Seattle Sounders in the World Club Cup Final, as well as featuring in a Spanish Super Cup win against Valencia.
Yet an attempt for a clean sweep of every available trophy during the season came to an end with a Champions League quarter-final defeat against PSG, as a Kane goal in a 1-1 draw at the Bernabeu failed to overturn a 2-1 deficit from the first leg in the French capital.
Manchester United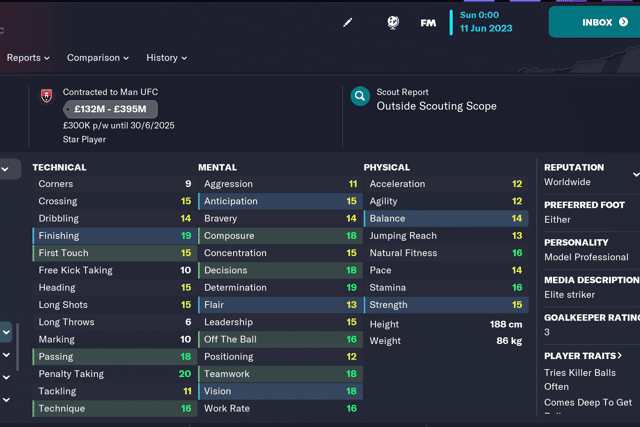 After scoring his first Red Devils goal in a 2-1 win at Crystal Palace in his third game for the club, the England captain went on to score a total of 19 goals and provided five assists in 50 appearances in all competitions. However, domestic cup interest came to an end when Bolton Wanderers claimed a shock Carabao Cup fourth round win over Kane's side and another surprise defeat in an FA Cup third round tie at Nottingham Forest stopped that run before it had even begun.
A Europa League semi-final defeat against Real Sociedad meant Kane and his new side had to be content with a third place finish in the Premier League - although seeing their season end with a 16-point deficit to arch rivals and champions Manchester City will hardly have helped their mood.
Manchester City
Partnering the two most prolific strikers in the Premier League is a surefire way of guaranteeing success! Or perhaps it isn't if Pep Guardiola's decision to bring in Kane to play alongside Erling Haaland is anything to go by.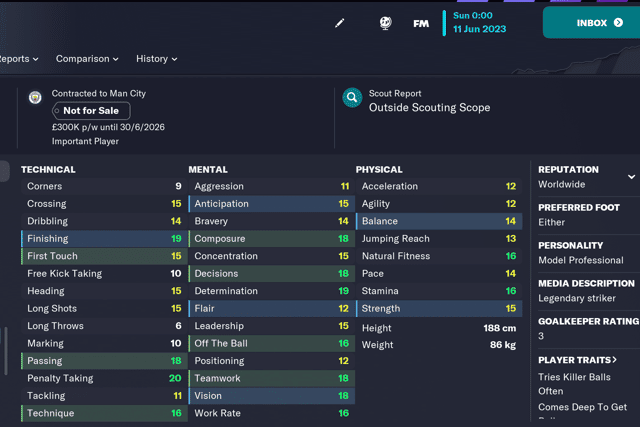 A slow start to the season consisting of defeats against Leicester City and Arsenal gave some sign of what was to follow as a run of 20 games unbeaten in all competitions proved to be somewhat misleading when it came to actual success. Between them, Haaland and Kane provided 51 goals and 21 assists in all competitions, but silverware remained out of reach. Both found the net in a Carabao Cup semi-final tie against Manchester United - only for the Red Devils to progress with a 4-3 aggregate win.
Thoughts of claiming an elusive Champions League win were ended by a quarter-final defeat against Bayern Munich and a 3-2 defeat against Chelsea in the FA Cup Final meant another source of domestic silverware went elsewhere. Perhaps more surprisingly a run of six consecutive Premier League wins at the end of the season was only enough to land third place as Arsenal claimed the title, four points clear of Pep's men.