Inside Newcastle United hero's fight vs racism - 26 years after starting Show Racism the Red Card
The former Magpies keeper was awarded the freedom of the city of Newcastle Upon Tyne earlier this year.
Watch more of our videos on Shots!
and live on Freeview channel 276
Visit Shots! now
Shaka Hislop has proven that something positive can come out of a negative.
During his time as a goalkeeper with Kevin Keegan's famed Newcastle United 'Entertainers' side of the mid-90s, Hislop was subjected to racial abuse by a group of youngsters outside of St James' Park. The derogatory comments turned to praise and requests for autographs when the group realised the target of their abuse was the Magpies star - but a journey had begun in Hislop's mind that led to the formation of an organisation that is still going strong today.
The former West Ham United and Portsmouth stopper became a co-founder of Show Racism the Red Card, which has now become the largest anti-racism education charity in the United Kingdom after engaging with over 900,000 people during its 26-year history. The importance of the organisation has only increased in recent years, with divisions in society becoming even more evident and the rise in popularity of social media giving a new outlet for hate. More can be done, and Hislop insisted there is one authority that should be doing more to stop hate.
He told 3AddedMinutes when asked if the government were doing enough to combat racism: "No! No I don't, not enough in racism, period.
"The onus is still on the same small private and charitable organisations such as us (Show Racism the Red Card). I think the government can play a much bigger role in making sure anti-racism education is available if not compulsory for all. And recognising England's own history and how it looks today. I think it is something every kid in school should recognise and know the history of. The government has not fulfilled their role, instead we have organisations who are having to go out, raise funds and put together a curriculum to address the issue."
"I have wanted to see a major team such as this use their platform to raise awareness"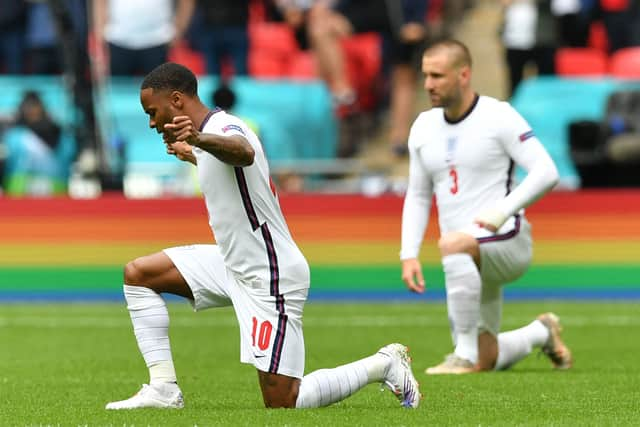 Where authorities are failing, England's senior players have stepped up in the most challenging of times. Over the last few years, the spectre of racism has followed Gareth Southgate's side with a number of players targeted by home fans during wins in Hungary and Bulgaria. Social media has also become a breeding ground for hate and the aftermath of the heartbreaking Euro 2020 Final defeat against Italy saw Marcus Rashford, Bukayo Saka and Jadon Sancho all targeted with vile comments.
Led by the unwavering support of Southgate, England players from all backgrounds and cultures have been given the confidence to speak out over such issues and Hislop believes the Three Lions can be proud of the stance they have taken.
"I have loved everything this England side has stood up for, for all of the major issues," he explained. "I have wanted to see a major team such as this use their platform to raise awareness and I believe that this has brought them together in many ways.
"I think they have done that without thinking of what their 'role' is or who their target audience is but because they actually believe it is right, it is the right thing for them to do – to stand up for each other regardless of what that issue may be. In doing so they have set a benchmark and laid a blueprint as to how the next generation of English footballers can continue to stand for those whose voices often go unheard."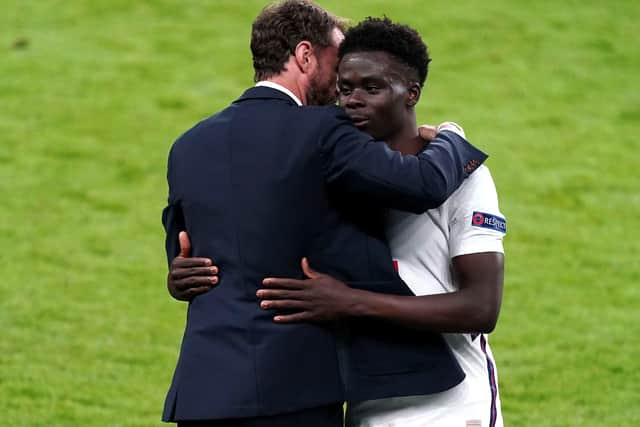 Hislop also revealed his admiration for Southgate after the former Middlesbrough manager showed a willingness to speak out over racism and give belief to members of his squad that they could follow the same path.
"I give Gareth Southgate the praise for this, he has been responsible for giving the players the confidence to make this happen (speaking out and becoming role models). Within the team he has encouraged and provided the opportunity for black members to articulate their own concerns of racism in sport, and around the abuse they faced after the Euro's, they helped their white team mates to understand or try to understand the issues and I think now as a team they have taken every opportunity to stand together with each other."
'Understanding that those differences in history and what shapes us ultimately lifts us'
Hislop's brief venture into the England squad saw him rewarded for his form during his time at Newcastle when he was a substitute alongside Southgate during a 2-0 friendly defeat against Chile just months before the World Cup Finals in France in 1998.
The current England manager and the Hackney-born keeper remained on the bench but the latter's interest in the Three Lions remained strong, despite making a belated international debut in the colours of Trinidad and Tobago just months after his England call-up. And that is why he was so proud to see Show Racism the Red Card launch a unique England World Cup shirt that gives a nod to the 'migration stories' of members of Southgate's squad.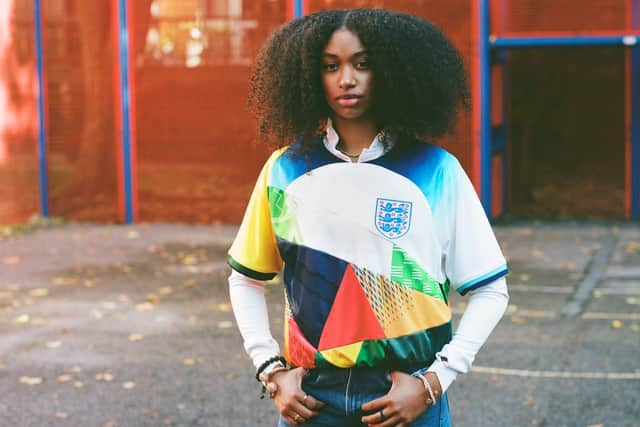 The international colours of the likes of Jamaica, Republic of Ireland, Canada and Barbados are all shown in a patchwork England kit in a display Hislop believes is crucial to understanding what the current crop of England stars are all about.
He said: "(It is) important to always recognise histories and how much has gone into our shared history, it's never as straightforward as it appears to be. Understanding that those differences in history and what shapes us ultimately lifts us. And you see that in the England team, players who have never had to face racism are standing up now and understanding the issues and challenges of those who have. Ultimately being English is a number of different histories, cultures and personalities and that is what has shaped our country."
For more information on Show Racism the Red Card's #FabricOfEngland shirt and for more on the charity click here.