Though her credentials are no way in doubt, the legendary midfielder was still an 'active' player when the selection panel were making their decisions.
But having recently taken retirement after achieving a career high of lifting the Euro 2022 trophy with England, it won't be long before Scott discovers a new kind of fame. Fans of women's football are well-versed in the class clown's cheery antics, but Scott's appearance on reality TV show I'm a Celebrity...Get Me Out of Here! will quickly put her in the hearts of a much wider audience.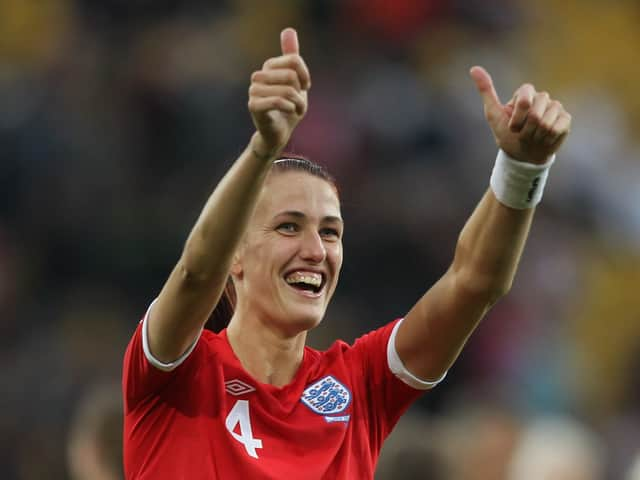 Swapping Leah Williamson and Beth Mead in for 80s pop star Boy George and former Radio 1 breakfast presenter Chris Moyles, Scott will take her place in a star-studded line-up braving the Australian jungle in front of the ITV cameras. From the Sunderland-born joker you can expect japes, smiles, and plenty of banter with Geordie I'm a Celeb presenters Ant and Dec.
Before the new series kicks off at 9pm on Sunday, here are some of her best moments so far...
1. Caught on Camera
Sure, Keira Walsh's assist for the England opener was kind of eye-catching, and maybe it was nice to see the Lionesses bring home the nation's first major trophy in more than 50 years, but for many of the more casual watchers of the historic final, Jill Scott's 88th-minute appearance provided one of the contest's most memorable moments.
After a prolonged battle with Sydney Lohmann culminated in Scott's legs getting tangled up with the German midfielder, Scott held absolutely nothing back in letting her opponent know what she thought of the incident. Unfortunately, the BBC cameras caught a close up of the interaction, which was replayed in slow motion as part of the live broadcast. Fortunately, many of the millions of viewers saw the funny side of her expletive explosion.
Scott's Grandma was not one of them, and even sent her a message about it, team-mate Walsh revealed: "I do apologise for the swearing, I actually hate swearing away from football but once I cross over that white line I feel like I have to be angry and emotional to get my performance out of me," Scott told talksport. "She did swear at me first but the camera was the other way but I do apologise."
2. Behind the Scenes
In today's world of tightly-restricted football media access, it's hard to imagine that at the 2011 World Cup, the FA really handed Jill Scott a camcorder and said… 'go wild'. But thank goodness they did. In the decade since, Netflix have poured tens of millions of pounds into the production of limited series which are yet to match Jill Scott's World Cup Diary for entertainment.
And the best part is, all five episodes are still available to view on YouTube. And why not start at the beginning? In episode 1, Scott gives a thorough review - including smell - of their team coach (then a novelty), reacts to an autograph hunter who thrusts forward a clutch of photos which doesn't include her own face, does her best impression of Karen from Mean Girls by telling viewers 'the weather is very bad' as rain pours down her face and Hope Powell's players cower in a dugout, before throwing herself enthusiastically into a sodden-pitch belly slide - all mixed in with some very familiar faces sporting 2010s hairstyles which somehow already look extremely nostalgic.
3. Obvious Jill
During the 2019 World Cup, Jill Scott and England shot-stopper Karen Bardsley concocted an iconic social media series called 'obvious Jill' inspired by former England star James Milner's alter ego 'Boring James Milner'. Now, if it's not too obvious to explain, the series involved Scott posting on Instagram every day, making a series of 'obvious' statements to camera and various team-mates chiming in with a disgustingly catchy jingle which went - you guessed it - 'obvious Jill!'
Sadly, many of the clips are lost to spent Instagram stories, but here's one of the Mackem explaining that, at a session she spent with the Lionesses' Under 18s, Scott was the oldest one there - obviously.
That such an absurdly simple concept should have been so absurdly popular can only speak to Scott's charisma.
4. Lockdown Hero
In the UK's hour of need, Jill Scott was there. Amid the bleak football wasteland of the coronavirus pandemic, the Lioness was on hand to keep footie addicts sharp and entertained via the medium of Instagram with her regular football challenges.
Scott showed that while training and games were off the cards, all you needed was a patch of grass, a football, and sometimes a wall to keep your skills in tune until the next opportunity to play arose. She even showcased some of her team-mates' favourite tricks, daring watchers to have a go at imitating Keira Walsh's 'snake hips', with prizes for Scott's favourite submissions from those who recorded and tagged her in their attempts.
5. Victory Speech
With Sarina Wiegman's players feeling plenty worse for wear on the day after their Euro 2022 victory, Jill Scott was likely among the worst sufferers, having reportedly stayed up later than most while locked into an intense rap battle with centre-back Millie Bright.
But it would take a little more than a skinful and a short night's sleep to dull the irrepressible joker's spirit.