Arsenal have finally tied Bukayo Saka down to a new contract, but when are the rest of their players out of contract?
The Gunners had been trying to strike a deal with Saka for months before officially announcing a new deal on Tuesday afternoon. The winger has scored 14 and assisted 11 this season, and he is in the conversation for Premier League Player of the Year, even if Erling Haaland is a likely winner due to his goal-scoring form.
But with Saka tied down, we have taken a look at the full list of Arsenal players to see when the other deals are on course to expire. Join us below as we start with the most pressing contract concerns:
Reiss Nelson - 2023
This one is very much ongoing, with Arsenal reportedly offering Nelson a new four-year contract offer. Nelson proved important at times this season, and he it seems Arteta wants to keep him around. It will now be down to the winger, who may yet want more regular football.
Jorginho - 2024
Jorginho is on course to stick around for another year, though it will be interesting to see if he makes it beyond the summer should Arsenal strengthen their midfield as expected. The Italian offers experience and quality, but he is behind Thomas Partey and, for example, someone like Declan Rice, who could come in.
Granit Xhaka - 2024
A similar story for Xhaka, albeit the Swiss international has featured regularly this season. Xhaka could be one who is offloaded, but it also wouldn't be a surprise to see him stay, given his contribution this term.
Mohamed Elneny - 2024
Elneny has a lot to prove, but he was given an extra year due to an unfortunate injury that kept him out pretty much all year. The midfielder will get his chance, but will he take it?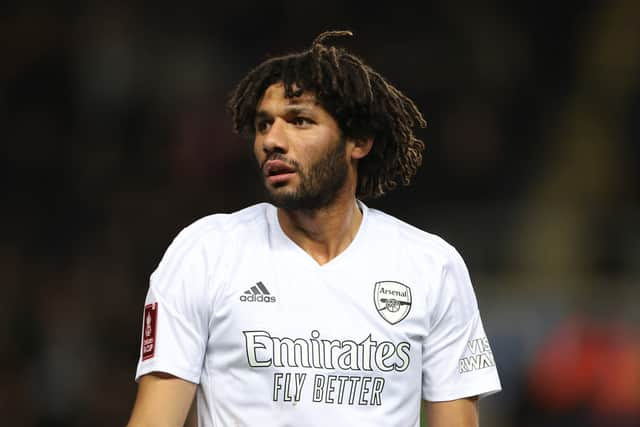 Rob Holding - 2024
Holding has contributed this season, and particularly in times of injury. He remains a back-up defender, and his contract makes him vulnerable heading into this summer. Holding is one to keep an eye on over the course of the transfer window.
William Saliba - 2024
Saliba's story is very different. The Frenchman showed his talent this season, and Arsenal will be desperate to keep him around, given he will be a key part of Arteta's plans going forward. The Gunners are working on talks, but they will fear interest from elsewhere, given Saliba's ability.
Thomas Partey - 2025
Into the lesser contract concerns, and Partey is unlikely to go anywhere this summer. Though, it will be interesting to see where he fits alongside another defensive midfield signing. Will Arteta go for a double pivot?
Martin Odegaard - 2025
Odegaard is going nowhere any time soon. The club captain is likely to be handed a new long-term deal in the near future, being such a key part of Arteta's plans.
Takehiro Tomiyasu - 2025
Tomiyasu has been a little injury prone since arriving at Arsenal, and that is his biggest obstacle. He has impressed during his time, but he will need to stay fit to win his next contract.
Matt Turner - 2025
Turner remains a back-up at the Emirates Stadium, and it will be interesting to see how long he is willing to play that role.
Aaron Ramsdale - 2025
Ramsdale looks as though he will be Arsenal's number one for years to come. For that reason, he could be offered a new deal sooner rather than later, but the Gunners do have some more immediate concerns on the contract front.
Leandro Trossard - 2026
A recent signging, Trossard is under a safe deal and Arsenal won't be concerned over a new contract any time soon. The former Brighton star has made a solid impact so far.
Oleksandr Zinchenko - 2026
Zinchenko is another recent signing, and a costly one at that. He has had a huge impact, and the Gunners will be happy they signed him to a new contract.
Kieran Tierney - 2026
One of the more interesting players from those under long contracts. Tierney could well be moved on this summer due to his lack of starts this season. The Scot is not going to want to play back-up to Zinchenko when he could find a starting job for a Premier League club competing for - and possible in - Europe. Newcastle United have been linked.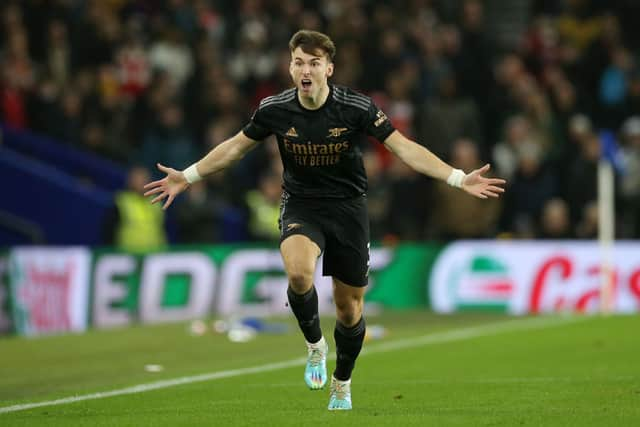 Ben White - 2026
White has been a fine signing for Arsenal, slotting in at centre-back and full-back. But it's not just his versatility, White has offered real defensive quality since his arrival.
Emil Smith Rowe - 2026
Smith Rowe has played a lesser role this season, and it will be interesting to see where things go from here. Will the Englishman push on to test Saka and Gabriel Martinelli, or will he wind up looking for starts elsewhere? Smith Rowe has real talent, but he will need to offer a little more to start ahead of the two mentioned, at least if he is going to play out wide.
Eddie Nketiah - 2027
Nketiah proved his value this season when he had to stand in for Gabriel Jesus, and he was handed a healthy contract extension. Arteta will want to see Nketiah really pushing Jesus to start next season.
Gabriel Jesus - 2027
Jesus started the season in brilliant scoring form, but it was his build-up influence that stood out as the campaign went on. He missed some time through injury, but he will remain a key player going forward.
Bukayo Saka - 2027
Arsenal have finally tied their superstar talent Saka down to a long new contract, much to the relief of Arsenal fans. A huge boost for the Gunners, with Saka capable of playing in any team in the Premier League.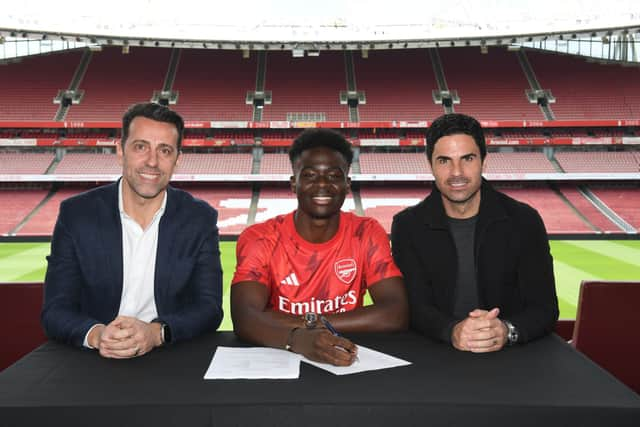 Gabriel Magalhaes - 2027
Starting defender Gabriel is under a long-term deal, and he is likely to remain a starter next season. The Brazilian is going nowhere any time soon.
Fabio Veira - 2027
Vieira was signed as a player for the future, and Arteta will want to see some progression next season, especially if there are incoming signings in midfield.
Gabriel Martinelli - 2027
Martinelli is as important as Saka - if not, he's very close. The Brazilian has been a sensation over the last couple of years, and Arsenal will be delighted to have him tied down.
Jakub Kiwior - 2027
The 23-year-old was a January signing, and he has made a number of starts over recent weeks. It will be interesting to see how Kiwior progresses as he continues to settle in at Arsenal.