It must be quite a fun time to be an Aston Villa fan – after several years in which their most exciting transfer rumours could be placed in the ballpark of "£2.5m for some bloke from Hibs, possibly", they've gone all ambitious ahead of this summer, and some pretty big names have been linked with a move to Birmingham.
No offence to the steadfast figure of John McGinn, who looks a bit of a bargain these days, but you can understand why second city supporters' salivary glands might be working a bit harder when you're talking about players like Dušan Vlahović and Ferran Torres – and the latest player to be added to Villa's alleged shopping list, Harvey Barnes.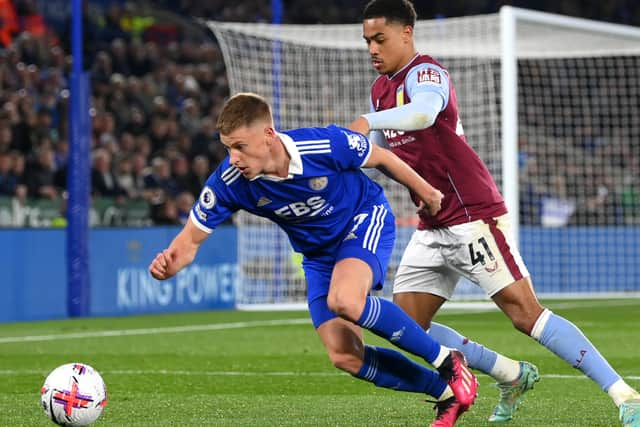 The Leicester City midfielder is apparently keen to make a move from Leicester City regardless of whether the 2016 champions survive on the final day or not, although relegation would at least make him a bit cheaper – and The Independent report that Villa are ready to present a "strong package" to lure the winger. Ooh, matron.
The 3AM Verdict: Whether said package can get Barnes's juices flowing sufficiently remain to be seen, and there will be quite a few clubs keen on the twelve-goal wideman. Clearly he'd be a pretty great signing for the upwardly-mobile Villa, and you do hope for the sake of their fans that they land at least one or two of their fancier targets this summer. If they go through all this and wind up with a back-up left-back from St. Mirren, it would feel like a bit of a letdown.
Moyes makes his moves
Another club keen on collecting rats fleeing sinking ships is West Ham, who are similarly lining up a bit for Barnes – we can only be grateful that he will arrive too late to play alongside Mark Noble, a midfield partnership which would subject us to all manner of dreadful bookshop puns.
But David Moyes' side are keen to pluck safety-conscious rodents from the water wherever they can, like some sort of aquatic Pied Piper (of Hammer-lin?), and so are also keen on Leeds United's Jack Harrison - according to The Sun. No figures are mentioned for either player, and there are also reports that they're going to have a crack at Fulham's João Palhinha for about £40m. Apparently, they want to upgrade their midfield a little, basically.
The 3AM Verdict: There's something about Harrison to West Ham that feels just right – it's almost a bit nineties, a solid but unspectacular player going to a respectable mid-table club for a likely very sensible fee. It feels like he should be playing alongside Scott Minto, not Palhinha or Lucas Paquetá. In fairness, the man bun brings it all a bit more up-to-date.
Seagulls swooping on Sassuolo man
Lastly today, word that Brighton want to add a new face to their rather charming celebratory dressing-room dance classes, presumably to teach Tariq Lamptey a couple of moves which extend his repertoire beyond "bobbing gently up and down on a bench while smiling like an elderly school librarian at the end-of-term disco". Seriously, though, they were going for ages last night, without anyone ever trying out a second move. A real lack of inspiration on show. Bruno Tonioli would have had none of it.
We want your feedback on 3 Added Minutes - details here
Sport Witness reckon that Roberto Di Zerbi is keen to get his hand on former charge Davide Frattesi, a versatile midfielder with four Italy caps to his name and a price tag that could rise as high as £50m – but with European football to come for the first time in the club's history, and a good chance of cashing in on Alexis Mac Allister and Moisés Caicedo, no expense can be spared it would seem.
The 3AM Verdict: For those unfamiliar with Frattesi's body of work, he had a hit with the song 'Chelsea Dagger' in 2006 and… ah, sorry, wrong Wikipedia page. He's something of a box-to-box midfielder, winning the ball from deep and getting forward with his surging runs and dribbling skills. Unusually for players of that ilk, he's also pretty handy in front of goal, with seven strikes in Serie A this season. Knowing how rarely Brighton miss, he's probably going to be worth double whatever the Seagulls pay for him in a couple of year's time, anyway.