The Rebound: Everton nuke an iceberg, Man City's Prince Harry doppelganger, and Sunderland's kindergarten wizards
All of the latest reaction to this weekend's footballing action, including Everton, Man City, and Sunderland
Watch more of our videos on Shots!
and live on Freeview channel 276
Visit Shots! now
Erm... where the bloody hell did that come from? Last week, I wrote in this column that Everton were rearranging deck chairs on the Titanic. Monday night's 5-1 drubbing of Brighton was more akin to them nuking the iceberg itself.
Is it a coincidence that the Toffees won so heavily on an afternoon where Sean Dyche - the Thanos of quintessential English men - was allowed to sing the national anthem before kick-off? Nobody can say for certain, but don't be surprised to see the Royal Liverpool Philharmonic get off the team coach at Goodison Park when Manchester City visit on Sunday afternoon.
Quite where this version of Everton has been hiding all season long is a mystery, but this performance was, as they say, different gravy. And if there's one thing you would wager that Dyche has an encyclopaedic knowledge of, it is different brands of gravy. It was also a display that came at the best possible time.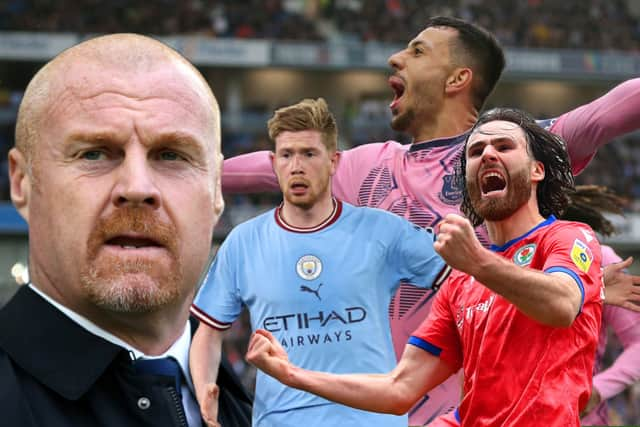 On an unhinged Bank Holiday Monday, during which we saw 21 goals shared across just three matches, Nottingham Forest came out swinging to all but doom Southampton, and Leicester City came unstuck at Craven Cottage like a thatched roof in a hurricane. With Leeds United failing to cause an upset against Man City earlier in the weekend, it now means that Everton are a whole two points clear of the drop zone with a trio of fixtures left to play. In a vacuum-sealed relegation battle, that kind of daylight must feel like a novel chasm.
Elsewhere, as we've already alluded to, Manchester City took a significant step towards the Premier League title with a lumbering victory over Leeds on Saturday in a fitting aftershow to the Coronation pageantry that preceded it; and not just because Kevin De Bruyne would make for a passable Prince Harry impersonator and an animayed Pep Guardiola spent most of proceedings gesticulating in his dugout like Prince Louie on the Buckingham Palace balcony.
Here we had an entrenched power, jewel-encrusted and cloistered from the grimy struggles of the everyman, riding roughshod in a golden carriage towards a crown that, despite some protestations, we've always kind of known was theirs from the beginning. To paraphrase our gloriously anointed and only slightly brattish 74-year-old monarch, it's almost quite boring. City fans will dispute that stance - as they should - but from a neutral perspective, with a club about to win their fifth title in six years, how else are we supposed to describe it?
The reigning kings of England have just four Premier League games left this season, and it's hard to envisage how Everton, Chelsea, Brighton, or Brentford could derail them to any meaningful extent from here. Then again, just to be safe, maybe City could plant some eggs and choicely-worded placards on the likes of Alexis Mac Allister and Ivan Toney before ringing in an anonymous tip-off to the Met...
And finally, I would like to express my heartfelt thanks to the following people: Ben Brereton Diaz, Adam Wharton, Joe Rankin-Costello, Jon Dahl Tomasson, Tugay, David Dunn, Carl Fogarty, Lee Mack, Diana Vickers from the X Factor, my esteemed colleague Matt Gregory, Jack Straw, Sarah Martin from Belle and Sebastian, Tim Farron, Matt Smith, and Jim Bowen (RIP). Your lads did us Mackems one hell of a favour yesterday.
Perhaps if Blackburn Rovers had remembered how to play football before the final 45 minutes of the season, they wouldn't have missed out on the Championship play-off places by goal difference alone. It's a cruel twist of fate that one of the finest comebacks of the campaign was met with little more than jubilation elsewhere. Nonetheless, they contributed to one of the most thrilling final days in recent memory, and with the proper backing and some astute recruitment this summer, there's no reason why they can't be in the running for promotion again next season.
As for Sunderland, there's no delusion here. Perhaps they will get butchered against Luton Town next week. Perhaps they will get to Wembley and get butchered by whoever awaits them there. Perhaps, against all common sense, they will get promoted to the Premier League and get butchered 38 times in succession. As the brilliant Jonathan Wilson tweeted in the aftermath of Monday's 3-0 win at Preston North End: 'It's like a gifted school choir who signed up together going over the top as one. Cassocks soaked in blood.'
But right now, I honestly don't care. All I wanted going in to yesterday's cluster of deciders was for this season - this wonderful, fun, chaotic season - to last a little longer. Now, thanks to Tony Mowbray's kindergarten wizards and a sizeable dollop of good fortune, it will. So, yeah, cheers.