Back in the day, they might have said something along the lines of 'you make your own luck'. Nowadays, I believe that the kids have another phrase for it: 'f*** about and find out'. If you haven't seen the footage of Barcelona's squad and backroom staff fleeing the pitch at the home of local rivals Espanyol while being chased down by a mob of incandescent supporters like a vanquished army in an Age of Empires playthrough, you really must. It's absurd to a point of near-disbelief.
For context, this is how things went down: on Sunday evening Barca won 4-2 to secure a first La Liga title since 2019 and leave their neighbours four points from safety with just four games left to play. The newly-crowned champions then proceeded to celebrate their success by partaking in what can only described as a 'bloody good frolic' on the halfway line. Seriously, this thing made the hokey-cokey look like a Bloodstock circle pit.
Anyways, after enduring the sight of the world's smuggest game of Ring-a-Ring O Roses, a number of Espanyol fans finally snapped, hurdled the advertising hoardings, and made for their tormentors like a savage den of Nokia snakes. Henceforth commenced the fleeing; past the touchline, down the tunnel, into this article.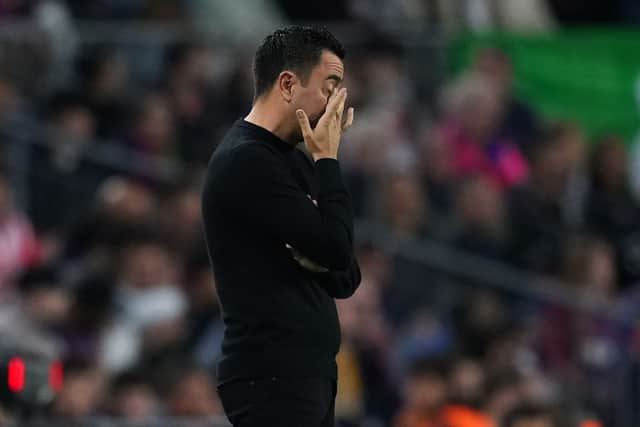 Before we go any further, this is not apologism or excuse-making for pitch invasions with malicious intent. The common consensus surrounding the behaviour of the home support on Sunday night was that it was a disgrace, and believe me, I concur.
But equally, what did the travelling Barca contingent expect to happen? This was like wearing Elmo fancy dress to a bull fight, or like getting out of your car and tucking into a Burger King in the middle of Knowsley Safari Park. There are times and places to gloat, and this was neither. I'm not saying that Xavi Hernandez's men were the antagonists in this situation, but boy howdy, they did a lot of rib-jabbing. Those of a more cynical stance might even argue that their hasty retreat was, if not comeuppance, at least a touch karmic.
And in reflecting on the incident, I feel like Kirk Van Houten, standing before a flip chart, magic marker in hand, screaming about dignity. Nobody is saying that Barcelona can't celebrate their title win, or that they have to be overly considerate of the feelings of others, but if you're going to insist on morris dancing in your neighbours' back garden as a chip pan fire rapidly envelopes their kitchen, be prepared to deal with the consequences.
You would imagine that the relevant authorities, whether it be La Liga or Espanyol themselves, will attempt to deal with those that invaded the pitch in an appropriate manner - and so they should. Allowing such conduct to go unchecked would set a wholly improper, and potentially dangerous, precedent.
But as for Barcelona, have some decorum, lads. In the immortal, only slightly paraphrased words of Phoenix Nights bouncers Max and Paddy, 'You play with feathers, you get your backside tickled'.