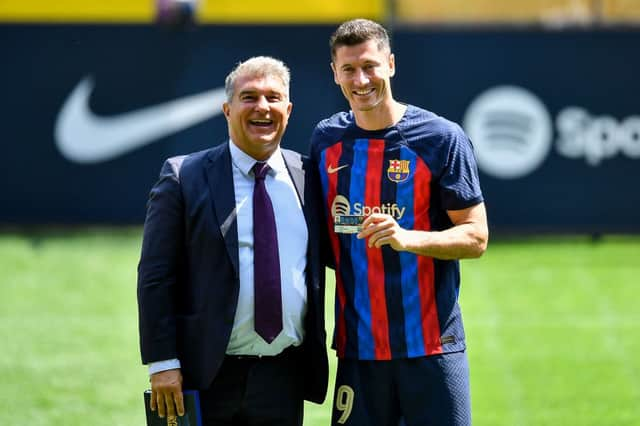 Well, that wasn't in the script. FC Barcelona, saddled as they are like a wheezing pack mule with debt and uncertainty, are out of the Champions League. If this was a mob film, now would be the time that they answered a heavy knock at the door to find two olive-skinned men in velour tracksuits holding baseball bats. Honestly, they just wanna talk...
To be fair, anybody who boasts even a passing familiarity with tragic convention might have predicted this outcome some time ago. Barca's financial woes of late have only been eclipsed by the recklessness and avarice with which they have recruited. Joan Laporta and his cronies have been planning for a royal banquet with nothing but a tattered ration book in their back pocket. Over the summer, the Catalan giants went on the kind of headless spree usually reserved for teenage lottery winners and arrogant Tory chancellors. If the combined forces of retrospective Channel Five documentaries and googly-eyed fresh produce have taught us anything, it's that these things rarely end well.
Despite being certifiably destitute (as of August, Barca were in debt to the tune of £1.14billion), Laporta and co. accrued the second-highest spend of any club in Europe last summer, financing their binge by means of a series of economic levers, or palancas. TV rights were sold, as was a quarter of their in-house production company, Barca Studios. The board even resorted to hiring out Camp Nou as a wedding venue. Hopefully they kept the table cloths and the folding chairs - they might come in handy at the looming wake. Suddenly all of those loopholes must be starting to feel likes nooses.
Laporta's short term fixes (FC Paydaylona, amirite?!?), were a calculated gamble designed to flood the dressing room with enough talent to drag the club back towards the auspicious purses that could soothe the voracious tapeworm in their coffers. As the final whistle blew on a 3-0 defeat to Bayern Munich that dumped Barca out of the Champions League on Wednesday night, it was startling clear that his speculating won't be doing any accumulating any time soon.
Essentially, Barca took out a mortgage on a future which has not come to pass. And that begs the obvious question as to what comes next. The safest bet is yet more abstract chaos behind the scenes; anarchic farce, farcical anarchy. Camp Nou could well end up feeling like Kamp Krusty sooner rather than later. Specifically, you would imagine that player sales will be brandished as a frantic stay of execution - although even a January exodus may be akin to throwing a Fruit Shoot over a bushfire.
In particular, the likes of Frenkie de Jong, the Dutchman who has clung to the hull of the sinking ship like a particularly stubborn cirripede (Raymond van Barnacle, if you will), Ousmane Dembele, a winger with an injury record comparable to that of a Hollywood stuntman with osteoporosis, and Memphis Depay, a Soundcloud rapper with a sideline in benchwarming, could be among the first sacrificed. Don't be surprised to see Barca's transfer policy take on a remarkably similar hue to DFS' never-ending clearance sale in the coming weeks. Everything must go. At this rate, Xavi Hernandez's left kidney might even be available for the right price.
Ultimately though, what the coming months and years actually hold for Barcelona is anybody's guess. The same was probably true even before their untimely Champions League exit. For far too long, those at the top of the club have operated beyond their means, and it is that ceaseless rapacity that has marooned one of the continent's greatest footballing institutions in this wasteland. In some respects, it is sad. Nobody - or at least nobody in possession of any proper decency - wants to see a club evaporate in to the ether.
But at the same time, it is hard to have too much sympathy for a racket that has been enabled and excused by far too many. This is the same Barcelona who petitioned so ardently for the advent of a European Super League (given their current ruinous plight, it's not hard to see why), and who gleefully eviscerated every moral and ethical boundary imaginable to snatch Martin Braithwaite away from Leganes a couple of years ago because of an "emergency" injury crisis. Leganes were, in turn, denied the right to sign a replacement of their own, and were subsequently relegated. They are still yet to return to the Spanish top flight.
In all likelihood, Barcelona will survive this latest hammer blow... somehow. Laporta and his ilk have the distinct vibe of cockroaches in a nuclear holocaust. But now, as the president gazes out of over the smouldering debris of his great gamble, he will know that there might not be any more palancas left to pull. The road to recovery will be difficult, damaging, and some would argue, karmic.