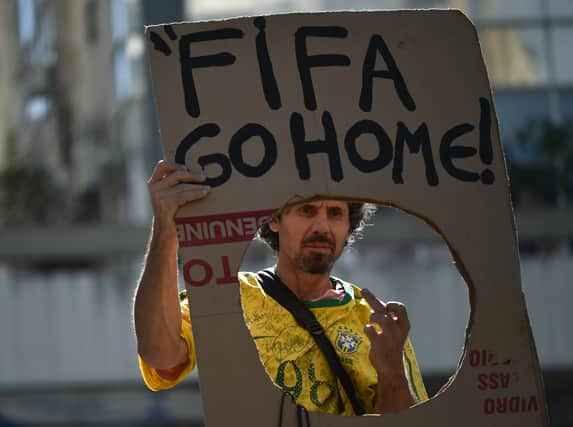 FIFA's determination that football is for all came under serious strain on Monday when it was revealed that players donning the 'One Love' armband, designed to promote inclusivity at a World Cup hosted in a country where LGBT+ rights don't exist, could face sporting sanctions such as a yellow card.
The English and Welsh FA both backed down, announcing that neither Harry Kane or Gareth Bale would wear the armband, prompting fans to question the integrity of the teams' allyship.
Inspiring groups of people to gather together and show passion, it is no surprise that football fans and players have a long history of making statements against injustice or pushing for change through protest.
Here are 6 examples of when football has taken a stand:
1. 'Not worth a penny'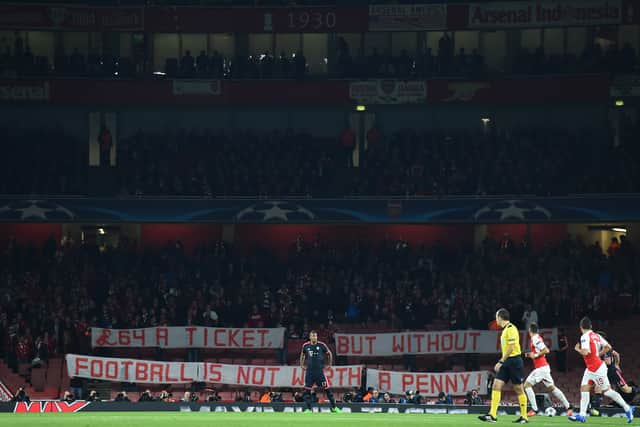 Gone are the days when watching high-level football was affordable. Ticket prices have been on the rise for years but, for the most part, fans have just swallowed the cost.
Bayern Munich supporters, though, made clear what they thought of the money they'd paid to attend their Champions League group stage clash with Arsenal in October 2015, unfurling a banner which read, "without fans football is not worth a penny".
When the sides met again in a Round of 16 tie at the Emirates in 2017, the banner made a further appearance - and this time, the travelling Munich support disrupted the game by throwing toilet paper onto the pitch.
2. Zaha demands action, not gestures
When football returned from the coronavirus hiatus in the summer of 2020, Premier League players began taking the knee ahead of kick-off in solidarity with the Black Lives Matters protests taking place in the United States following the murder of George Floyd by a Minneapolis police officer.
Seven months later, Crystal Palace forward Wilfried Zaha determined he would no longer be performing what he termed 'a hollow gesture', complaining that no matter whether players stood or kneeled before kick-off - discrimination was ongoing.
"Unless action is going to happen I don't want to hear about it," said Zaha, calling for greater efforts across society to combat racism.
This season, Premier League teams have stopped taking the knee ahead of every game, opting to reserve the gesture for specific moments during the season in the hopes that it will have a greater impact.
3. Iran black-out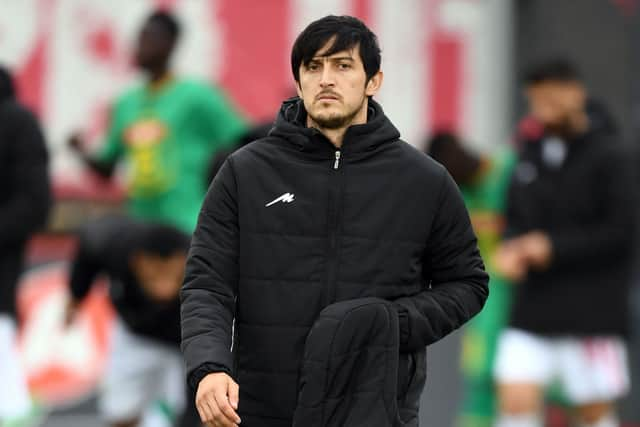 In September, 22-year-old Mahsa Amini died after eyewitnesses saw Irani police severely beat her when her hijab did not meet government standards.
The death sent shockwaves across Iran, where protests against the country's mandatory hijab law and its brutal application are ongoing. The Iran national team made a huge statement before their friendly against Senegal in September, wearing black jackets over their country's colours as they lined up for the national anthem.
Iran star Sardar Azmoun explained his team-mates' decision on Twitter: "The ultimate [punishment] is to be kicked out of the national team, which is a small price to pay for even a single strand of Iranian women's hair.
"Shame on you for easily killing the people and viva women of Iran. Long live Iranian women!"
For their Group B game against England, Iran had the red of their away kit on show, but all eleven of the players lined up ahead of kick off refused to sing along to the national anthem. It is estimated that nearly 400 people have been killed as a result of the government's efforts to quell protests against Amini's death.
4. 'FIFA go home'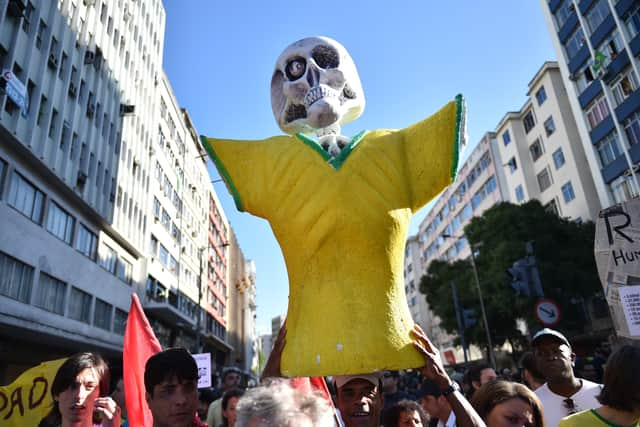 Brazil spent more than ten billion dollars to host the 2014 World Cup, while citizens suffered from under-funding of public services.
Healthcare and education were sacrificed as Brazil prepared to welcome thousands of tourists to the country at the cost of its own people, many of whom were forced out of their homes to make way for new stadiums.
One hundred and eighty arrests were made across various cities in Brazil in the first week of the tournament, and anger only rose as demonstrations were met by brutality from the police, who used tear gas and rubber bullets on protestors.
The tournament went on and was eventually won by Germany.
5. The Kop mosaics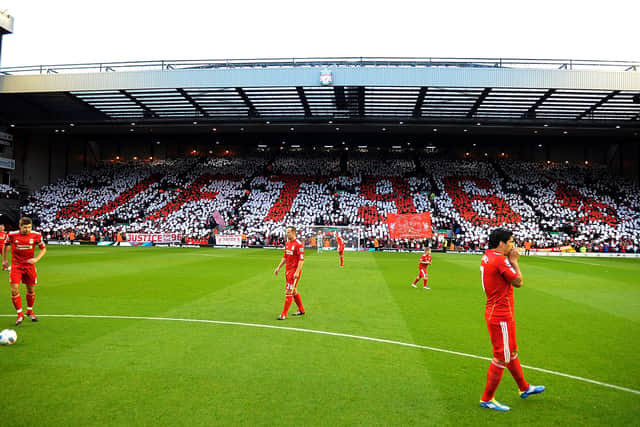 It's a powerful sight. A huge bank of football fans, arms raised, unified, working together to convey the same message.
For decades, Liverpool supporters have used mosaics to make statements in the Kop end at Anfield.
Of these displays the most effetive are those messages seeking justice for the Hillsborough disaster of 1989. Supporters' behaviour was initially blamed for the fatal crush at an FA Cup tie that killed 97 fans and injured hundreds more, and the Anfield faithful have not once let up in their pursuit of the true versions of events, displaying messages like 'justice for the 96' and 'the truth' in the Kop.
A 2012 report absolved Liverpool fans of responsibility for the disaster and revealed that the South Yorkshire Police altered evidence to protect their reputation.
6. Fans say no to Super League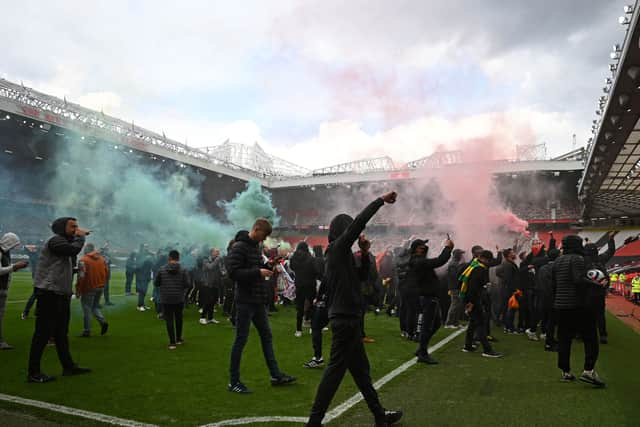 In April 2021, the introduction of the European Super League, a breakaway division featuring the continent's top competitors, was met with distaste as the model lacked sporting integrity and seemed to prioritise owners' financial gain over and above the interests of fans.
Two days after it was announced, Manchester United pulled out after 'listening carefully' to fans' response. But the damage had already been done. United fans stepped up their expressions of disapproval of owners the Glazer family as green and gold scarves became a full-blown protest.
Ahead of kick-off between the Reds and rivals Liverpool on May 2, fans gathered outside Old Trafford to make their feelings known. A section of fans succeeded in entering the stadium and accessing the pitch, prompting kick-off to be delayed and then postponed altogether.