The Rebound: Leeds United's rat bucket, Leicester City's implosion, Everton's slow bleed out
All of the latest Premier League action, including a looming relegation showdown
Watch more of our videos on Shots!
and live on Freeview channel 276
Visit Shots! now
Three hundred and sixty-six down, twelve to go. This most absurd of Premier League campaigns - that feels as if it started a lifetime ago and has straddled the small matter of an entire bloody World Cup since then - is slowly, inevitably winding down, like an ageing shopkeeper sweeping the street outside their corner plot as a pinkish sunset bleeds into dusk behind the terraced rooftops. The shutters are halfway closed, the takings are all but counted, the newspapers of the day - for all of the relevance they hold - may as well revert to a mushy pulp.
There are few things truly left to be decided. Manchester City are titlists once again. Newcastle United will take their place in the Champions League next season, with Manchester United likely to join them. In fact, the only towering question mark that properly remains is who will be shackled to Southampton and tossed into the black, icy drink of the EFL. It will be two of three; Leeds United, Leicester City, or Everton.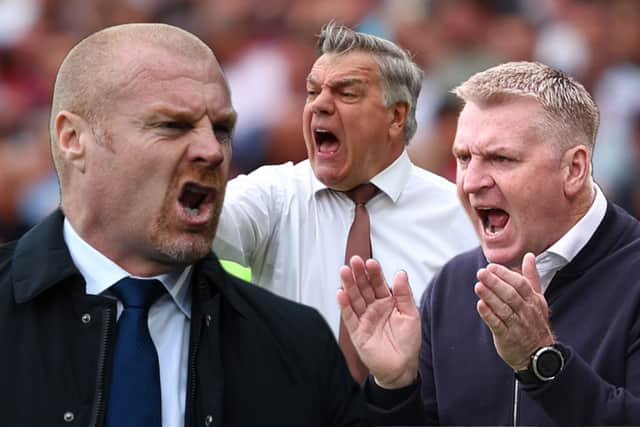 In their own way, each is quite unimaginable. Take Leeds, for instance, that dosiest, most elephantine of sleeping giants, who fought their way back to the ambrosial pastures of the top flight under Marcelo Bielsa, enjoyed one good season, and really should have pressed on from there. Instead, they have floundered, faltered, and soundly had the carpet yanked out from beneath them. To regress from El Loco to Big Sam Allardyce in the span of 14 months or so is an affront to everything the cerebral Argentine obsessively willed into being. They have gone from sitting atop an upturned bucket to acting like a rat trapped inside one; chewing and digging and flailing for an escape that you fear won't come.
Then there is Leicester. Just seven years ago, they became the most unexpected of Premier League champions. On Sunday afternoon, they will likely become just the second title-winners since the division was founded, after Blackburn Rovers, to drop down to the second tier. I have seen this kind of contagious apathy before. I make no secret of the fact that I'm a Sunderland fan, and the manner in which the Foxes have folded and resigned themselves in recent times is harrowingly reminiscent of the calamitous dressing room David Moyes helped to scuttle in 2017. You just hope for Leicester's sake that the parallels and implosions end there.
And that leaves Everton; dreadful, but marginally less dreadful than a trio of other teams in this jumbled excuse for a league, at the time of writing. The Toffees head into the final day outside of the bottom three, and might survive in the same way that a wounded duellist might bleed out ever so slightly slower than their bullet-holed rival. It won't be pretty, but then again, it was never going to be under Sean Dyche. Relegation would arguably hurt Everton more than either Leeds or Leicester; the club have never fallen out of the English top flight before, and they have the minor trifle of an incomplete stadium on Bramley-Moore Dock to consider too. Whereas the Whites and the Foxes are scrapping for their pride and their short term contentment, the Toffees are, in essence, fighting for their lives.
Given how utterly useless all three clubs have been over the course of the current campaign, Sunday's concluding round of fixtures has the feeling of a winner-takes-all showdown. The chances of any single one picking up three points are slim. The chances of more than one picking up three points is next to minimal.
Leeds host Tottenham, Everton welcome Bournemouth, Leicester face West Ham. Bizarrely, of that triumvirate of potential spoilers, Spurs are arguably the biggest basket case at this present moment in time. Perhaps that will give Big Sam some hope. Perhaps it will make the missed opportunity sting even more. Maybe Dean Smith's Foxes will catch a break against a Hammers side with one eye firmly fixed on the Europa Conference League final in Prague. Maybe the Irons will want to maintain their recent momentum and casually dismantle them. Perhaps Everton will put in the kind of display that saw them thrash Brighton not too long ago. Or perhaps they will put in a performance that is more in-keeping with the vast majority of the other 36 games they have played this season.
Whatever happens - however things pan out and whoever is left bruised and wheezing on the precipice as the ground behind them finally gives way - just remember this; the sole surviving club have been very, very fortunate indeed.