I see the fireworks did the job then, lads... In the early hours of Tuesday morning, a group of Liverpool fans went all pyromaniac in front of Real Madrid's city centre lodgings in the hope of disrupting the visitors' cuarenta winks. Sixteen hours later they watched in passive horror as their beloved team went up in flames like a Guy Fawkes effigy on Bonfire Night. Perhaps they were stood outside the wrong hotel.
Self-immolation is becoming something of a recurring theme for Liverpool this season. Last term, the Reds came within a whisker of winning a momentous quadruple; they played every cup game that they possibly could, and they finished just one point behind Manchester City in the Premier League title race. Things could hardly be more different at the present moment.
Jurgen Klopp's men have already been unceremoniously dumped from both the FA and Carabao Cups, they currently lie eighth in the top flight, and following a shambolic implosion at Anfield on Tuesday, they find themselves 5-2 behind heading into a Champions League second leg clash with the reigning kings of Europe at the Santiago Bernabéu. To say that their silverware prospects hang by a thread would be a mesmeric understatement.
But where there is life, there is hope, and while Liverpool's pulse may be imperceptible, their belief in a miracle will linger until the point at which it is forcibly extinguished. And in that regard, there are no shortage of improbable precedents that the Reds can look to for inspiration.
Here are some of the most unlikely comebacks in Champions League knockout history...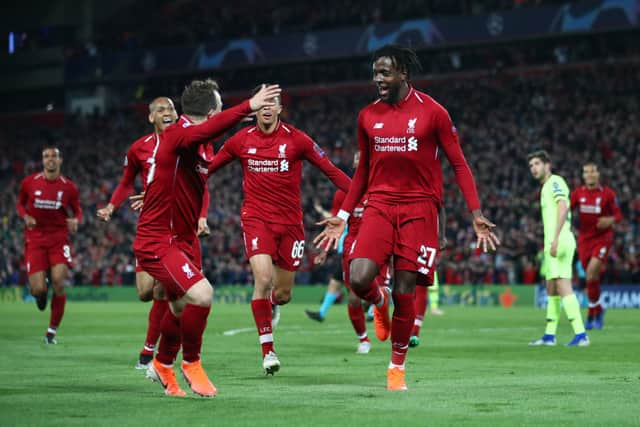 Liverpool vs Barcelona - 2018/19 Semi-Final
Where better to start than with Liverpool themselves? The comeback that spawned one of the fondest memories, and most quoted moments, of Jurgen Klopp's glittering tenure in the dugout; who could ever forget the immortal, the iconic, 'Corner taken quickly...'?
The Reds welcomed Barcelona to Anfield facing a three-goal deficit having bore the brunt of a Lionel Messi masterclass in the first leg. Conventional wisdom and common sense would have had you believe that the tie was, if not dead and buried, at least lying in the coffin in it's very best suit.
Cue one of the most incomprehensible fightbacks in continental footballing history. Braces from Divock Origi and Gini Wijnaldum stunned the visitors, and sent Liverpool to a final against Tottenham Hotspur that they would ultimately win. If Klopp is looking for an example to fuel his players ahead of their second leg in Madrid, this is surely the blueprint.
Barcelona vs Paris Saint-Germain - 2016/17 Round of 16
Arguably the greatest comeback in Champions League history, and still to this day the only instance of a team overturning a four-goal deficit in a two-legged knockout fixture. Two years prior to their Anfield humbling, Barcelona headed into the second act of their round of 16 encounter with PSG in dire, dire circumstances.
4-0 down after a first leg whitewash in Paris, the Catalan giants' predicament was made even worse when Edinson Cavani scored for their French opponents just after the hour mark. With just two minutes of normal time remaining, Barcelona were 3-1 up on the night, but needed to score another three goals to book their place in the quarter-final. By the 95th minute, Sergi Roberto had made it 6-1, and Camp Nou was in the midst of a total meltdown. Even six years later, the footage is still enough to induce goosebumps.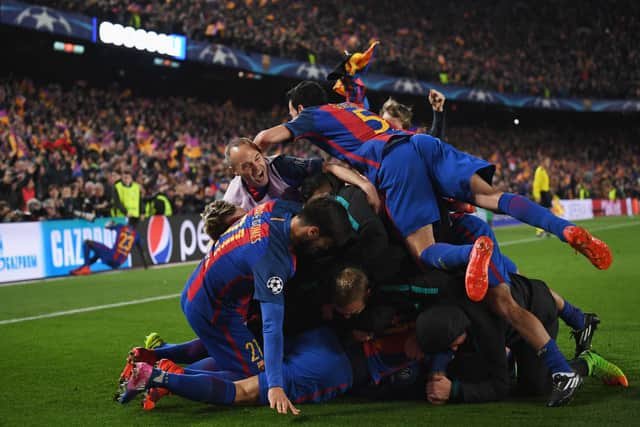 AS Roma vs Barcelona - 2017/18 Quarter-Final
Barcelona, again. This time they headed into the second leg of a last eight clash against AS Roma with a 4-1 aggregate lead. Ninety minutes later they had been ousted from the competition having succumbed to a rampant display from the Giallorossi, with defender Kostas Manolas dealing the third and decisive blow courtesy of a late header.
We could eulogise about the magnitude of Roma's achievement, but instead, let us turn to the words of Peter Drury, who came booming out of the gantry that night in his own inimitable way. "Roma have risen from their ruins", he proclaimed. "Manolas, the Greek God in Rome! The unthinkable unfolds before our eyes. This was not meant to happen, this could not happen … this is happening! It is a Greek from Mount Olympus, who has come to the seven hills of Rome and pulled off a miracle." A miracle indeed.
Manchester United vs Paris Saint-Germain - 2018/19 Round of 16
Overturning a significant deficit in a Champions League knockout clash is rare. Overturning a significant deficit in a Champions League knockout clash when the second leg is away from home is rarer still. Manchester United travelled to Paris in early 2019 facing a gargantuan task. Two goals adrift after a limp display at Old Trafford, the Red Devils fought back valiantly but were still behind on aggregate as the clock ticked deeper and deeper into added time.
Enter the fray, Marcus Rashford. The United academy graduate stepped up from 12 yards after Presnel Kimpembe was adjudged to have handled the ball in his own box as the seconds ebbed away, and he made no mistake, blasting his effort past Gianluigi Buffon, and his side into the last eight.
Liverpool vs AC Milan - 2005 Final
A little dissimilar, granted, but Liverpool's heroics in Istanbul have gone down in legend as one of the most remarkable feats of tenacity in Champions League history. Three behind at half-time against an AC Milan side that was positively bulging with generational talent, the Reds battled back to level proceedings in a breathless reversal of fortunes before winning the match - and indeed the entire tournament - on penalties.
Their brief in Madrid is undoubtedly very, very different, but any discussion about Liverpool's powers of recovery would not be anywhere near complete without at least a partial acknowledgement of that magical night 18 years ago.