Everton and Liverpool have their fair share of celebrity fans, and it should come as no surprise that those celebrities have no shortage of cash.
The two Merseyside clubs have had rather different fortunes when it comes to success over the last couple of decades, but their rich histories mean there are plenty of celebrity fans for both clubs. With that in mind, we have put together a list with five of the most famous fans of both clubs, along with their reported net worths.
Join us as we count up from the lowest estimated net worth to the highest, with all figures provided by CelebrityNetWorth.
Matt Dawson - Everton - £60million
The former rugby star, who won the 2003 World Cup with England, is a lifelong Everton fan. He has amassed his fortune through rugby, sponsorships and TV appearances, becoming a regular guest and even presenter since his playing days finished.
Speaking about his Everton links, he once said: "My grandparents are still over there. I have fond memories of running around there with my grandparents trying to dress me in a Liverpool kit but I'd get upset because I only wanted to wear an Everton top.
"My family are a typical Mersey mix of reds and blues , and my dad is Tranmere Rovers but it's always been the Toffees for me. I think it started simply because I preferred the colour blue but it developed into an obsession. I was lucky because I was born in '72 and when I was really getting into football was the mid-80s so there was plenty of success and great times to keep me interested."
John McEnroe - Everton - £80million
This is a strange one. The former tennis star was pictured playing tennis in a long-sleeved Toffees shirt, and no one really knows why. This didn't seem to be any sort of promotion campaign, with McEnroe pictured unexpectedly.
We can only take that as a sign the American is an Everton fan, and he makes this list with a very healthy bank balance amassed from his playing days.
Matt Damon - Everton - £136million
This one may be a slight stretch, but Damon is often listed as an Everton fan. The claim seems to come from 2013, when the Toffees players met the Bourne star in Los Angeles. He was pictured holding an Everton shirt, and it's unclear whether this was merely a publicity stunt or a signal of a deep-rooted love for the club. No comment from us.
Mike Myers - Liverpool - £160million
The Austin Powers star may be Canadian, but his family have plenty of history in Merseyside. In fact, his parents met in Liverpool, and his father is a Reds fan, while is mother is an Evertonian.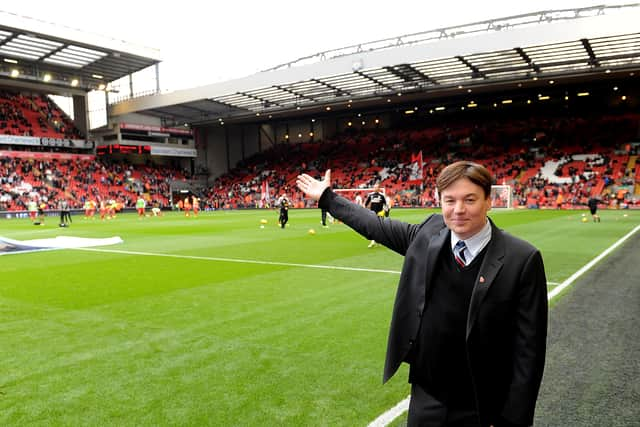 Myers fell on the red side of the metaphorical fence, and asked about his connection with the city, he said during an interview: "I was born in Canada in '63 and my parents came to Toronto in '56, and there's no-one more English than an Englishman not living in England. Our house was a shrine to Liverpool. I love the people here and I really do think it's my home." Myers has been to Anfield many times.
Samuel L Jackson - Liverpool - £201million
One of the most iconic actors - and indeed voices - in Hollywood, Samuel L Jackson comes in above the £200million mark. As for his love for the Reds, Jackson has been pictured with a Liverpool shirt, and he has since explained why he supports the club. Jackson filmed 51st State in Liverpool and his first football game was at Anfield. That's where his love for the club was born.
Sylvester Stallone - Everton - £320million
Stallone went from being broke to being a multi-millionaire over the course of a successful acting and producing career, beginning with Rocky Balboa. He first visited Goodison Park in 2007, and he has spoken about his love for the club plenty of times.
Stallone has since spoken about his regret over not buying the club, saying: "If I knew what I know now I'd have snapped it up. That was when football clubs were affordable but now it's a billionaire's game."
Brad Pitt - Liverpool - £321million
Pitt's former wife, Angelina Jolie, is a known Reds fan, and Pitt said in 2011: "I have some friends who are very close to Liverpool, so if I went another way I might be disowned." Pitt has a huge wealth after decades in the movie industry.
From Moneyball to Ocean's, Pitt's list of movies goes on and on, and he has to be one of the most famous Reds fans, even if he is not quite the richest.
Dr Dre - Liverpool - £402million
Superstar producer and rapper Dr Dre confessed his love for Liverpool way back in 2001. He said: "They're the team I always look out for when I'm at home. Back in 1988 I was in London on a promotional tour with NWA, and one night we were watching TV and these cool cats in red came on the box. They whupped some poor dudes four or five zip."
Dre has amassed his wealth in the music industry and remains a powerhouse in his field. It would be interesting to know if he still tunes in to Reds games more than two decades later.
LeBron James - Liverpool - £482million
The LA Lakers star is a self-confessed fan of Liverpool, but his links with the club do not end there. James owns a stake in Liverpool worth a reported two percent, and the club have released a special LeBron James version of their kit recently.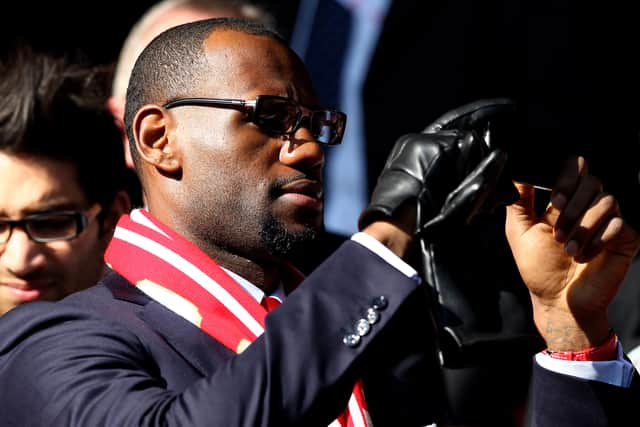 James has been pictured wearing Liverpool shirts, and it's no surprise that he tunes in when he can given his stake in the club. With a huge salary and sponsorships, James is one of the richest on this list.
Paul McCartney - Everton - £962million
The Beatles star is an Evertonian at heart, supporting the club from a young age due to his parents being Toffees fans, but he did admit in an interview with GQ that he likes to see both Merseyside teams win.
He said: "Years ago I decided I was going to support Liverpool as well as Everton, even though Everton is the family team. A couple of my grandkids are Liverpool fans, so we are happy to see them win this year's Premier League. When people ask me how I can support them both I say I love both and I have special dispensation from the Pope."
McCartney is by far the richest person on this list, as you would expect one of the pioneers of The Beatles to be.