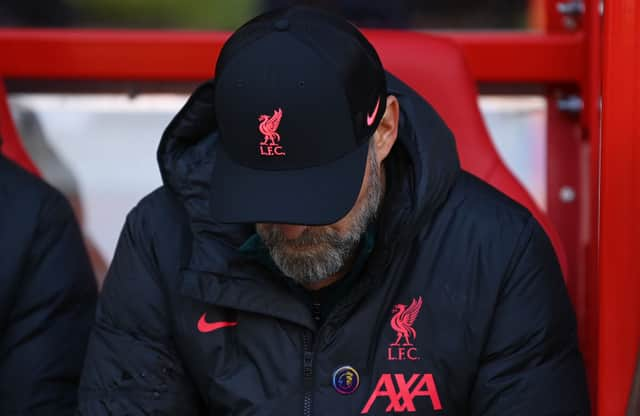 The thing about getting your teeth whitened to a point of ferocious luminescence is that the grimaces shine just as brightly as the smiles. For seven years (or at least for the five or so since he became acquainted with Roberto Firmino's dentist), Jurgen Klopp's high beam grin has lit up Anfield like an enamel super trouper. In recent weeks, however, as his veneers have clenched in dismay, bemusement, and occasional rage, the cracks in his lauded affability have started to appear like cavities in a chocoholic's molars.
To a certain extent, the German's frustrations are understandable. Liverpool, touted by many as the closest thing to a realistic usurper to Manchester City's Premier League throne this season, have begun the campaign in fitful fashion. Aside from a manic win over the champions - akin to watching two knife-wielding chimpanzees wrestle in a paddling pool full of gravy - and prior drubbings of Bournemouth and Rangers, the Reds have been sluggish, inconsistent, and ropey. Some might even say they have been lacking a certain "spark". God help them if they do though, because Klopp will hunt them down with the mulish indignation of Anton Chigurh.
Didi Hamann, or rather "Didi Actually Have the Gall to Question Me?" as he is likely known in the Klopp household, has been the latest talking head to meet the steely decree of his compatriot's verbal captive bolt stunner. In as many words, the Liverpool manager made it achingly clear that he does not believe the pundit's opinion to be worth a single gosh-darn jot. The dripping sarcasm with which Klopp delivered his "fantastic source, well respected everywhere" put-down in a press conference recently wouldn't have felt wholly out of place on an episode of The Real Housewives of Cheshire.
But here's the thing; Hamann was right. And regardless of what you may think of his own achievements in the game, or of his relative merits as an analyst, the dismissive chagrin with which Klopp met his viewpoint speaks to a discomforting trend. The German coach has done wonderful, wonderful things at Anfield, but he is not above scrutiny. To see him hiss and spit at a relatively pillow-handed rebuke, or to watch him publicly chasten the reporter who had the nerve to bring it to his attention, or to see him march down the tunnel as he is shown a red card for screaming at an assistant referee like some caricature of a marine corps drill sergeant, will no doubt please his loyalists, but it will do little to endear him to anybody else.
In the grand scheme of things, Klopp probably won't care about any of that, and the argument from his apostles in the Kop will be that there is a fine line between passion and arrogance. There's no doubting that to be true, but it is also worth remembering that a lack of accountability is how cults of personality are born.