I really like Crystal Palace. I like the way that they just sort of vibe about in mid-table, never really bothering anybody, but never really getting overly bothered either. I like the atmosphere at Selhurst Park and the mental image of Tyrick Mitchell trying to explain drill music to Roy Hodgson. I like the fact that they're sponsored by that car company that Rylan does the adverts for. I think it's a better option than having a shady betting company that nobody has ever heard of plastered across the front of their kit.
More than anything though, I like their recruitment policy. I like how they consistently dredge up some of the most exciting, promising players from the Championship and give them the opportunity and platform to prosper and flourish. In recent seasons, talents as prodigious as Eberechi Eze and Michael Olise have thrived for the Eagles, but arguably none have shown growth or consistency as impressive as Marc Guehi's.
Signed from Chelsea in 2021 after a couple of eye-catching loan spells with Swansea City, the 22-year-old is now a full England international, and has perhaps been one of the most unshakeable and under-rated central defenders in the Premier League this term. It is little surprise, then, that he is a man supposedly in demand this summer.
According to various reports, a whole host of top clubs are chasing Guehi as the transfer window approaches, but where should his next move take him? We've taken a closer look at some of the leading options below...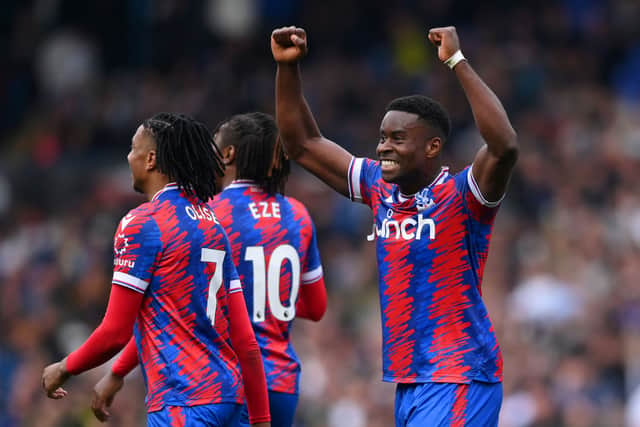 Arsenal
Look, Rob Holding is fine, we suppose, but is he really a Premier League title-winning centre-back? Well, on the evidence of what we've seen in the latter stages of this season, the answer is a resounding 'nope'. Arsenal's starting XI has proven itself to be capable of matching, and indeed, outclassing anybody else in the division. Beyond that, however, they need help.
William Saliba's back injury really hammered home their lack of strength in depth, and it is a matter of some priority that they sign at least one new defender this summer. Guehi, of course, would be a smart option, but could they provide him with the regular minutes he needs to satisfy his ambition? Maybe not. Displacing Saliba or Gabriel Magalhaes would be no easy task, and while the lure of Champions League football would be strong, it would be difficult for a player in Guehi's position to walk away from an omnipresent role at Selhurst Park for a supporting berth in north London.
Liverpool
Evidently bored of their semi-dominant role at the pinnacle of English football, this season Liverpool have boldly asked the question 'what if Virgil van Dijk was suddenly bad at defending?'. It has made for fascinating viewing.
Facetiousness aside, the once insurmountable Dutchman hasn't looked his usual self this campaign, and with the likes of Ibrahima Konate and Joe Gomez struggling to properly stake their claim as his long-term succesor/partner in crime, the Reds do have space for a new centre-back to come in and make the role his.
Guehi could be that player. He has the talent, he has the potential and longevity, and with Liverpool due a much improved campaign next term, he would be joining at the perfect time. If you want our opinion, Marc, get yourself to Anfield.
Manchester United
The place where respectable centre-backs go to die. United will need defensive reinforcements this summer, just as they have during every summer for the best part of the last decade. Certainly to that end, Guehi has the look of a smart addition. But then again, so did Harry Maguire. And Eric Bailly. And a few others besides.
In years to come, perhaps Tony Robinson and the gang from Time Team will excavate Old Trafford and discover that it was constructed on the burial site of an ancient race of people who were renowned for their pedigree as guardians and protectors. Or perhaps the fat cats who presently occupy the boardroom aren't very good at scouting appropriate targets.
Either way, Guehi would have to be 100%, belt and braces, ironclad sure that he was making a wise move - and even the great oracles and soothsayers of mythologies past might have a wobble over this one. When there are other destinations available, you would be tempted to advise that he chose any of those instead.