And so it begins. At the time of writing, we have no concrete indication on what the tangible ramifications of the unprecedented financial impropriety charges brought against Manchester City on Monday will be. Perhaps it will all blow over with amnesiac fuss, as these things have tended to do in the past. Or perhaps this time next year, City's local derby won't be against Manchester United, but rather FC United of Manchester. Just imagine how many goals Erling Haaland would score in the National League North. My bet is at least 3,000.
But while we wait in stupefied anticipation, the exit rumours have already started. First to locate a fake passport and head for the border could be Bernardo Silva. The Portuguese midfielder seems to have reached the end of his Pep Pet CycleTM, and in the wake of yesterday's fresh allegations, he is said to be eager to leave 'more than ever'. His preferred destination? You're gonna like this, trust me. It's PSG. Maybe he just has a taste for bad boys.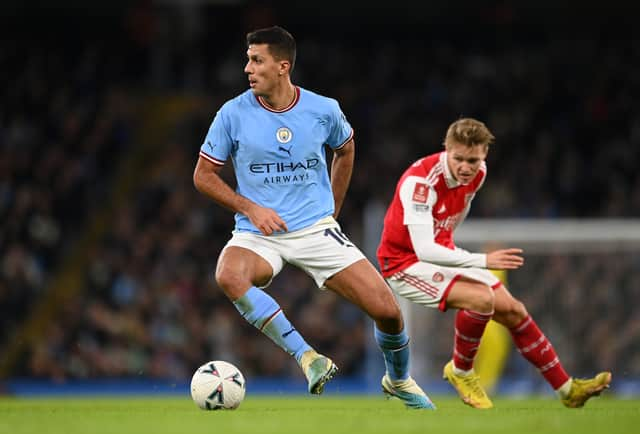 Elsewhere, City are understood to be concerned that Rodri may look to push through a move to Barcelona. Again, I ask, do none of these lads read the news?! Anyways, it would appear, based on his sloppiness against Tottenham at least, that the midfielder's plan is to quite literally play his way out of Pep's affections in the hope that the eternal tinkerer puts him on a one-way flight to Catalonia himself.
In reality, the more likely outcome is that City demand a huge fee, Barca finance the deal by turning one half of the pitch at Camp Nou into a Laser Quest, and everybody and their agent gets to buy a new yacht. Sunrise, sunset.
And finally, what's the one thing you should absolutely do in the face of an impending corruption scandal primarily focused on an alleged pattern of exorbitant and unlawful spending? That's right, make a move for a winger with a £121 million release clause!
City reportedly want Rafael Leao, and the AC Milan forward will not come cheap. But hey, you know what they say, folks; don't back down... double down.