It has been a while, hasn't it? After all, the Red Devils haven't won any silverware since 2017, continuously fluffing their lines on big occasions, and while they haven't won anything yet this season, it already feels like the tides are turning. United fans may be getting carried away with Thursday night's gritty win over La Liga leaders Barcelona in the Europa League - and they have every right to be - but it wasn't a dominant performance from Erik ten Hag's men.
It was never going to be, either. Barca have been superb this season, and had United narrowly lost they might still have come away with reason to hold their heads high. In truth, it was a game that could have gone either way, with both teams having chances to come out on top. Barca were denied by a brilliant David De Gea save and a Raphael Varane goal-line clearance.
Meanwhile, United's chances were arguably less clear-cut, but they still managed to take them. Fred and Antony produced superb finishes to make the difference and complete an impressive comeback at Old Trafford. Notably, these were the type of games United were consistently losing under previous managers.
Be it last year's defeat to Atletico Madrid, the Europa League final with Villarreal or the defeat to Sevilla the year before, the Red Devils have managed to create a habit of losing tight games in Europe, especially against Spanish opposition. Chances have come and gone, and the pressure has got the better of United during a difficult few years.
But Thursday night felt very different. Instead of pressure building, every missed chance felt like an increment of belief. The fans believed until the very end, and the players did the same. It felt like United, even without a perfect performance, controlled the occasion, not allowing it to control them.
That's what United fans should be celebrating, above all. Forget not producing a dominant performance, and forget the fact this is the Europa League and not the Champions League. What should be celebrated is the fact the Red Devils stood up to the pressure and found a way to be clinical on a night when they could easily have found themselves on the other end of the 2-1 scoreline.
Perhaps the new characters have something to do with it. After all, Casemiro and Raphael Varane have lived these sorts of ties over and over again. It's something Ten Hag hinted at after the game, saying: "We have some great personalities in the team - like with Raphael Varane and Lisandro Martinez. They come forward.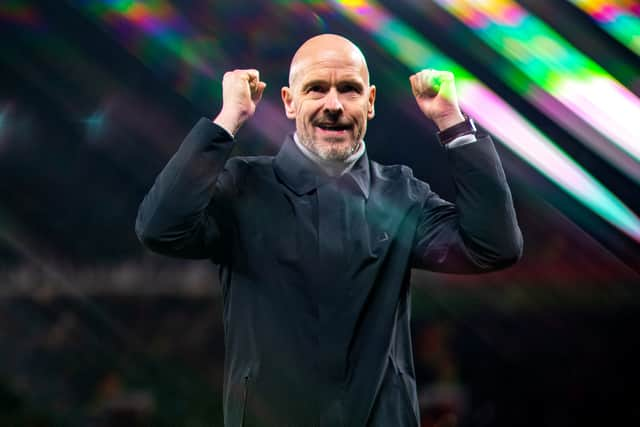 "Antony and Garnacho don't fear anyone and we have more. Bruno, Casemiro. We have some great personalities so even when we get setbacks, they move on. They are resilient and they are focused on getting the result even after conceding a cheap penalty. They believe they can turn it around."
Ten Hag surely deserves plenty of credit himself, now turning United into mentality monsters, something they have failed to become following Sir Alex Ferguson's departure. Above all, that is the key difference we are seeing with United, and whether they win a trophy or not this season, nights like the one that saw them defeat an impressive Barcelona side will be stepping stones to what they achieve in the future.
It takes more than one of those stepping stones to win major trophies, and Sunday's Carabao Cup final against Newcastle United would be another big one. That's going to be another huge occasion, with Newcastle desperate to end a much longer trophy drought. If United can stand up to that and come out on top just days after defeating Barcelona, there will be no denying the Red Devils' trajectory towards a future of silverware.
Now that would be something to celebrate.