You'd think that Erik ten Hag would be focusing mostly on the game against Chelsea on Thursday, but no – the Manchester United manager is in the mood for some loving. He's checked Old Trafford is empty, lit the scented candles and queued Barry White up on the playlist – and it's all because Neymar, that sexy little thing from Paris, is coming to town.
Well, that's all according to the steamy front page splash of French daily L'Équipe, anyway, who report that United are "in a pinch" for the Brazilian – which basically translates more or less directly as "have a crush on". When you think about it, the act of crushing something is quite a weird analogy for romantic interest, isn't it? Anyway, I'm not going to get sidetracked on linguistics, I'm not Susie Dent.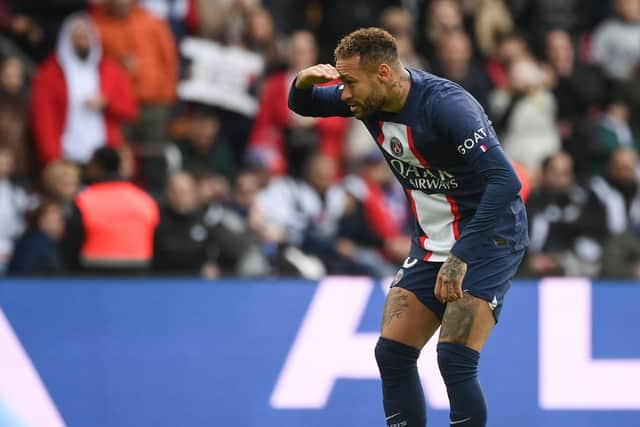 Apparently they've already opened up lines of communication with the 31-year-old forward, who is seriously considering breaking off his relationship with Paris Saint-Germain after a baying mob turned up at his front gate and barked obscenities at the intercom. Understandable, really. Quite who is doing said communicating from United's end is unclear, given the endless takeover saga leaves pretty much any transfer business firmly in the lurch, and Sport Witness cynically (and probably sensibly) suspect that the story may originate from PSG advisor Luís Campos, who seems to have wound up with the job of finding Neymar someone new to go out with, presumably because they just don't have the guts to dump him themselves. They'll probably do it by text in the end. How very high school.
The 3AM Verdict: Look, this story probably doesn't have much substance to it – at least not yet. It's not inconceivable that a new owner would want a marquee signing to show off at Old Trafford, and Neymar would fit the bill, but as it stands this is less steamy affair and more hot air. It is, if nothing else, interesting that PSG are so keen to offload their own statement signing, and at some point a proper summer transfer saga could erupt – which would give us something to write about during the endless game-free months, if nothing else.
Knitwear means Martial law in Manchester
As one door opens, so another closes. In this case, direct in the face of the unfortunate Anthony Martial, the Frenchman that United no longer fancy – at least according to an article in The Sun, which may well have the facts right but seems to have been written by Yer Da.
The former Monaco man apparently "raised eyebrows among staff" when he chose to wear gloves "on an otherwise mild day". Sacre bleu, c'est pas chic. The fashion-conscious tabloid also states that his body language has been bothering the United bigwigs, with a bit too much bof going on and not enough buts. That's goals, to you and me. Mange tout, Rodney, mange tout.
The 3AM Verdict: No price or destination is mentioned – which does rather imply a grumpy journalist shouting at a snood-shaped cloud rather than a carefully-sourced transfer story – but given his struggles in the last few seasons after a string of injuries, it's not hard to imagine that United would be happy to see him off, or that the player wouldn't welcome a fresh start, ideally in a country where nobody gives a damn if you wear gloves. Just let the man be comfortable, for heaven's sake.
Palace's polite parting
Finally for this fine Tuesday morning, a very British transfer rumour is doing the rounds, concerning the orderly queue politely forming up outside Selhurst Park, as every big club in the land kindly enquire about a certain Marc Guéhi.
The England international has continued to impress after a magnificent 2021/22 season and his string of suitors have decided that now is the right time to start tutting over the price. Said price would be a bare minimum of £50m, per The Mail, so some degree of tutting is fair enough. Everything's going up these days – bread, milk, energy bills, central defenders, beer, the lot.
Members of the lengthening queue include Liverpool, Arsenal, Manchester United and Tottenham Hotspur, apparently, all politely enquiring about how each other has been finding the weather, sipping tea, and preparing their best stiff upper lips should they fail to land their man.
The 3AM Verdict: Guéhi has bags of potential – and is already pretty nifty – so it's pretty easy to see why so many of England's biggest clubs are keen. And honestly, £50m is probably about right these days – mind you, it was better in the old days, when you could get three Alan Shearers for that and have change left over for lunch. Freddos were only 5p and all. Take me back.