According to the Divine Comedy, there are nine circles of hell; Limbo, Lust, Gluttony, Greed, Wrath, Heresy, Violence, Fraud, and Treachery. Judging by their ponderous defeat to Liverpool on Sunday afternoon, Tottenham Hotspur might just be settling into circle, the first. Welcome to Conte's Inferno.
While Bonfire Night festivities across the country began to fizzle out like the fuse of a damp Catherine Wheel, Antonio Conte stalked his dugout in the dying embers of the weekend with the burning ferocity of a hay-stuffed Guy Fawkes effigy on a village green funeral pyre. With his hair like a Lord Farquaad fancy dress costume and his complexion resembling a gator skin vest, the Italian's personal brand of bombastic exasperation would, objectively speaking, be quite funny, were it not for the earnestness with which he expresses his furious passions. Nobody can question Conte's desire, but anybody and everybody can, and often do, raise queries as to his staying power.
In a results-obsessed business, Tony Contz is the ultimate fixer. Since his appointment as Juventus manager a little over a decade ago, he has won silverware with every club he has worked. But longevity is not his forte. Conte's longest stint in any single job came during a 106-game spell with Chelsea. He has already helmed 56 matches for Spurs.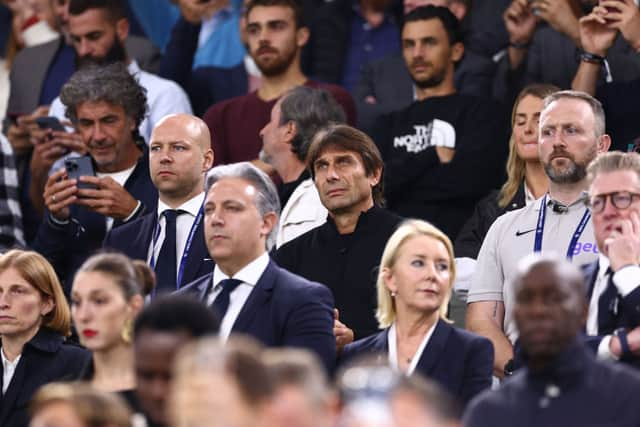 And given Sunday's boot to the gums, the mounting concern will be that his side are nowhere near the standard required to make any kind of meaningful or sustained bid for success. In fact, some might argue that their inability to evolve beyond their perpetual inadequacies, even with a manager of Conte's pedigree in their corner, is positively purgatorial. Again, if there's one thing the Italian does not do, it's waiting around. Tottenham are always the bridesmaid and never the bride. Antonio only deals in shotgun weddings and jilted altars. This is hardly a recipe for Austenesque romance.
Already this season, Spurs have lost to Liverpool, Manchester United, Arsenal, and Newcastle United - and the best they could muster against Chelsea was a contentious 2-2 draw thanks to a stoppage time intervention from Harry Kane. At the very least, that latter result showed off Conte's (and Thomas Tuchel's) impressive final whistle line-dancing prowess, but progress where it matters, it would seem, has not been significant. Since the beginning of October specifically, Tottenham's form has been patchier than a scarecrow's trousers.
How far Conte can be blamed for Spurs' relative stagnation this season is a matter of intrigue. Some would argue that his overreliance on a stubbornly conservative tactical approach detrimentally curbs the potential lethality of his side, like a grizzly bear purposely choosing to wear a muzzle during salmon season. Others would suggest that even the most divinely-gifted sculptor would struggle to mould silly putty into a work of profound gravitas. Emerson Royal, for instance, is slowly becoming a one-man justification for republicanism, while Eric Dier, for all of his good work this campaign, still gives off distinct 'reactor-core-chute-in-the-Death-Star' vibes.
Certainly, a point that cannot be disputed is that Tottenham are slow to find their rhythm. Conte's men have fallen behind in seven of their last eight matches, and the one exception to this unfortunate pattern - a 2-0 win over Everton in mid-October - saw them wait an hour before the deadlock was broken. Given the combustible proclivities of the manager, such muted forewords feel like a jarring anomaly.
And in fairness, that has always felt like the way of things with Conte and Tottenham; a ranting defensive general with an iron will and a neurotic intent to win coupled with a team whose obvious strengths lie in the attacking third and whose tendency to fall short has given rise to its own adjective; "Spursy". Perhaps in another lifetime they could complete each other. Instead it feels as if they're on a doomed passage to discontent. And if that is the case, it is surely only a matter of time before they forge ahead to the final circle of perdition, Treachery - whether that be an untimely dismissal or a vexed resignation.