The 11 worst West Ham players of the 21st century - including former Newcastle and Arsenal stars
From perma-crocked midfielders to underperforming forwards, these are the worst players West Ham have endured this century.
Watch more of our videos on Shots! 
and live on Freeview channel 276
Visit Shots! now
We've already spent some time putting together the worst elevens of the 21st century for clubs such as Manchester United, Arsenal and even Blackburn Rovers, but now we turn our unkind attentions to a club who have had more than their fair share of duds since the turn of the millennium - West Ham United.
The Hammers have endured some shocking seasons in recent years and quite a few of the players below have been involved in teams which probably still haunt the dreams of the London Stadium faithful. Some have good excuses for their performances, whether it's injury or simply being involved in some pretty hopeless teams, but others simply never showed up for the job.
We've pulled together a 4-3-3 which would, admittedly, be wildly imbalanced and overly attacking were it a real team, but given how bad this squad would be anyway, it's probably not worth worrying about the formation too much...
Goalkeeper - Roberto Jiménez
Signed as a back-up for Łukasz Fabiański, the Spaniard found himself pressed into service for eight inglorious games in 2019 and played so badly that third-choice David Martin was promoted in his stead. Roberto was at fault for goals against Everton, Sheffield United and Newcastle United, but his worst moment came against Burnley when he contrived to punch a cross into his own net. One of the worst goalkeeping stints of the Premier League era.
Left-back - Pablo Armero
There are a couple of full-backs who can count themselves lucky to avoid selection for this squad, including Álvaro Arbeloa and Răzvan Raț, both of whom under-performed badly at Upton Park, but Armero gets the nod for a five-match loan spell which impressed nobody, least of all head coach Sam Allardyce, who described the Colombian international as "stupid" for conceding a needless penalty against Crystal Palace which cost West Ham the game. Had some decent spells in Italy and South America, but will not be remembered so fondly in east London.
Centre-back - Roger Johnson
Johnson was an towering, old-school centre-half who was a key player for Cardiff City, Birmingham City and Wolverhampton Wanderers but who went off the rails somewhat towards the end of his time at the Molineux, and was fined by the club for turning up "unfit to train" and getting into an on-field fight with Wayne Hennessey. Things didn't improve when he was loaned away to West Ham, and he looked a shadow of his former self in the four games he played in 2014. Now retired after playing more than 500 football league matches, some of the worst of which came at Upton Park.
Centre-back - Gary Breen
The veteran defender had played the 2002 World Cup for the Republic of Ireland without a club, but was snapped up by Glenn Roeder in time for the following season - and most West Ham fans will wish that Roeder had never picked up the phone. A once-reliable centre-half played abysmally throughout the campaign and the Hammers were relegated at the end of the year, with Breen one of the most culpable. Apparently, before signing for West Ham, he had agreed a deal with Inter Milan but failed the medical. Serie A doesn't know what it missed out on.
Right-back - Rigobert Song
Song was a hard player to pin down - revered as a giant of the Cameroonian game, he made 137 appearances for the national team but never really found his home at club level. West Ham used some of the Rio Ferdinand money to bring Song in from Liverpool, where he never really got going - and his performances plummeted even further at Upton Park, starting with a debut defeat to Sheffield Wednesday which the BBC politely described as an "unhappy" one. Cost the club £2.5m and was off on loan partway through his second season, never to be seen in a West Ham shirt again.
Midfield - Kieron Dyer
Dyer was a superb player, and probably would have been for West Ham had he not run into a slew of brutal injuries. Just ten days after signing from Newcastle, Dyer broke his leg in two places during an EFL Cup game against Bristol Rovers, and his luck never improved. A deeply unlucky man who played just 30 league games for the club over the course of four years on the books. Certainly not his fault, but the return on West Ham's £6m investment was so minimal that he can't be regarded as anything other than a flop.
Midfield - Freddie Ljungberg
A legend for Arsenal, a total flop for West Ham. Despite being just 30 when he signed for the Hammers, it quickly became clear that he had very little left in the tank, and he scored just two goals in 28 games during his first and last season. It didn't help matters that the Hammers had sunk some serious high wages into his signing, and it ended up costing them £6m to terminate his contract after just 12 months - not chicken feed by the standards of the time. A financial and footballing disaster of a signing.
Midfield - Simone Zaza
We're starting to stretch the boundaries of the 4-3-3 formation a little bit here, but Zaza arrived on a €5m (£4.4m) loan deal from Juventus which was set to become a permanent signing for another four times that fee if he played enough games, which seemed set in stone given that he was good enough to make Italy's Euro 2016 squad. Unfortunately for Zaza, the comical missed penalty he was guilty of in a shootout defeat to Germany was a sign of things to come, and he was pretty hopeless across 11 goalless games for West Ham - with the club eventually benching him just to make sure they didn't have to buy him. Ouch.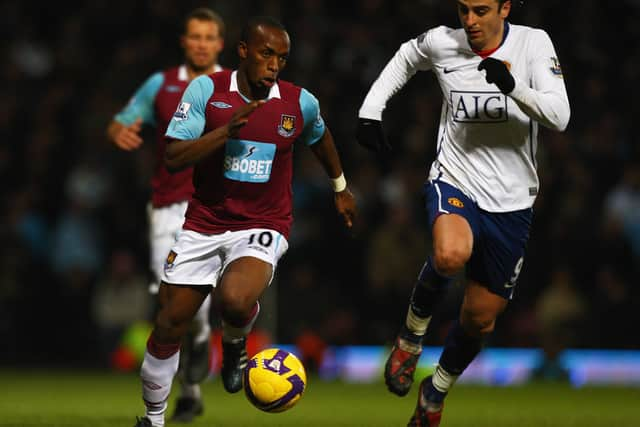 Forward - Savio Nsereko
£9m was a massive amount to spend on an unproven 19-year-old in 2009, but West Ham thought the forward's performances for Brescia showed enough promise to be worth it - sadly for all concerned, it wasn't. He made just one start and failed to score a single goal before being sold to Fiorentina for less than a third of the initial outlay, and didn't make a single appearance for La Viola either. Ended up playing in Kazakhstan, Bulgaria and Lithuania before settling in the amateur divisions of his home country, Germany. In 2012 he was bizarrely arrested by Thai police over allegations that he had attempted to extort money from his own family by faking a kidnapping, although he was never convicted.
Forward - Benni McCarthy
A Champions League winner with Porto and a brilliant striker for Blackburn, the McCarthy who rocked up at West Ham for was past his peak and apparently past caring. Injuries played their part - he missed six weeks after getting crocked against Burnley on his debut - but when he did get on the pitch he looked slow, out of touch and thoroughly disinterested. Was dropped from the first-team squad in February 2011 having only joined in the summer, and the Hammers ended up forking out £1m to terminate his deal next year. McCarthy played a handful of games for Orlando Pirates back in South Africa before retiring in 2013, fondly remembered everywhere he went except for London.
Forward - Sébastien Haller
One of those cases of a fantastic player who simply wasn't a good fit for a specific club. Haller had already impressed in France, Germany and the Netherlands by the time he signed for West Ham, upon which he endured the only lean spell of his career to date. There have been plenty of strikers who have been worse, and 14 goals in 54 league games isn't historically bad, but for a cost of £45m you expect a whole lot more. Has since been a huge success for Ajax and looks set to be the same for Borussia Dortmund after recovering from cancer treatment.