FIFA just want us to watch - we will, but through the critical lens with the unique help of Talenthouse
NationalWorld and Talenthouse are partnering together during the World Cup.
Watch more of our videos on Shots!
and live on Freeview channel 276
Visit Shots! now
Never has excitement been so dulled, never has jubilance been this melancholy. The beginning of a World Cup is a spectacle unique in its capacity to unite and inspire, and yet a global community turns its attention to Qatar torn.
FIFA's showpiece pageant has been hamstrung by controversy and discord from its very inception, and the pangs of grief loom large even as we are encouraged to focus, like blinkered horses riding a ghost train, on the football, the football, and nothing but the football. Thousands of migrant workers are alleged to have died in preparation for the tournament, while thousands more have been subjected to inexcusable labour conditions and abject pay.
Members of the LGBTQ community continue to be arrested, discriminated against, and punished for their very existence in a country in which same sex relationships are illegal. Persistent talk of corruption in the bidding process, not to mention the logistical chaos that a winter competition has inflicted on players and supporters alike, plagues the discourse surrounding the Qatari government's $220 billion pet project. Everything, from organisation to public image to general morality, is in shambles. And through it all, FIFA want us to focus on the football.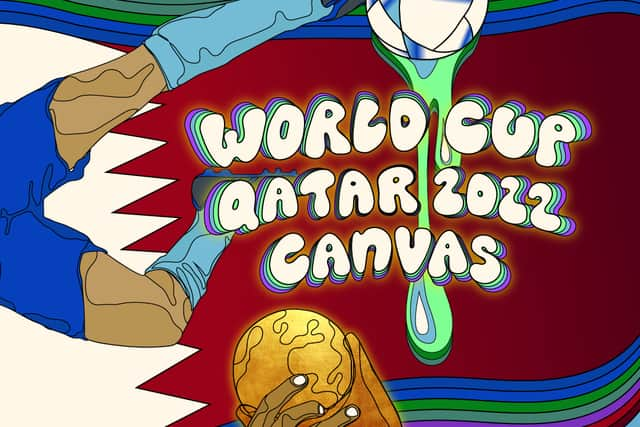 And just to add to the unique nature of this tournament, NationalWorld is partnering with Talenthouse to tell the story of this World Cup through digital murals. National World is collaborating with Talenthouse for the duration of the World Cup to capture all of the crucial moments and stories in the form of a digital mural.
3AM will be commissioning a creative from Talenthouse's global community of 18m+ members to produce the artwork. Throughout the World Cup, we will be sharing sneak previews of elements that will eventually make up the final mural across our social media platforms, including some behind-the-scenes and interviews with the artists themselves.
Lisa Paul of Talenthouse added: "We're thrilled to be collaborating with National World on such an exciting project. This important partnership allows us to capture the narrative around this year's World Cup through our global community of Creatives, paired with NationalWorld's ability to articulate and distribute stories. Together, we align on the mission to act local and whilst thinking global. Endeavouring to shift the focus to the people, places and perspectives which are still often underreported and unheard."
Make no mistake, we will be watching, but we won't stop looking at and scrutinising the bigger picture either.