If there is one silver lining to Mike Dean's Chelsea VAR confession, let it be this
The former Premier League referee has spoken out about a decision during the Blues' 2-2 draw with Tottenham last season
Watch more of our videos on Shots! 
and live on Freeview channel 276
Visit Shots! now
On review, this is one decision that Mike Dean probably wishes he could overturn. Quite why he settled on the call to sit down with talkSPORT's resident thesaurus-muncher Simon Jordan and undermine the entire framework of video technology in football, only he will know, but it has been met with a suitable, and not entirely shocking, amount of indignation. Then again, always been a bit of a renegade has our Mike.
For those of you who are not as chronically, sickeningly online as the rest of us, this is the story: last August, Dean was on VAR duty for Tottenham's feisty Premier League clash against Chelsea at Stamford Bridge. Late in the game, with the score at 2-1 to the hosts, Cristian Romero wrapped a paw around a decent fistful of Marc Cucurella's hair in the penalty area and gave it a good old yank. Referee Anthony Taylor didn't intervene, the teletubbies at Stockley Park didn't flag it to him, and the game went on. Shortly afterwards, Harry Kane scored an equaliser and the match finished in a draw. People, or more specifically, people in royal blue jerseys, were not best pleased.
In and of itself, it was pretty shambolically irksome, but then you hear Dean's account of the incident and it somehow gets even worse.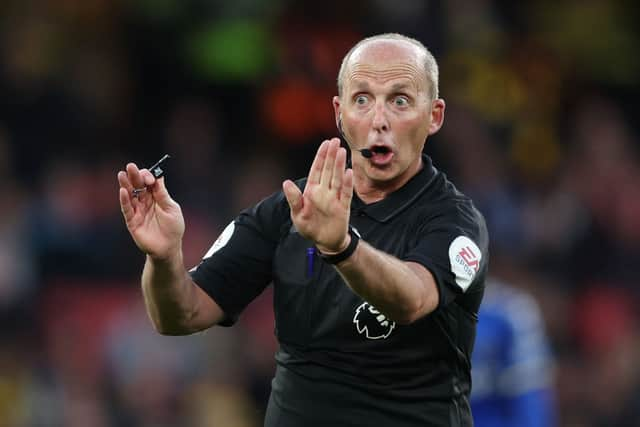 "I missed the stupid hair pull at Chelsea versus Tottenham which was pathetic from my point of view," the former referee told Jordan's Up Front podcast. "It's one of them where if I had my time again, what would I do? I'd send Anthony [Taylor] to the screen. I think I knew if I did send him to the screen… he's cautioned both managers, he's had a hell of a game, it's been such a tough game end to end.
"I said to Anthony afterwards: 'I just didn't want to send you to the screen after what has gone on in the game'. I didn't want to send him up because he is a mate as well as a referee and I think I didn't want to send him up because I didn't want any more grief than he already had."
Now, it's nice to be nice, and it's good to be a good friend, but where is the line here? Would Dean have sacrificed Taylor's feelings and sent him to the screen if, instead of an obvious pull of the hair, we were talking about an elbow to the jaw? Or an instance of first degree murder? A foul is a foul is a foul (I think murder counts as a foul) and the laws of the game should not be manipulated to accomodate for the upset of a henpecked referee.
Evidently, Mike knows this, and to his credit, he has admitted his mistake, but hindsight is a wonderful thing. Unless, of course, your mate can't be bothered to instruct you to use it. Why on earth would an official as revered and experienced as Dean not intervene in that moment? It is genuinely unfathomable.
And it also speaks to one of the cornerstone issues with VAR. Far too often the technology is criticised, but the reality is that it is perfectly fine. The problem lies with the whims of the humans who are implementing it. Dean's example is a relatively acute one, the kind that sends the brain spiralling into conspiratorial visions of spectators being duped and worked by some sort of secretive refereeing kayfabe.
But on a weekly basis we are subjected to all manner of disputes that pivot on the application of the video assistant, and more commonly, the interpretations of those with their eyes glued to the monitor. Perhaps that will always be the case. Perhaps a level of subjectivity is what makes football so compelling to begin with. But if VAR is to ever be wholly successful, the last thing that it needs is for those behind it to be knowingly misusing their resources. Referees have a hard enough job as it is without their apparent insurance policy arbitrarily deciding when to give them a helping hand and when to keep schtum.
Hopefully, if there is any good to come from Dean's confession, it will be that his whistle-toting peers will take notice of the backlash he has received, and think twice about putting their friends before the consistency of their judgement in the future.