Shortly before Kevin de Bruyne drilled the ball into the back of Real Madrid's net on Tuesday night, there was a moment where Bernardo Silva controlled the ball in midair on the right flank, pretty much on top of the touchline. It was an entirely unremarkable incident, and didn't immediately lead to anything – Manchester City gave possession away, Real gave it back again, and then De Bruyne's tracer bullet finish levelled the scores.
It was a nothing moment in an eventful game packed with superb pieces of individual skill and endlessly impressive team play. At least, it was a nothing moment until BeIn Sports got their hands on it. In their post-match analysis, they conjured up an unofficial graphic to show that the ball had gone fractionally out of play, and that Real should have had a throw-in, and a section of social media predictably erupted.
It was conspiracy theorist catnip, fresh 'evidence' of officiating bias, or simply an unforgivable error which explained away the goal which City will carry into the second leg. Never mind that the passage of play it had occurred in was only tangentially connected to the goal itself – BeIn Sports created a mountain out of less than a molehill. There weren't even any moles in the area at the time. A controversy manufactured – intentionally or otherwise – for no reason other than the desire to feed the social media horde.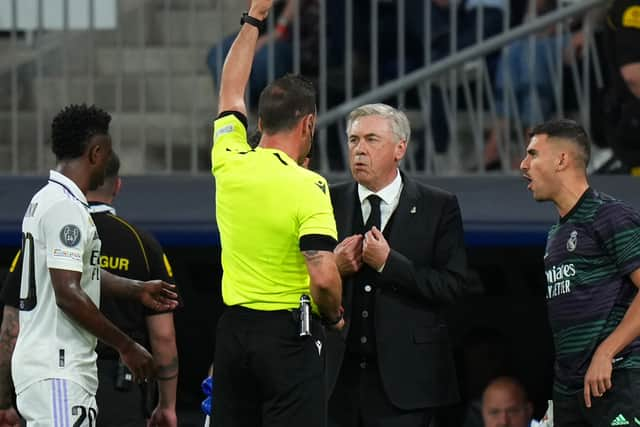 There is no apparent information on which particular orifice BeIn Sports pulled the graphic from – there is no official ball-tracking technology in use on the touchlines, which means that they were, at best, extrapolating from available camera angles and were, at worst, guessing. Perhaps they really do have a team analysing multiple camera angles, alongside a computer making the calculations, for every ball which veers close to the touchline. Perhaps not. It isn't really the point, anyway.
The point is that granular analysis of refereeing decisions has reached a point where sanity has long since been surgically removed from the process of discussing controversial incidents. In a game of a thousand subjective decisions, one particularly challenging one will be shown from multiple slow-motion camera angles, a former referee will comment, and then Danny Murphy will suggest that the official in question be put inside a blue tent and put down, at least if he's in one of his better moods.
Imagine every decision you made at work being subjected to the same analysis – imagine every spreadsheet you updated was promptly pored over by a team of people who haven't actually worked with Excel before, but did use Word once, before they find the one number you entered incorrectly during an eight-hour shift and determine that it means you should be sacked on the spot. Perhaps, if you're looking after your mental health, you can add an imaginary Peter Walton to proceedings, insisting that the number was probably right after all. The world is full of people ready to drag you down, and everyone needs an internal Peter Walton to keep them on the level.
What do we benefit from all of this? Usually, the decisions – which nowadays are mostly checked over with the same level of detail by actual professionals in places like Stockley Park – are either correct by the letter of the law (which is different from what many of us think it should be, of course) or so subjective that it's impossible to reach a consensus conclusion. All we end up with is further excuses for people to slate referees – who cop quite enough of it without Danny Murphy and the millions of armchair Danny Murphies joining in – and further fuel for the Twitterati to air their grievances and carefully-constructed 'theories'. It's not like they need much to get them going anyway, so it boggles the mind that broadcasters insist on providing additional firewood.
Or perhaps it isn't so mind-boggling, really. One only needs to look at the recent viral success of El Chiringuito, or of any number of bawling Twitch streamers, to see that football outrage has an audience – the more bloodthirsty and melodramatic the better. If you share a video of a supposedly incorrect refereeing decision, it will generate substantial engagement. Anger drives clicks and views and all the other metrics by which the success of media is judged on the back end. And so we get a needless and possibly spurious graphic showing a ball a millimetre out of play before a goal, and it's all over social media. A success for the broadcaster, by some metrics, but another step towards the lunatics taking over the asylum, although perhaps it's too late to fret about that in Twitter's case.
Never mind that assistant referees do not have access to slow-motion replays and carefully-construed graphics, and probably get a hundred touchline decisions wrong in a career because the human eye didn't evolve to measure such fine margins with precision – and never mind that outrage will literally never achieve anything, never mind changing the result – a lot of people love to get angry and share that anger online, and those people are now being encouraged. For those of us who prefer to enjoy a civil and informed discussion about football, it's becoming rather exhausting.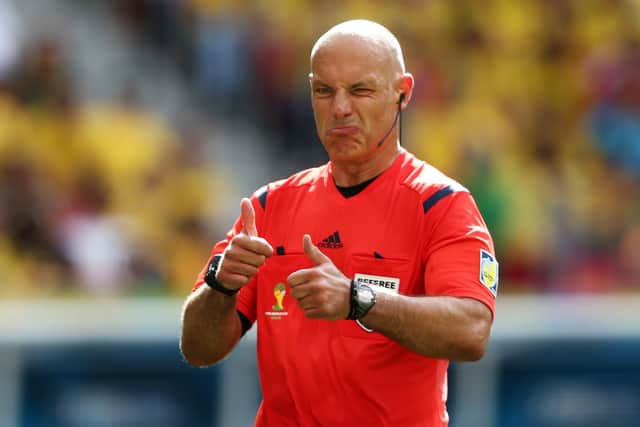 Howard Webb, head of the PGMOL, has announced that a 30-minute programme will air on Sky Sports ahead of Liverpool's game against Leicester City, and will broadcast audio from matches and between referees and the VAR room for the first time. The hope, presumably, is that it will provide an insight into the process and improve public trust in officiating standards, and perhaps even engender a bit of sympathy. It would be nice to hope that was the case, but it seems very likely that much of the viewership for this programme will be people seeing clips from the show, edited down and taken out of context, designed to paint the refs involved in a bad light. Perhaps that's an overly cynical reading, but how many people will sit down and patiently watch in order to develop a considered opinion, and how many people will just take up the juiciest little tidbits on Twitter?
Referees being mic'd up works in rugby union because there is a long-standing culture of respect between players, pundits and officials. Decision are only questioned on the BBC or BT Sport or wherever else in relatively extreme circumstances. In football, that respect has been so utterly eroded over such a long period of time that the basis upon which rugby makes it work simply doesn't exist.
We want your feedback on 3 Added Minutes - details here
I wish I could say I can conclude this piece with a suggestion or a solution. The only way things improve is if referees, broadcasters and fans somehow get together and find a way to agree on wholesale changes in the relationship they have. As it stands, we'll still have to endure over-the-top outrage every time a referee makes a mistake, and indeed plenty of times when they don't, and we'll end up with wailing and gnashing of teeth across the internet and, of course, continued abuse of officials at every level of the game, from Jürgen Klopp screaming in the fourth officials face right the way down to the many verbal and physical assaults dished out to grassroots referees on a weekly basis. The vicious cycle has been turning for too long to slow down now. Either it gets smashed somehow, or it will just keep on spinning.