Mason Mount is a Milky Way, but he might just be about to become England's Galaxy Caramel
The Chelsea midfielder has rekindled his best form in recent weeks.
Watch more of our videos on Shots!
and live on Freeview channel 276
Visit Shots! now
Things are pretty bad at the moment. Inflation rates have taken their largest hike since 1989, the clocks have just gone back so the sun now sets at about 2.15pm in my native Gateshead, and Rishi Sunak's zombified Tory government is continuing to hone its uncanny impression of a Moss Bros death cult. But forget all of that for now, because the only thing that the entire country is bothered about at this precise moment in time is Mars' decision to remove the Bounty from their tins of Celebrations. If you thought the political discourse was divided before, just you wait.
If Mason Mount was a Celebration, he would not be a Bounty. The Chelsea midfielder is not outlandish or offensive enough for that. According to the boffins at Mars HQ, who we can only assume are Oompa Loompas with post-grad degrees, some 40% of people actively "hate" the coconut abomination. A further 18% claim it is their favourite of all the Celebrations. Freaks. No, Mount would probably be a Twix. Or maybe a Milky Way.
The point is, the 23-year-old has carved out a bit of a niche for himself as a thoroughly dependable presence without ever emerging as the main attraction - especially at international level (let's not kid ourselves, though, he's no Malteser). Gareth Southgate trusts him implicitly - not least because of his admirable tactical awareness and understanding. But should the England manager require a certified match-winner, Mount might not be the first person he turns to. He might not even be in the top 10. Or at least, that has been the case in recent times.
Just five goals in 32 caps would suggest that Mount's contribution has been steady if not spectacular. Not for one second has his place in Qatar ever been up for realistic debate, but whether or not he packs enough of a punch to be of significant note in a squad that is likely to feature talents as irrepressible as Phil Foden and Jude Bellingham, among others, has.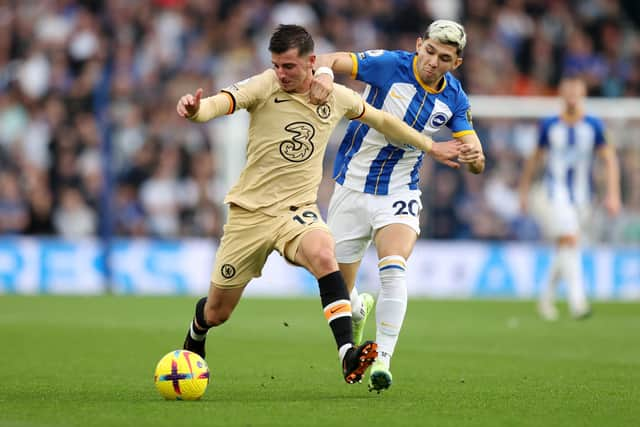 Any doubts over Mount were exacerbated by an uncharacteristic dip in form under previous Chelsea manager Thomas Tuchel. Emblematic of the midfielder's persistent ineffectiveness, the German's tenure at Stamford Bridge culminated in a drab performance against Dinamo Zagreb in which Mount was forced to play in three separate positions over the course of the 90 minutes, dictated to and shunted around the pitch like a cognisant air hockey puck.
But since that lull, and in particular since the appointment of Graham Potter in West London, Mount has enjoyed something of a resurgence. Eight goal involvements since mid-September, including an impressive brace against Aston Villa in the Premier League, have reasserted his position as a pivotal figure in the Blues' attacking force. Like Vesuvius in the autumn of 79AD, this Mount is stirring. (Apologies.)
And that can only be a good thing for England. Southgate has always been an advocate, but Mount's continued redemption arc after a period of anti-climax may well be enough to bring several others round to the manager's way of thinking. The more legitimate creative options the Three Lions have in contention for a starting berth, the better.
Who knows, if he can replicate his shimmering club form in Qatar, he may even get bumped up a notch - from Milky Way to Galaxy Caramel.