Got, got, need: The power of the Panini sticker album as one World Cup tradition doesn't grow old
FIFA on Playstations, VAR deciding games and stats pouring out of our mobile phones; football is very different to how it was in the 1970s but one thing endures: the sticker album. Colin Hume recalls his quests to seek down thousands of footballers' faces over the years.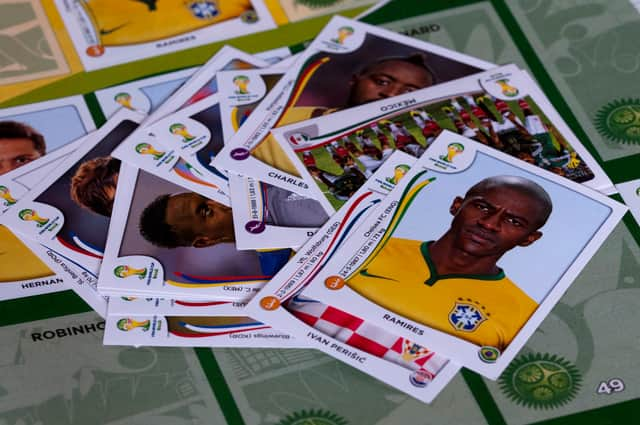 The past 50 years have seen football change immeasurably.
Artificial pitches, multiple substitutions, names on the back of players' jerseys, astronomical wages, wall-to-wall TV coverage - not to mention VAR - the game is barely recognisable from the one (some of us) watched growing up in the '70s.
But at least one tradition has endured since the 1970 World Cup when Pele and his compatriots thrilled the watching millions with their exciting brand of football which saw Brazil win the trophy for a third time.
That was the year that Panini launched its first sticker album to accompany the tournament, then being held in Mexico.
Fast forward more than half a century and thousands of youngsters (and many adults eager to recreate their youth) are busy attempting to get all the 670 stickers that make up the Qatar 2022 album.
Few will manage it. Like so many things in football these days there's a lot of money involved and someone, somewhere has calculated that it could cost upwards of £800 to complete.
True, in some rare instances, you may make a decent profit in the long- term. In 2017, a 1970 World Cup album signed by Pelé sold for a record £10,450, but for every full collection there are thousands - probably hundreds of thousands - lying forgotten in attics with pages still missing those final few stickers.
For me, Spain 1982 was the pinnacle of my collecting career, but it was a few years earlier that I was first struck by the bug. In those days it was cards rather than stickers (think vinyl compared to CDs) and each pack came with a rock-hard stick of pink chewing gum.
It would be a little while before I actually tasted the gum (I wasn't missing much!) As my first cards were won rather than bought. I was in the fourth year of primary school when I spotted a gang of older boys flicking cards towards a wall, the point of the game being to finish the closest thereby boosting your collection to the detriment of the other contestants.
Intrigued, I borrowed a single card from a friend and when lunchtime was over I returned to the classroom with a sizeable pile. I was hooked.
For the next few years, all my pocket money was invested in my new hobby (discarding the gum as by then I had learned my lesson).
Then came Argentina 1978. It's hard now to understand the wave of emotion that carried Scotland to South America. We were going to win the World Cup - "England cannae do it cos they didnae qualify," sang Andy Cameron to the delight of the Tartan Army - and we were so confident that we celebrated before we left at a packed Hampden send-off.
Cameron, for those who don't know, is a comedian, perhaps no surprise given our performance in the tournament.
The confidence was obviously misplaced but given we had a side that featured the likes of McQueen, Souness, Gemmill and Dalglish - all playing for top sides in England - perhaps we were entitled to dream.
My personal dream was a bit less ambitious. Having switched my allegiance from cards to stickers, I was determined to complete that album. Eventually I DID amass all the stickers but then I made a blunder that haunts me to this day.
The album itself had made the journey to school with me every day for two or three months and was looking decidedly dog-eared. For reasons that defy logic, as I made those final few swaps, I decided it would be a good idea to buy a fresh one and transfer all the stickers into tt. I'll leave you to guess how well that went.
There were no such problems with Europa '80, but if I was going to dry my tears from Argentina I was going to the feat a couple of years later when the world's best headed to Spain. Again Scotland qualified, again Scotland failed to get past the group stages. Again I dreamed of completing my collection … and this time I did it.
Occasionally, I look out the album and flick through the pages, each one bringing the memories flooding back as I recall names that seemed so exotic at the time - Giancarl o Antognoni, Zbigniew Boniek, Hans Krankl, Felix McGrath and, a name that caused many a giggle amongst schoolboys, Roberto Lopez Ufarte.
Yes, it's a bit dog-eared, but this time I'll live with that.