Why planning youth football training sessions shouldn't be child's play
Charlie Crane, a football coach in the North East of England, looks at designing training sessions to get the most out of each week. This is a new column for 3 Added Minutes and we would love to hear from other coaches with their own experiences, advice and tips.
As a football coach, numerous hours are spent behind the scenes reflecting, planning and developing ideas to take into the next round of training and matches. Lesser experienced coaches plan around simple heuristics such as session topic, maintaining control and keeping to the time schedule. On the other hand, expert coaches plan and design sessions thoroughly, fully understanding the nature of their players performance and development plans. They will also recognise any problems facing their athletes before progressing the next plan of action to solve the problems or opposition faced.
An under U13s training schedule, training Mondays and Fridays with fixtures on Sundays:
Players will train based on a club developed curriculum and scheme of learning. With most grassroots clubs, the approach is reflective in preparation for the next game. The coach will think back to the previous match, what does the team need to improve on and design a session to improve players ability in this specific topic. A reactive way of coaching is adopted. This team (AJX U13s) works differently, training based on a pre planned session curriculum, working in blocks of 6 weeks on a specific topic, regardless of the matchday results. They stick to this curriculum to fully embed a club style of play and principles of play.
During Monday's session, a technical development practice is employed by coaches, this means maximised ball rolling time with repeated actions, giving the players optimal time to practise desired coaching points. For example, unopposed passing rotation drills aligned to the teams style of play. Based on the coaches understanding both unopposed practice and opposed "decision making" practises are adopted.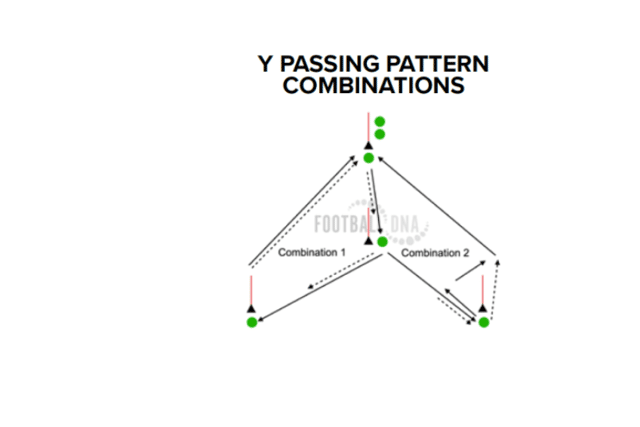 The above session design limits a players decision making process, as the routine is predetermined. This is the traditional method of learning motor skills, which we feel isn't yet fully outdated. In motor-learning literature, variability of practice is believed to be an effective method of producing successful, learning, retention and transfer of learned motor skills.
Fridays are where the players are integrated into a more position specific coaching dynamic, set up in organised areas working on the curriculums desired topic. There are more coach interventions and less ball rolling time, to fully pass on coaching points and offer guided discovery to the players, encouraging them to make their own decisions based on the oppositions positions on the pitch . Coaches will facilitate this type of learning by setting an environment tailored to the desired principles of play. If the session topic is 'Creating & Exploiting Overloads' wide areas may be zoned and the out of possession team managed for only the full back to enter, allowing 2v1s in favour of the attacking team. This leaves the environment suited to the session topic, and the success of the session pinned on the players decision making process.
The differences in research findings across the years points to a potential shift in practice structure to a more open and dynamic approach to practice, with more emphasis being put on the development of psychological skill. Within the club it is encouraged that both methods of training are brought into the teams schedule, to enable players to access a variety of coaching methods, as some players learn differently to others. Upon reflection, this routine works for our coaches and players. The players enjoy varied training methods each week and coaches enjoy a more relaxed session on Monday's and a full force 'higher level' session on a Friday.