England's Three Lions began their Qatar World Cup journey with a 6-2 win against Iran. And for many of the squad's young players, the journey began with humble beginnings.
Gareth Southgate's side kicked off in Doha with Jude Bellingham, Bukayo Saka and Raheem Sterling putting the ball into the back of the net before half-time on November 21.
Manchester United's Marcus Rashford joined the playmakers by scoring England's fifth goal shortly after being substituted on, proving his recent critics wrong about his performance ahead of Jack Grealish who rounded out the national team's first match.
While England's first two goal scorers are the team's youngest players, all five playmakers have humble beginnings that led to them appearing on the World Cup scoresheet.
Jude Bellingham
The preliminary World Cup goal scorer seemingly has the beautiful game in his blood as his father Mark, enjoyed a 20-year career as a prolific goal scorer in non-league football.
Mark, who also worked as sergeant in the West Midlands Police, netted over 700 goals for teams such as Bromsgrove, Sutton Coldfield, Leamington and home-team Stourbridge.
Bellingham told The Guardian: "I used to watch him play all the time. It's where I started to get that love for football. I think you can see in the way I play that I've watched the game from a young age.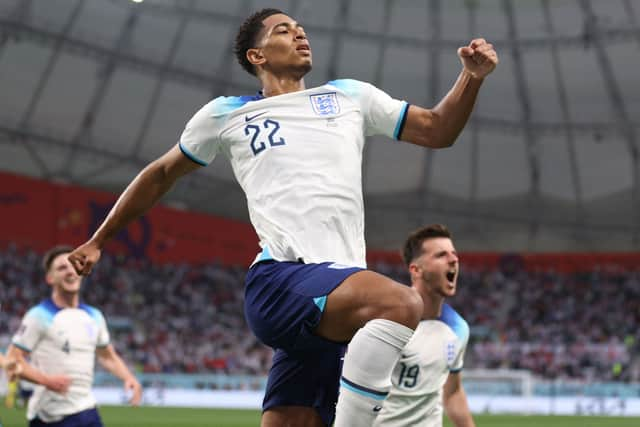 He added: "That non-league style of toughness and being gritty when you need to be is reflected in my game, and I do think that comes from watching my dad play - even though he never tackled!"
Jude, who became the second youngest player to score for England at a World Cup, also leads the way for his younger brother and Birmingham City player Jobe Bellingham.
Bukayo Saka
Some could say that it was destiny for 21-year-old Bukayo Saka to score two goals in England's opening match as Bukayo's name translates to 'adds to happiness' in southern Nigerian language, Yoruba.
Bukayo's motivation for his football career similarly started with his parents Adenike and Yomi Saka, who moved to England as economic migrants and had a passion for football.
Although Bukayo was an excellent student who achieved four A*s and three As at GCSEs, his parents' love for the Arsenal club spurred him on to focus on entering the club's academy.
Saka's parents applied on his behalf and gave their all to get him to every training session as Bukayo said: "My Dad was a massive inspiration for me. From when I was young, he always kept me grounded…It was quite a struggle for my parents to help me get here but they always gave their all and got me into training."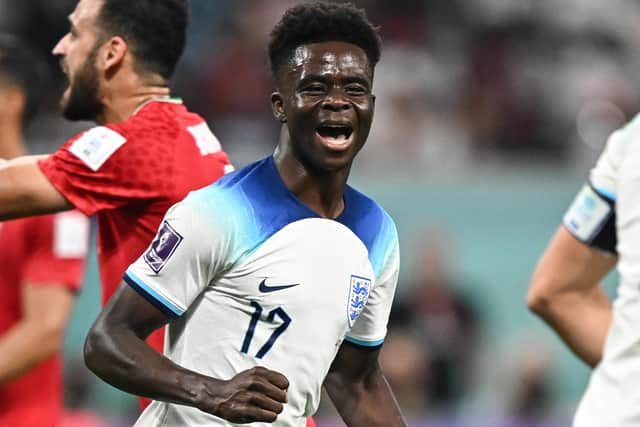 Raheem Sterling
Raheem Sterling scored an impressive goal in the first half of the Monday lunchtime game, flicking the ball off his bootlaces with a strong finish.
Raheem's family made many sacrifices for the player to reach the international level, and previously Raheem has paid tribute to their devotion when he collaborated with New Balance to recognise his sister Lakima who travelled from Wembley to Heathrow five times a week to allow Raheem to train.
The design includes the three bus routes the pair had to take when Raheem was a young player for QPR as well as showcasing Lakima's name.
Raheem explained that his success is a team effort in terms of his family: "My journey to this point was far from easy but when, as a family, we didn't have a lot, we always had each other, and we pushed each other to be the best we possibly could be.
"My family always encouraged me to follow my dreams and it's that confidence that helped me get where I wanted to be. Everyone made sacrifices. Everyone contributed to my success. It was a team effort from start to finish."
Marcus Rashford
There was a lot of debate as to whether Marcus Rashford should be in the Qatar World Cup 2022 team, but the Manchester-born player silenced critics after putting his name on the scoresheet.
Like his former goal scorers, Marcus came from humble beginnings as he and his five siblings were raised by his single mother Melanie Maynard, who worked full-time as a Ladbrokes cashier and who sometimes skipped meals to feed her children.
Marcus spent his time kicking around a football labelled 'Marcus' Ball' with a black marker and did not realise his mother was watching when he kicked it up onto their home's roof.
He said: "I didn't know my mum was there, watching when I kicked the ball on our roof. I could remember her insisting she'll take me to join a youth club so I can play with the boys instead of having me kicking balls on our garage roof.
"This statement marked and paved the way for the foundation of my youth career," Marcus said, speaking about how Melanie enrolled him to a kids football centre, as a five-year-old.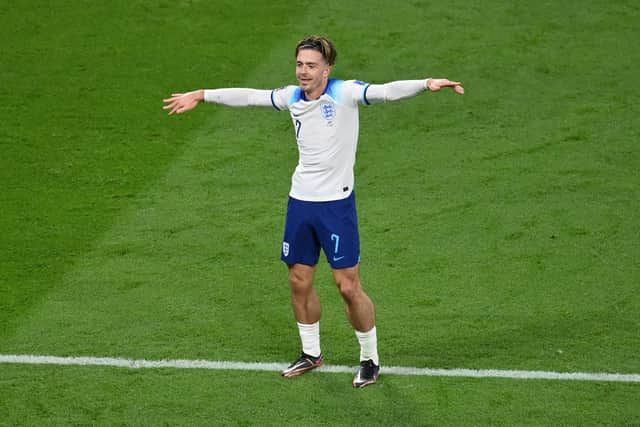 Jack Grealish
Jack Grealish sealed England's 6-2 win as he netted a super goal from Callum Wilson, and the final goal scorer dedicated his fantastic finish to an 11-year-old fan who has cerebral palsy.
Jack has a strong link to the illness as his sister Hollie suffers from cerebral palsy too, and was contacted by a Manchester City fan called Finlay after he heard about how Jack cares for his sibling.
He wrote: "I love the way you are really good with her, you really get it. You always have her there with you and look really proud, especially when we won the league.
"I wish there were more people in the world more like you who treat people with disabilities the same as everyone else."
Jack met up with Finlay and promised him he would celebrate in whichever way the young fan wanted if he scored during the World Cup.