The Rebound: England's future Ballon d'Or winner, Germany's vampire sacking, and Rubiales' grand delusion
All of the latest action from the international break, including England, Germany, and Spain.
Watch more of our videos on Shots!
and live on Freeview channel 276
Visit Shots! now
England vs Scotland with one eye on developments in Scandinavia; it was like 937 AD all over again. On Tuesday evening, Gareth Southgate, a modern day Aethelstan if ever there was one, took his Three Lions squad to Glasgow for the unfriendliest friendly in world football. Trademark pending.
The situation heading into last night was a fairly simple one; Scotland needed a draw between Norway and Georgia in Oslo to guarantee their spot at a second consecutive European Championships, and they needed a win in their Hampden Park exhibition against the English to satiate a congenital yearning to bloody the nose of anybody south of Gretna. In the end, they would get neither - although the latter was almost fulfilled by one notably fraught dust-up in the aftermath of a stiff Kalvin Phillips tackle. The ensuing scene brought to mind two warring stag-dos tangling in the early hours on Sauchiehall Street.
Truthfully though, this 150th anniversary showpiece, memorialising the first ever international football match, was rather emblematic of the relationship between the Auld Enemies since, say, the mid '60s. England were largely dominant, save for a few dicey moments of Scottish gumption, and by and large, their individual quality was enough to batter their hosts like a Mars bar in a deep fat fryer.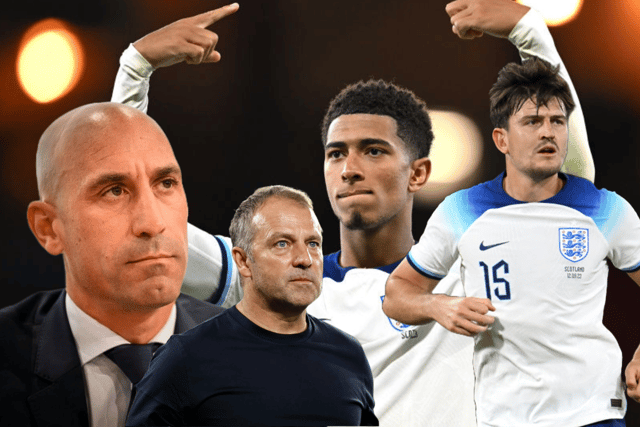 Particular praise should go to Phil Foden, who, for some unthinkable reason, seemed intent on proving a point to his manager; to Lewis Dunk, who made good on his opportunity with a defensive performance as emphatic as his surname; and to Jude Bellingham, who vindicates Birmingham City's decision to retire his shirt number just a little more with each passing clinic. Bellin d'Or, anybody?
Of course, there were rougher junctures too. The introduction of Harry Maguire felt like a clownish taunt right up until the point at which he scored a clumsy own goal - an intervention that must have conjured mental images of mad professors being killed by their monstrous, untamable passion projects for the watching Southgate. Facetiousness aside, Maguire is a decent footballer whose nerves are evidently shot. His manager's loyalty to the player is admirable, but at this stage, you suspect that throwing him needlessly before the withering glare of a spotlight threatens to do him more harm than good.
Shortly after, had John McGinn made contact with a succulent Andy Robertson delivery using anything other than the only angular protrusion of his meatball physique, England might have thrown away their two-goal lead entirely.
In essence, however, this was a perfect illustration of the disparity between the two nations. Scotland have come a long, long way under Steve Clarke, and should be heralded accordingly, but England remain a world class entity with the capability to beat just about anybody on their day.
Elsewhere, during this international break that has felt as if it has lasted a lifetime, Germany made the call to sack their manager for the first time since the role was created in 1926. Presumably this is because all of their previous coaches have resigned, and not because they have been employing a vampire that entire time.
Hansi Flick, with his name like an illegal move in a thumb war, was die Mannschafted after a humiliating 4-1 defeat to Japan over the weekend. The result proved to be the final straw for the the ex-Bayern Munich boss, who has been subject to simmering pressure ever since his side crashed out of last winter's World Cup following - ahem - a humiliating 2-1 defeat to Japan. No word yet on what Flick plans to do with his enforced period of idleness, but don't be surprised if it involves a baseball bat and the windscreens of several neighbourhood Toyotas.
And finally, Luis Rubiales sits at home mournfully nursing a glass of chocolate milk and listening to a schmaltzy piano-led cover of Mr. Brightside on repeat. 'It was only a kiss', he sobs into the sleeve of his black turtleneck, 'how did it end up like this?'.
The disgraced former Spanish FA president finally - after weeks of hellish controversy and a matriarchal hunger strike that did little aside from hint that his tendency for delusion might be genetic - resigned from his post earlier in the week, and really twisted the knife on any lingering suspicion that he might possess an ounce of decency by confirming his departure during a self-pitying interview with fellow famed cry baby Piers Morgan.
Never one to properly kowtow to accountability, however, Rubiales is still somehow trying to maintain his innocence in the wake of his alleged unsolicited kiss on the lips of Jenni Hermoso, claiming that the 'truth hasn't surfaced' and that 'everything will be fine' following his court testimony this coming Friday.
I mean, come on. The truth?! He does realise that the World Cup final was being filmed, doesn't he? Then again, perhaps not. Where this bloke is concerned, nothing surprises me anymore.
'I am a good guy, look at me in the eyes', he pleadingly implores Morgan at one point during their cosy little chat in an abandoned warehouse. I'm looking, pal, and all I see is a spoilt brat who can't handle the consequences of his own shameful actions.