Forget Man City's Pep Guardiola - England's ideal Gareth Southgate successor is staring them in the face
The Three Lions could be on the hunt for a new boss in the relatively near future.
Watch more of our videos on Shots!
and live on Freeview channel 276
Visit Shots! now
Think of it as a bowl of porridge on the morning of a grand anniversary dinner, the obligatory motorway service station bathroom break before properly embarking on a much-anticipated road trip. On Tuesday evening, England will play Scotland in an exhibition match that is set to mark a century-and-a-half of their neighbourly squabbling. Hampden Park will be awash with tartan and banana skins. Prior to that, however, the Three Lions will face the altogether more routine solemnity of a European Championship qualifier against Ukraine, played in Poland as a consequence of Putin's bawling ego, on Saturday afternoon.
Traditionally, this is the sort of fixture that England have coasted through with ease. With the odd and rare exception, passage to major tournaments has never truly been a stumbling block for the national team. For every wally with a brolly, there have been innumerable drubbings of Eastern European minnows that stack up like errant Lego bricks to assemble unblemished qualification campaigns. Already this time around, the Three Lions are sitting pretty; played four, won four, goals for 15, goals against one.
But just how many of these agreeable contests Gareth Southgate personally has left in him remains to be seen. If reports from earlier in the week are to be believed, the Waistcoated One may well be considering the prospect of walking away from his post as England manager in the aftermath of next summer's Euros, regardless of whether or not he finally delivers on his promise of long-awaited international silverware. In the event of his departure, the Daily Mail suggest that the FA might even have the brass neck to make an approach for Pep Guardiola. God, as they say, loves a trier.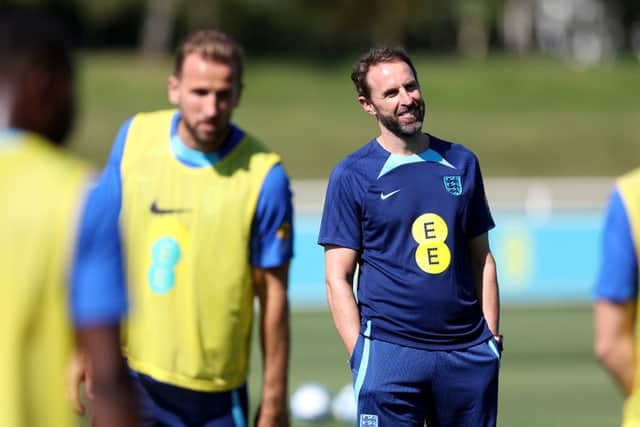 Assuming, however, that Pep is still in full possession of his mental faculties this time next year, the most obvious question these latest mutterings inspire is who would actually replace Southgate. And that, in turn, leads to all kinds of philosophical discourse about things like pragmatism, aestheticism, and the squandering of golden generations.
Given that the whole thing is ceaselessly, frighteningly dull, I don't really want to get into properly at this very moment, but I do want to casually toss out a couple of names that, in my shoddy opinion, should be in the running.
First, Sarina Wiegman. The usual suspects may look away now. Since taking the helm for England's Women's team, the Dutch coach has been nothing short of transformative. Magnificently so, even. Were it not for an uncharacterisically lacklustre showing in the World Cup final a few weeks ago, the Lionesses would currently be champions of both Europe and the entire globe. If you want a winner, here she is. If you want a manager who believes in the value of enticing, attacking football, here she is. If you want a cerebral leader in possession of the wherewithal to amend tactical principles on the fly, here - as you might have guessed - she is.
Of course, the appointment of a woman to such a prestigious role in the men's game would be unprecedented. But why should that prevent it from happening? Football management, to all intents and purposes, is no different from playing chess, or building a flat pack wardrobe from IKEA. It's about brain power and puzzle-solving, spliced with just a dash of guidance counselling. Wiegman, during her time with the Lionesses, has proven that she has the chops in abundance, and of course, she already boasts a positive working relationship with the FA to boot.
But, by the same metrics that dictate her suitability for the job, why should we view the women's game as a nothing more than a stepping stone to gain access to its male counterpart? The answer, simply put, is that we should not. If Wiegman happens to be available at the time that Southgate calls it a day, then perhaps she deserves to be given a shot. If she's not, then move on and look at other candidates.
Other candidates like Graham Potter, for instance. Bear with me here. I am no naive fool; I know how bad things got for the former Brighton manager at Chelsea, and I know that his reputation has been severely tarnished by his doomed sojourn in west London... BUT.
For one thing, I think a power share consisting of Alexander the Great, the ghost of Brian Clough, and God Almighty himself would have had a hard time getting any kind of meaningful tune out of that bloated, disjointed Chelsea squad last season. There are poisoned chalices, and then there is whatever witches' brew Todd Boehly is currently slinging during his Stamford Bridge unhappy hour.
For another, one disastrous stint does not a career make. Everywhere else Potter has been, he has enacted wonders of varying import. Brighton, for instance, are soaring under Roberto De Zerbi, but the Italian's task on the south coast has been made infinitely easier by the foundation that everybody's favourite am-dram ballet director constructed for him.
Potter, as far as I can see, hits upon a key trifecta of qualifying criteria: he plays the right kind of football (whatever that means), he takes the players presented to him and notably improves them, and he has a birth certificate which will appease the Al Murray doppelgangers with their bulldog forearm tattoos and Winston Churchill profile pictures - at least for a time. The degree to which that last point matters, by the way, is directly correlated with the extent to which the knowledge that Saint George was actually Turkish keeps you up at night.
Nevertheless, Potter could well be the man, even in spite of the skeleton (singular) in his closet. There are those who may require some convincing, yes, but to them I say this: what had Gareth Southgate ever really done before he first donned the waistcoat?