The spaniard endured a turbulent spell during his first tenure in the English top flight, walking into a tricky scenario in north London. Emery replaced long-serving Arsenal boss Arsene Wenger and was tasked with managing a difficult transition period at the Emirates Stadium, one not made easier by the whole Mesut Ozil situation.
Even with all that, Emery got the Gunners to within a whisker of a top four finish, and he also guided them to a Europa League final, eventually losing to Chelsea. Emery was chased out of town amid a disappointing start to the following season, receiving abuse from fans over his attempts to speak English.
But he would have the last laugh, going on to win the Europa League for a fourth time after taking charge of Villarreal. The Basque Country coach led the Yellow Submarine to their first ever major trophy, stunning Manchester United in the final, and beating Arsenal over two legs in the semi-finals.
Emery then went on to take Villarreal to the Champions League semi-finals in the following season, giving Liverpool a major scare in the penultimate stage of the competition, and that was after seeing off Juventus and Bayern Munich against all odds.
It wasn't all sunshines and rainbows, though. Villarreal finished seventh twice on the bounce in La Liga, failing to meet their domestic aims, albeit they were happy to do so given their European achievements. And this season didn't start particularly well, with the Yellows outside the top seven.
At that point, Emery made the decision to join Aston Villa, replacing Steven Gerrard after a rocky start to the season for the Lions. It's a bold statement from Villa, who have more than doubled Emery's salary, paying more than £5million in compensation to Villarreal.
The 50-year-old demanded a salary of around £6million, telling Villa they would have to match the offer made by Newcastle United around this time last year. And that is one of the curious aspects of Emery's decision.
In early November 2021, Emery was offered the chance to take over at Newcastle following the sacking of Steve Bruce, becoming the Magpies' first choice. Emery enterained the offer, holding talks with Newcastle before coming back to Villarreal owner Fernando Roig to explain the situation.
Roig convinced Emery to stay with the Yellows still in the Champions League at that point. Emery later admitted that the Newcastle project was an 'attractive' one, given there was something to build from the ground up, and with a boat-load of cash, of course.
"The Newcastle project is an attractive project – something to build, different to Arsenal," Emery told The Athletic in April. "With Arsenal, you first had to knock down the walls, which is hard work, then start to build again. Newcastle, no, it was just about building from the ground up. So it is different, and I liked the idea. But I was also grateful to Villarreal for the opportunity they gave me, and we were in the Champions League."
But the timing wasn't quite right, and the decision proved a wise one, with the Yellow Submarine going on to equal their best ever Champions League run, reaching the semi-finals.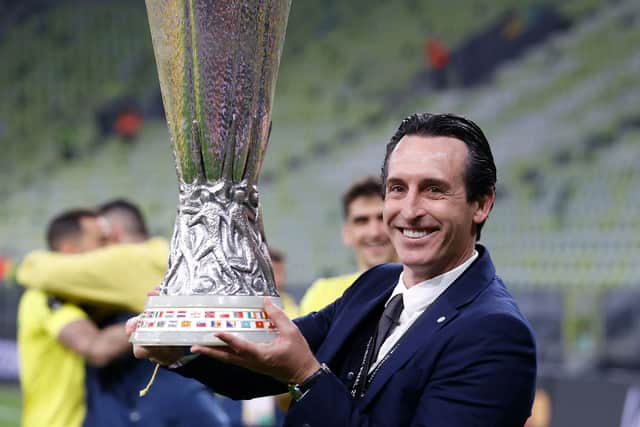 Fast-forward a year, and the timing was right. An extremely well-backed Villa came calling, knowing full well that Emery still wanted a chance to prove himself in the Premier League. Emery has prepared for his second chance, feeling he was hard done by with a tricky situation at Arsenal. He has worked on his English, too, with communication cited as a factor in his demise in north London.
Emery was not desperate to leave Villarreal by any stretch, saying an emotional goodbye, and admitting he 'found a home' in Castellon. He said: "I've had two and a half very nice years here. I've felt at home at heart, but I carry the profession inside me. Now I have a new opportunity, just like when I came here. I thought I should take it as a different sporting challenge."
'Challenge' is the key word. Emery feels he has achieved what he set out to achieve with Villarreal. The Yellows hired him to win, and win they did.
Though, La Liga form has been a problem with Emery, and there's no hiding that. There has been an eliment of sacrificing domestic efforts for European success, but it cannot be denied that Emery has struggled to beat sides his teams 'should' beat, while getting results in the bigger games.
That's something he must fix at Villa, and something he should have a better opportunity to work on, given the Midlands side are not in European competition. But by the same token, it's why the timing was right for Villarreal to say goodbye to Emery.
Make no mistake, he will go down as a historic coach at Estadio de la Ceramica, forever treasured for securing a title during his time there. But there was growing frustration over league form, and that has to be a part of this picture. No one was pleased to see Emery leave Villarreal, but his departure wasn't as crushing as it might have been a year ago, had he left for Newcastle, and that's despite club president Roig claiming the club have been left 'screwed' by Emery's decision.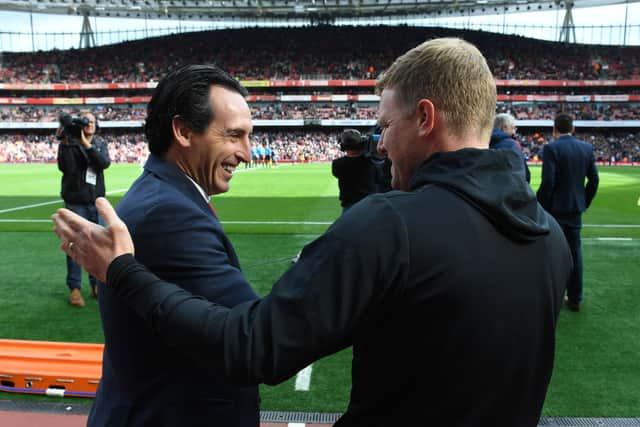 The Yellows have moved on quickly, hiring former Barcelona and Real Betis boss Quique Setién, while Emery begins work at Villa, and he does indeed have his work cut out. It has been a disappointing start to the season for the Midlands club, encapsulated by their horror-show performance at St James' Park recently, when they lost 4-0 to Newcastle.
But Emery has been working towards this second chance in the Premier League for some time, and he will arrive prepared for the challenge.
As for what to expect from Emery, the proof is in the pudding. He is a winner, a master game-planner capable of getting results against any team. His teams can play attractive football, but he doesn't mind sacrificing style to get a result. Winning comes first with Emery, and so does being defensively solid.
Emery will build from the back, and he is likely to make efficient signings over flashy ones, even if he is well-backed in the January transfer window as expected. But Villa might just be the perfect fit for his second crack at the Premier League.
Like with Villarreal, he is at a club with big ambitions but realistic expectations, well-backed but not blessed to the level of the big four. At Villarreal, he undoubtedly guided the club to a step forward, and with an elite winning mentality and a habit of getting results when it counts, Villa can look forward to a similar result.