Dele Alli's tricky Besiktas stint raises questions over what comes next
The England midfielder has struggled to make an impact at Besiktas
Watch more of our videos on Shots!
and live on Freeview channel 276
Visit Shots! now
Perched upon the banks of the Bosphorus Strait, where mainland Europe rests within spitting distance of the vast expanses of Asia, is Vodafone Park. That Besiktas' home stadium - a pillared cauldron bristling with a kind of muted brutalism - sits like a squat lighthouse on the precipice of an entire continent feels fitting. It is here, beneath the clock towers and great domed silhouettes of Istanbul's fabled skyline, that many a player has arrived, replete with an air of the spent traveller, looking for sanctuary and guidance when none can be found elsewhere.
Turkish football has garnered a reputation in recent years as a melting pot for misfits and past masters - the terminating stop for the Wikipedia entries of countless hazily-remembered names of yore. For every Didier Drogba, Roberto Carlos, and Wesley Sneijder, there is an Emmanuel Eboue, a Demba Ba, a Stephen Caulker. And the reason that the SuperLig continues to plough such a eccentrically nostalgic furrow is because it occupies a unique pinprick in the footballing tapestry.
Cast between the sensationalism of Europe's elite leagues and the relative doldrums of its also-rans, the Turkish game, to an outside perspective at least, seemingly sustains itself on a molotov cocktail of seething passions and simmering guile. It is fireworks and smokebombs and ceaseless throngs of supporters doused in ticker tape monsoons at midnight title celebrations. It's a secret society for the clinically besotted, a hardcore punk speakeasy on the lunatic fringe. If this is a glue factory, it is one where the stallions can bow out dancing. As far as exiles go, it is resplendent.
Which brings us to Dele Alli. The one-time boy king of English football, a precious gem riddled with vexing impurities, arrived in Istanbul sooner than most. Still only 26, the midfielder has endured the kind of absolute implosion usually reserved for derelict tower blocks on valuable land. A career that promised so much has plummeted with all the inexplicable velocity of a ball bearing in a Japanese pachinko machine.
Four years ago, for instance, it would have been unimaginable that Dele might not be in contention for a place in England's World Cup squad in Qatar. Now it is unimaginable that he could be.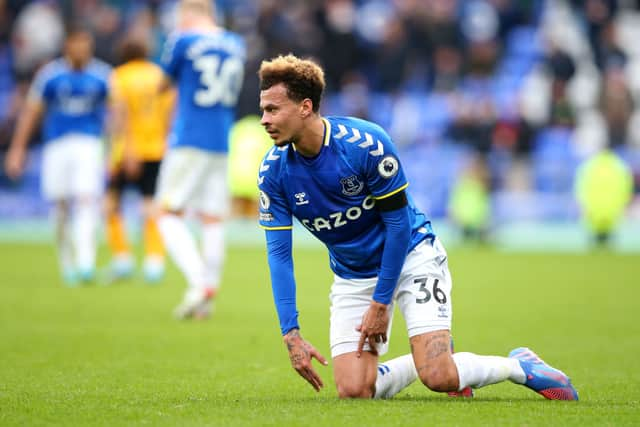 A sudden fall from grace with Tottenham was followed by a doomed period of experimentalism with Everton. So disorienting were these successive nadirs that Dele felt the need to find refuge in the feverish chaos of the Turkish league. At the time, he was hailed for his bravery. Certainly, there was a boldness to traversing the breadth of a continent for a shot at redemption.
But things have only worsened for the midfielder since he arrived in Istanbul. A paltry seven appearances for Besiktas have yielded just one goal. More damning still, his new manager Senol Gunes has openly questioned his effectiveness. Speaking ahead of a grudge match with Galatasaray, the Turk said: "I couldn't affect the players, now I can easily get through to them, but we haven't got through to Dele Alli yet. Let's not discuss Dele Alli as a player, but he is below expectations in terms of efficiency." The sentiment is clear, even if the specifics are not.
Ultimately, Dele's stint in Turkey will come and go, destined to be little more than a curious footnote in a career that flirts increasingly with the call of the bizarre. At this stage, it is difficult to envisage Besiktas making his loan spell from Everton permanent. And that begs the question, where next?
The longer that Dele drifts and dawdles, the harder it is to imagine him returning to England with any kind of meaningful fanfare. Likewise, his first foray into the foreign game is already teetering on the brink of calamity. Forget Turkish delight, at this point Dele would probably settle for Turkish adequacy.
Think of it this way; Istanbul is one of the cosmetic surgery capitals of the world. In particular, there is a growing trend for the dentally dissatisfied to jet in for cheap procedures that replace their actual teeth with porcelain veneers. To fit these rows of ceramic tusks, however, the patient must first have their smile filed down to a series of peg-like fangs. Dele went to Turkey, figuratively speaking, wanting to brighten his beam. Instead, he risks returning home with a grin like Gollum's, the restorative process abandoned halfway through like a reality TV star whose credit card got declined at a vital juncture.
For his sake, against all logic and reason, let's hope that the damage isn't permanent.