Barcelona say 'hasta luego' to a club legend bound to return in Gerard Pique
Barcelona and Spanish football are saying goodbye to a pilar of the game in Gerard Pique.
Watch more of our videos on Shots! 
and live on Freeview channel 276
Visit Shots! now
It's the end of an era in Spanish football as Gerard Pique prepares to hang up his boots.
The Barcelona legend announced in an emotional video on Thursday night that he will call time on his career following one last appearance for Barcelona this weekend, against Almeria. The reason for his retirement? That's the easy part. While 35 is an age we are accustomed to seeing players surpass these days, serious knee injuries of the past have caught up to Pique, and it's clear he is no longer at the standard required by Barca as they attempt to put together a title charge.
And no longer able to play for Barca, retirement is the only option for Pique, who grew up in Catalonia. "I have always said that after Barca, there will be no other team, and this is how it will be," he said in his farewell video. "This Saturday will be my last game at Camp Nou."
Pique is not a one-club man. Manchester United fans will remember the four years he spent at Old Trafford, albeit not neccesarily for the right reasons. The Spaniard only made 12 league appearances for the club as he learned his trade, but he did win a Premier League title and the Champions League, which probably would go into the curriculum vitae of most, ahead of the Duke of Edinburgh bronze award.
United fans will remember Pique's time with his club more for what came after it, in many ways. Pique was one that got away, not that his exit was altogether preventable. The Red Devils had a settled back line at the time with the likes of Nemanja Vidic and Rio Ferdinand, and after coming through his boyhood club's famed academy - La Masia - Pique longed to return home to Barcelona.
It was a wise decision for his personal life - with the centre-back meeting now former wife Shakira just a couple of years later - but it was also a decision that would shape his football career. Pique would go on to become a cornerstone in historic Barcelona and Spain sides.
With Barcelona, he would win eight La Liga titles, seven Copas del Rey, five spanish Super Cups, three more Champions Leagues, three UEFA Super Cups and three Club World Cups. With Spain, he missed out on the Euro 2008-winning side, but played a key role as La Roja took gold at the 2010 World Cup, and remained in place for the Euro 2012 triumph two years later.
Recent years have brought difficulties for Pique, who has been part of the Barca collpase, with the Catalan club falling from grace under the presidency of Jose Maria Bartomeu. The centre-back also retired from international football relatively early after falling out with Spain fans over his apparant support of Catalan independence.
The centre-back came in for intense criticism from Spanish fans and media, becoming an easy target due to the situation involving Catalonia, where Pique grew up. He called time on his international career, wanting to be 'left in peace'. Peace would be equally hard to find at Barca. The Catalan giants went on to win just two trophies after that point amid a trurbulent period in their history.
But while Pique won't be part of their resurgence, he leaves to be remembered as one of the greatest defenders in their history. He leaves having become one of the best defenders in La Liga history, and he should also be remembered as one of the finest defenders in the history of the Spain national team.
A bitter goodbye may sour that last one, but Pique's retirement has forced even some of the critical Madrid media to revise their position on the defender. Marca, for instance, have been left discussing Pique as 'one of the five best defenders in Spain history'. Pique was an undeniable force at the 2010 World Cup, part of a back-line that played a monumental role in securing a first ever World Cup for La Roja. He was an equally reliable defender across years of success at Camp Nou, becoming a leader in a golden generation for the Blaugrana.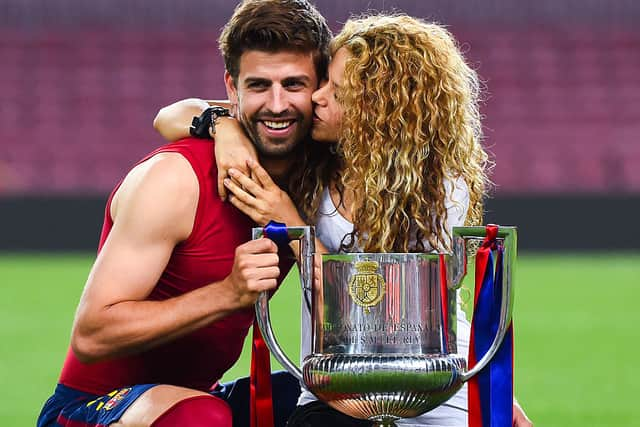 "Gerard deserves all the praise from Barcelona fans. I have been lucky enough to work with him for many years. Tomorrow, he deserves all the best from the fans," said Barca boss Xavi Hernandez.
And that's how it will be. Pique will bow out with the approval of Barca fans, and a big old 'gracies,' as the Catalans say. He will depart Camp Nou as a club legend, but also as someone who is destined to return. He has made no bones about the fact that he wants to become club president of his boyhood club some day - 'I will return', he said in his parting message. That time is not now, not with Joan Laporta recently returning to the helm.
But the time will come for Pique to make his run at the presidency, and pending the right financial support, as a man who has lived and breathed Barcelona for so many years, he is destined to get the support of the fans and members. That will make some story some day, but for now, it's hasta luego to a footballing legend as we come to the end of a golden era.
Just five players remain from that World Cup-winning Spain starting XI, and after Saturday, we will be down to four.