The Red Devils have taken big steps forward this season, but they face one of their biggest tests of the season over the next two weeks, heading to Camp Nou for the first leg this Thursday night. Awaiting them is a Barca side who have won their last 11 games across all competitions, leading them to move nine points clear at the top of La Liga.
But what can United actually expect from this Barcelona side? Here we take an in-depth look.
Pragmatism meets style
Barcelona are known for their Tiki Taka brand of football, but while Xavi is undoubtedly influenced by the way he played under Pep Guardiola, this team is not Guardiola's. Make no mistake, it is undoubtedly talented, but it does not have the pedigree of those ruthless Guardiola teams at the Camp Nou that became feared in years gone by.
As a result, Xavi has employed pragmatism to bridge the gap, and it has worked a treat. Barca have style, that is for sure. Some of their goals this season have been eye-catching. They work relentlessly on one-touch football, and it shows. They can move the ball quickly and play through the press with quick, crisp passing.
But Barca have also employed the long ball in a number of games this season, drawing the press and then looking to find the space in behind. That tactic is what saw them beat Real Madrid in the Supercopa recently. With the likes of Gavi and Raphinha in behind, Barca can hurt teams on the break, and a long ball over the top is not what many teams expect when coming up against the Blaugrana.
In truth, Barcelona may not need to play that way at home against United, but at Old Trafford, there may well be a place for it, with the Red Devils likely to be more active in their press.
Speaking of the press, Xavi also knows his team are not experienced or efficient enough to pull off a constant press. With that, he has installed a system where his side press in bursts. The old trigger system where teams sit and when the trigger men sets the press, the rest follow in an explosive press, before reverting back to a more passive style. That has caught many teams out this season.
The ever-changing formation
Barcelona usually set up in a 4-3-3, but don't expect the system to stay that way.
It's not a certainty that Alejandro Balde will win the race to start at left-back, but if he does, expect him to join the midfield regularly on the attack to make a 3-4-3. Barca play centre-back Jules Koundé at right-back, and so when Balde bombs on, a three-man defensive line ensues. There is opportunity in that for opposing teams if they can catch Barca with three at the back, but it's easier said than done to cause those three defenders issues, with Koundé, Ronald Araujo and Andreas Christensen all in fine form.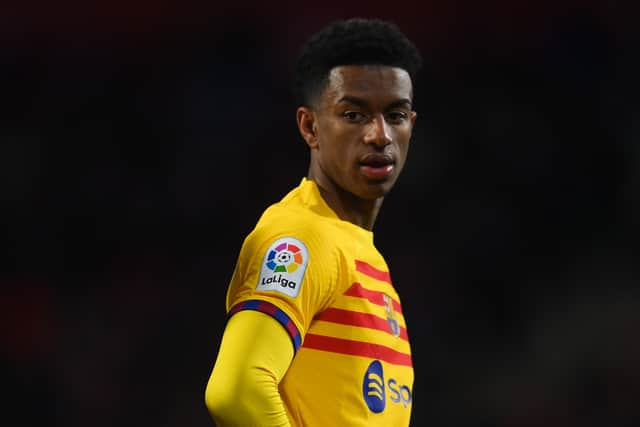 On the flip side, Balde - and possible alternative Jordi Alba to a degree - have caused real issues on the overlap, and United will have to be careful to not get overrun when those opportunities to get forward arise for Barcelona.
Injury issues and alternatives
Barcelona do have a couple of injury issues, with Ousmane Dembélé sidelined for the next couple of weeks, while starting holding midfielder Sergio Busquets is also out in the short-term.
Raphinha hasn't always impressed this season, but he has done well in place of Dembélé over recent weeks, doing particularly well positionally. Meanwhile, Franck Kessie has had a similarly tricky time convincing fans following his summer arrival, but he too has enjoyed improved form of late, and he will likely deputise for Busquets in the first leg, at least. Kessie did a good job against Villarreal over the weekend, and that should be enough for him to keep his place.
In all, you can expect Koundé, Christensen, Araujo and Balde to start at the back, ahead of Marc-Andre ter Stegen. Kessie should play alongside Frenkie de Jong and Pedri in midfield, with Raphinha and Gavi either side of superstar Robert Lewandowski up top.