Valentine's Day: where every Premier League manager would take you on a first date
Happy Valentine's Day! Love, 3 Added Minutes xxx
Watch more of our videos on Shots!
and live on Freeview channel 276
Visit Shots! now
Love. What is it? Where does it come from? How does it taste? It's been 1,750 years since Saint Valentine was mowed down by Cupid's bow in the Valentine's Day Massacre, and in honour of his memory, every year we take February 14th and we use it as an excuse to express our one-of-a-kind devotion for that geographically convenient special somebody through the medium of schmaltzy, mass-produced greetings cards and teddy bears sewn together by underpaid workers in distant sweat shops. Nothing says romance like big business.
But here at 3 Added Minutes, in spite of the hollow pageantry, we love love. We love it like the Honey Monster loves honey, like Milhouse loves Lisa, like Robson loves Jerome, and we think everybody deserves their shot at finding the one. Everybody, regardless of age or race or creed or anything, should have their chance at connecting with that person who makes them go weak at the knees and gooey in the centre. And that includes professional football managers.
So, because it's Valentine's Day, and not because we're at all short on content, here's where every Premier League boss would take you on a first date...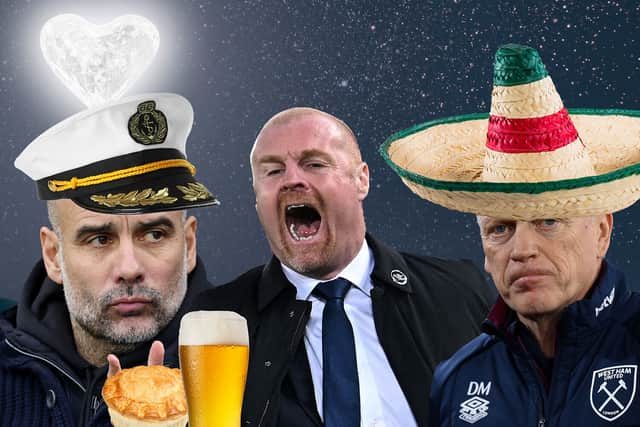 Mikel Arteta
A life drawing class where the model looks suspiciously like Gunnersaurus in a diamante-encrusted masquerade mask. Mikel has brought his own easel especially for the occasion, and insists on wearing a custom-tailored smock and felt beret, both evidently spattered with errant paint from a lifetime of bohemian expression. From the moment you enter, however, Arteta is oblivious to your existence, possessed, as he is, by the 'prolific spirit' - a term of his own coining.
You lethargically dab at your own amateurish canvas every once in a while, prefering instead to take advantage of the complementary wine on offer. Halfway through you look over, expecting to see a nuanced masterpiece before Mikel, only to realise that he has drawn an anthropomorphic love heart holding hands with what appears to be a head of lettuce. Passion, clarity, taxi!
Unai Emery
Unai whisks you away to a cost effective tapas bar in a faceless suburb in his Skoda estate. You make forced small talk in juddering English for a while, waiting for your patatas bravas. He's cordial and enthusiastic, and he smells quite nice, even if he reminds you a bit of The Count from Sesame Street. Not that he'll be needing those numeracy skills. There is simply no spark. Say it with me, folks: "ONE date". There will not be a second.
Gary O'Neil
I can't know this for sure, but I have a real hunch that Gary O'Neil's personal conceptualisation of romance definitely involves Nando's in some capacity. And yes, he's a lemon and herb man, in case you were wondering.
Thomas Frank
Takes you to a trampoline park. Sprains his ankle.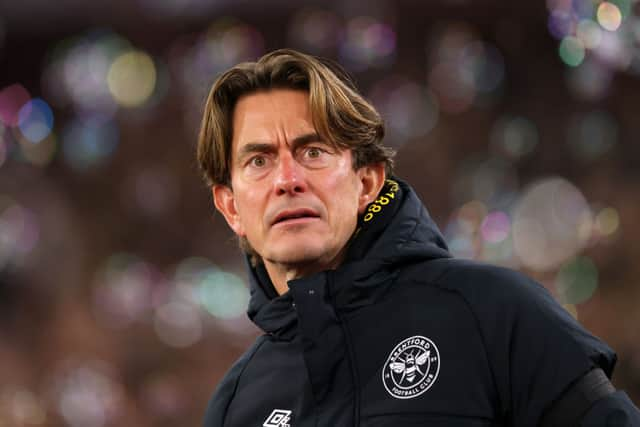 Roberto De Zerbi
You know that scene from Ghost where Patrick Swayze's disembodied spectre gets all handsy with Demi Moore behind a pottery wheel while Unchained Melody blasts away obnoxiously and suggestively in the background? You and Roberto recreate that moment beat by sultry beat. The next morning, he gets up, walks to the kiln, and smashes the vase you made together. He is nobody's Potter.
Graham Potter
Graham picks you up and takes you to the seaside. You've packed your most flattering bathing suit, and plenty of sunscreen that you may or may not need help applying, but once you get there, all he wants to do is just sit in the car and stare out at the ocean. A seagull caws and a single sob escapes his throat. You decide to go and get yourself a 99 from the nearby ice cream van. Extra sprinkles.
Patrick Vieira
He knows a cracking eagle sanctuary. How about it? Unless you can think of anything better...
Sean Dyche
Pint of bitter and a steak and ale pie (garden peas, none of that mushy crap) down the Dog and Duck then back to his for a look at his new power-washer and a Scrapheap Challenge marathon. Lovely.
Marco Silva
Well, well, well... this is a surprise. Full disclosure, you've had a date with Marco before. On that occasion, he was proceeded by his reputation as something of a Casanova, a Silva-tongued Don Juan. Things did not go well.
A couple of years pass, however, and you bump into him one day waiting in line at the boulangerie. (It's a Greggs attached to a Home Bargains at a retail park). He seems different; humble, grounded, wiser. You decide to give him one more chance. And y'know what? You do not regret it.
Leeds United
Managerless. Alone. Sat at home rewatching Bridget Jones' Diary and blubbering into a family-sized Wall's Viennetta.
Brendan Rodgers
Brendan rings you and asks you if you'd like to accompany him on a tour of Leicester's famous Abbey Pumping Station Museum, exhibiting the industrial, technological, and scientific heritage of the city. You tell him you'd rather stick hot pins in your eyes.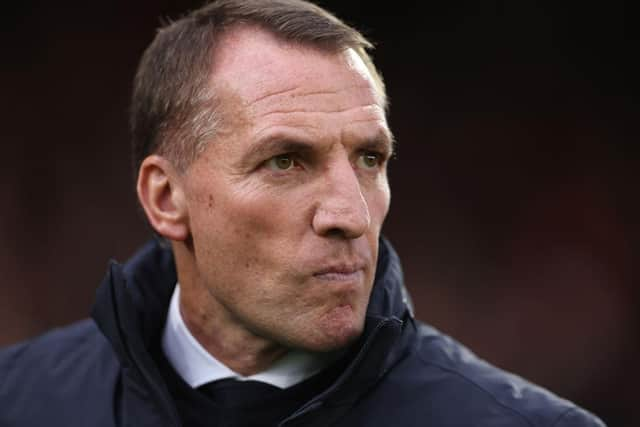 Jurgen Klopp
Two words: Hipster kebab.
Pep Guardiola
A virtuoso first date. Pep sweeps you away on his private jet to a Michelin-starred restaurant beneath the Eiffel Tower, followed by a night of opera at the Palais Garnier. After a moonlit stroll along the Seine he presents you with a flawless necklace of pearls before a string quartet drift by on a bateau, playing a breathtaking rendition of Blue Moon.
You turn back around and find Pep, now dressed as a naval captain, holding a Siberian tiger cub that he wants you to have. "Pep", you exclaim. "How you can you afford all of this?"
Erik ten Hag
Erik takes you to a 25th anniversary screening of Titanic at the local multiplex. The first red flag is when he forces you to wear an oversized double-breasted Mackintosh replete with hidden pockets stuffed full of homemade popcorn. Salted is by your left thigh, sweet by your right. Mixed is located just above the coccyx.
Once inside, the Dutchman proceeds to bombard you with trivia about factual errors in James Cameron's script. "Did you know", he says, "That the lake Jack told Rose he went ice fishing on when she was threatening to jump is Lake Wissota, a man-made lake in Wisconsin near Chippewa Falls, where Jack grew up? But the lake was only filled with water in 1918 when a power company built a dam on the Chippewa River, six years after the Titanic sank!" You smile meekly.
"And did you know", he continues, "That Rose mentions Austrian psychoanalyst Sigmund Freud's ideas on the male preoccupation with size to Bruce? However this is 1912, and Freud did not publish the work relating to this until 1920 in his 'Beyond The Pleasure Principle'. Also, up until 1919, Freud relied solely on data from women!"
Perhaps this wouldn't be so bad if Erik wasn't speaking at full volume. People are staring.
Eddie Howe
Fifth-row seats at a Take That concert. He would've bought front row, he tells you bashfully, but didn't want you to strain your neck craning it too far upwards. He hopes you don't mind. You tell him fifth row is perfect and you settle in for a night of man-band wonderment with Barlow, Owen, and the other one.
During the encore they soar into Rule the World and you glance across at Eddie as a single tear rolls down his cheek. He catches your gaze and smiles, embarrassed. Could it be magic? Yes.
Steve Cooper
Two words, one of which is hyphenated: Non-hipster kebab.
Southampton
Managerless. Alone. Sat at home rewatching Bridget Jones: The Edge of Reason and blubbering into a family-sized Wall's Viennetta.
Maybe they should give that handsome American who just broke up with Leeds a call...
Antonio Conte
Antonio either whisks you away for a short stay at a luxury vineyard in the Tuscan hills where you spend each evening reclining in a hot tub on your private balcony while sipping on the finest pinot noir and discussing the merits of Morandi's brushwork. Or, he takes you to the basement level of a disused multi-storey car park to participate in an underground fight club for disenchanted white collar workers to vent their unresolved anger issues and general feelings of inadequacy. There is no in-between.
Either way, shirts and shoes are not required.
David Moyes
A Wednesday night salsa class in the sports hall of a leisure centre. It has to be Wednesday because that's when the kids, Declan and Michail, are with their mother.
You get there and David chats warmly and with a worrying familiarity to Sue, the instructor. You get the impression that you are not the first date that he has brought to Wednesday night salsa.
Things start well, but as you practice your cucarachas and your abenicos you realise that all, and I mean all, he talks about are his abusive exes. First there was the toffee salesman, then the devil worshipper, then the Spanish charlatan who promised him the world, then the crazed black cat enthusiast with flagellant tendencies and no sense of financial responsibility... Eventually you interrupt, telling him you're no rebound fling and collecting your things as Sue stares on, horrified.
"Wait", David pleads. "You're my lift home."
Julen Lopetegui
Don't know why but I get an indoor crazy golf vibe from Julen. One of those pseudo-edgy, graffiti-on-the-walls, dim-lit places in the upper levels of a shopping centre that are actually just an excuse to get properly mortal.
At first you're a little sceptical of his reserved continental manner, but a couple of Jägerbombs and a well-timed birdie through a windmill later, you're loving life. Julen's a natural, but remains modest and unassuming throughout, even as you triple bogey a gaping crocodile's mouth.
You weren't expecting this. Every time he looks at you, you blush, and every hole he sinks, your heart flutters a little. You're smitten, infatuated with Julen Lopetegui, the crazy golf lothario who looks a bit like the king lemur from Madagascar.