Hope and belief restored by Eddie Howe's reinvigorated Newcastle United
Something has changed at St James Park and the contrast in emotions is stark
Watch more of our videos on Shots! 
and live on Freeview channel 276
Visit Shots! now
It is the least a supporter should expect from their football club. That deep feeling that makes every last-minute defeat, cup exit and unexpected player sale feel just a little more tolerable. The emotion that gets you through wet and windy nights in stands, watching your side put in another nondescript performance against an unquestionably beatable opposition. Hope that it won't always be this way.
My last visit to Newcastle United's St James Park for a competitive game came three years ago next month, not as a writer, but as a paying customer. Three decades earlier, along with my Dad, I made the same journey from East end to city centre to attend my first ever game at the club's iconic, yet sadly decaying stadium. With crumbling terraces and toilets that deserved to possess a nuclear warning, St James Park represented a city that was neglected by a Thatcher-led government that killed off the industries Tyneside had been built open for well over 150 years.
Sat on a ice cold, damp barrier in the famous Gallowgate End for a Paul Gascoigne-inspired FA Cup win against Swindon Town, the noise and feeling were probably lost on a five-year-old, but something had seeped in, a feeling my Dad experienced in 1965 when he went through the same process, making the same steps and standing in same place with my Grandad.
Yet now, on a cold and drizzling December afternoon, something had changed. Of course, at times the transition from supporter to writer can blur the lines of emotion and belonging, but this was something deeper than that. This was about an absence of hope. The buzz was gone. Ninety minutes of football at St James Park was a hinderance to a valuable afternoon spent in the pub with my old man. He expressed similar thoughts and you suspect many of 42,000 in attendance that day would have gone through a similar emotion. The old home felt grey, everything felt grey, dull and tired. Even the football felt grey and lifeless.
There should have been excitement following a win over a lively Southampton side, but once the limited euphoria of a last-minute winner from Federico Fernandez subsided and the full-time whistle had brought an end to a largely mundane 90 minutes, reality hit hard as the malaise instantly returned. Talk turned not towards an invaluable three points or brighter times ahead, sadly and somewhat unsurprisingly, conversations in a city that lives and breathes its football club was of anything but the events at St James Park.
Unappreciated, at times unrecognisable, the indelible bond that can make the football club and city a United force felt more fragile than ever. Football felt secondary. Where unity forged and fostered by the likes of Keegan and Robson was once commonplace, division and hostility had set in.
Where his predecessor had represented a promise to push things forward despite the limitations of his paymasters, the current incumbent smacked of stunted ambition and a belief that keeping things ticking along was enough. Surviving, no more, no less. Barely existing, just being. Progression, improvement, drive and ambition were all conspicuous by their absence in a once-proud stadium that had routinely crackled and reverberated with expectation and belief on matchday but was suddenly looking run down and unloved.
Three years on, everything had changed.
I made my first return for a competitive game as Newcastle faced Crystal Palace in a Carabao Cup tie in front of a sell-out crowd that oozed with expectancy and intention. But the contrast began long before I took my seat in the press area at St James Park. The first clear signs of a change came as I sat in a metro carriage crawling its way into the city centre. Those familiar conversations were back.
"Isn't Longstaff playing well, Dad?" "Do you think Saint-Maximin will start, Dad?" "I can't believe we got a ticket, Dad". I watched on as a father and son of similar ages my Dad and I had been 34 years earlier engaged in conversations similar to the ones we'd had. I don't mind admitting witnessing their interaction brought a whole load of emotion as I recalled my one first steps on to the Gallowgate.
The slow walk up from the city centre to St James Park, past the iconic Strawberry pub and the statues of 'Wor' Jackie Milburn, Alan Shearer and Sir Bobby Robson brought similar conversations between families and friends. Not of plans for the weekend or where to go after the game, but of progression, team selection and the hope that the long wait for silverware could come to a close.
Sat just behind the dugout provides an intriguing view of events on the touchline. Where Steve Bruce and stagnation once lingered, Eddie Howe and belief now stands. The former Bournemouth manager may not appear the most emotive individual but he does instil belief and confidence in his players. It would be misleading to suggest Newcastle were in all-conquering mood as they swatted away a dangerous Palace side. The Magpies were far from their best, but the vast majority of those in the stands restrained any frustration and continued to back their side.
Changes had been made, eight in total. Bruce had been castigated for similar during his time in the dugout, but Howe has earned trust by coaxing improvement out of his players with guidance, direction and knowledge. Yes, he has been backed by the club's new owners over the last year, but Howe has brought progression from many of the players he inherited from his predecessor.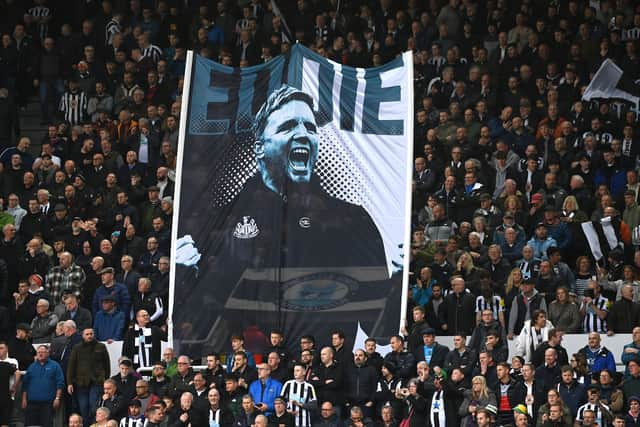 The stands felt electric again, flags waved, supporters rejoiced, arm-in-arm, side-by-side. Going to St James Park expecting a win almost feels uncomfortable. Some would say unfamiliar given the malaise the club is only now emerging from. A penalty shoot-out win, only the club's third in 13 attempts, added to the good feeling. The Magpies lie third in the Premier League, with just one defeat in 14 games. Now they are into the last 16 of the Carabao Cup with a home tie against Bournemouth lying in wait and another road to Wembley begins when they get their FA Cup campaign underway in the new year.
Of course, it would be cynical not to mention the significant investment provided by a Saudi-led consortium that finally completed a prolonged takeover of the club last year - and trying to ignore the divisive nature of their bid and human rights issues in the Gulf state would be foolish. There is discomfort from some in the stands, understandable discomfort it must be said. Questions are being asked and they have to be answered by the right people. Supporters, however, are not the people to provide the answers to those.
Thursday afternoon brought confirmation three United players had been named in England's World Cup Finals squad - the first time that has happened since 1998 when Rob Lee, David Batty and Alan Shearer were called up by Glenn Hoddle. The Magpies had finished second in two of the previous three season and during the 12 months prior to the tournament, they had competed in the Champions League for the first time and had been beaten in an FA Cup Final. Twelve months later they would reach a second FA Cup Final, only to be beaten by treble winners Manchester United.
These are what some would call limited achievements of what is recognised as a golden spell for the club. But now there is a well-placed belief that good times could be coming back. St James Park, the club's supporters and the city as a whole feel alive once again.