Jordan Henderson's potential Saudi Arabian transfer reeks of hypocrisy
The Liverpool captain has been heavily linked with a potential move to Saudi Arabia in recent days
Watch more of our videos on Shots!
and live on Freeview channel 276
Visit Shots! now
Let's call it what it is, hypocrisy. Another textbook example of do as I say, not as I do from somebody in a position of influence who should know a damn sight better.
By now, I expect that you have heard the news regarding Jordan Henderson and his potential move to Saudi Arabia. The Liverpool captain has emerged as a major target for fellow Anfield legend Steven Gerrard, who has just assumed the role of manager at Dammam-based outfit Al-Ettifaq. Early video evidence would suggest that the former midfielder, with his treacle thick Scouse drawl, is having certain communication issues with his new squad. Here's hoping, for the sake of his PR team, that he doesn't go full Schteve McClaren and try adopting a local accent in a bid to bridge the verbal divide.
Perhaps in an effort to elevate a fairly ordinary playing staff, or perhaps so he actually has somebody to talk to in the dressing room, Gerrard has seemingly zeroed in on his old teammate as an essential acquisition this summer. By all accounts, offers have been tabled and talks have been held. Liverpool, for their part, won't let Henderson leave for nothing, but they could be tempted into sanctioning his exit if a fee of around £20 million is dredged up from some desert oil well or other.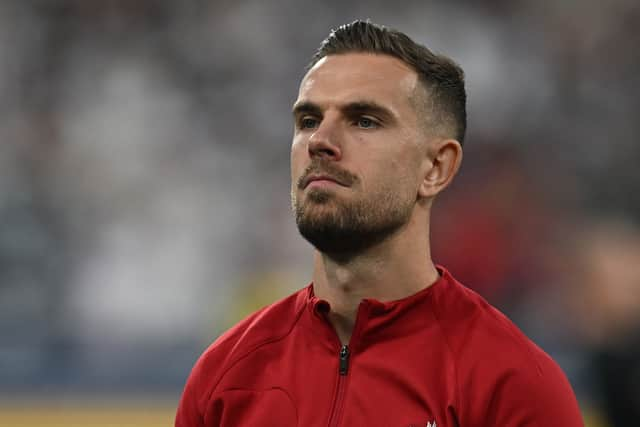 Then there are the personal finances, which - as they always are with these Saudi-funded deals - are absolutely astronomical. According to various reports, were he to move to the Middle East, Henderson would earn around £700,000-a-week - roughly quadruple his current wage packet. Those are big, big numbers. So big, in fact, that they appear capable of eclipsing morals and blotting out previously stated values.
You see, the understanding is that Henderson has reached a verbal agreement with Al-Ettifaq, and the backlash has been justifiably fierce. To put it in the simplest terms, here we have a player who is a vocal ambassador for the Rainbow Laces campaign angling for a transfer to a country where LGBTQ rights are flatly ignored and the government regard being homosexual as a crime. There is no way of reconciling the stance that Henderson has publicly taken in the past and the employment that he is aspiring towards.
As recently as October - literally nine months ago - he told Liverpool's official website: "I have regularly worn rainbow laces and today will be no exception because this kind of visible support can only have a positive impact. It also sends the powerful message that football is for everyone and the more of us who can take this message back into our homes, workplaces and daily lives the better.
"The more we can understand, the more we can learn and the more we can stand together on issues like this, the more we will move towards the kind of inclusive society that is more welcoming of everyone. Football has its part to play and, as I said, I couldn't be more proud to play a small part of my own."
But evidently, pride matters little to Henderson. Read that as you will. He's like a bored leprechaun, thoroughly done with the rainbow and fixated instead on the teeming pot of gold before him. Of course, the riches are seductive; of course he would be 'set for life', as the apologists are so quick to point out. But can you really put a price tag on your principles? Apparently so. £700,000-a-week, give or take, should do the trick.
The whole self-betterment argument reeks of insincerity; in the first instance, if Henderson isn't already financially secure after 12 years at Anfield, perhaps he should consider using some of his sizeable income to hire a more astute accountant. In the second, it's all well and good hankering after an improved quality of life for yourself and your loved ones, but if that comfort comes on the condition of acquiescing to a ruling class that overtly curtails the fundamental rights of others, it is frankly inexcusable.
Henderson is not the first professional with a Premier League affiliation to strike a deal with Saudi Arabia, and he certainly won't be the last. As already mentioned, he would be leaving England to renew a working relationship with Gerrard, and Chelsea have already offloaded a number of their undesirable assets to various state-endorsed petro-brats this summer.
Each of those agreements has brought with it a measure of ethical probing, as they should. But the reason that the Liverpool captain is being subjected to such unrelenting scrutiny is because he has pitched his flag on one side of the moral divide, and then has ripped it out of the ground and used the spiked end to harpoon his credibility as soon somebody has jangled a sack of coins in front of him. It's poor, no matter how you look at it.
And that in turn raises questions over what we consider to be allyship. For far too long, we have placed an unwieldy amount of significance in performative acts of support. It stretches far beyond the LGBTQ community and their rights too; it's a rote point at this stage, but go and ask any NHS worker how many times they've filled their car up or bought a weekly shop with that sweet, useless applause showered upon them during the height of the pandemic.
We as a society set the bar too low. We value hollow rhetoric far too highly, and have conned ourselves into believing that it is somehow an adequate substitute for meaningful action. It is not. It never will be. Words can be plastic and dispensable, and they have a tendency to melt like sugarcubes in a downpour when met with practical attempts at oppression.
Do you know what would be an act of proper defiance, something that would send a strong, uncomplicated message to the watching world? Fielding a contract offer of £700,000-a-week and turning it down on the basis of the fact that the nation from which it came still considers same-sex relationships to be an illegality.
Of course, there is the possibility, however dim, that Henderson won't actually go to Saudi Arabia. I, like many others, really hope he doesn't. But if there is even so much as a grain of truth in the widespread suggestions that he has already reached an agreement with Al-Ettifaq, the damage has been done - regardless of where he winds up playing his football next season.